Raider Review, May 21-28
The "Raider Review" is a weekly series that The Shakerite will publish every Monday night, covering the previous week in sports. This week's edition covers sports events that fell between May 21-28.
Baseball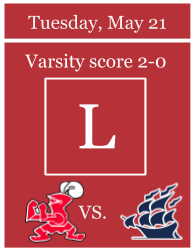 The magical varsity baseball run in the postseason ended May 21 as they lost to Hudson 2-0 in the district semifinal. Junior Will Barrett had a strong outing as he only gave up two runs, however the offense could not convert as they left multiple people on base. The team will look to replace multiple seniors, including shortstop and Bowling Green Commit Nathan Rose. With the loss, the team will look forward to next season. Hudson would eventually lose to number 1 seed Walsh Jesuit 12-3 in the district final.
Men's Lacrosse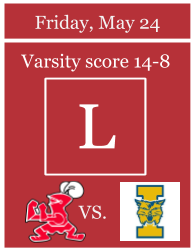 The varsity lacrosse team's season also ended last Friday as they lost to St. Ignatius 14-8 in the regional final. The Wildcats started off strong as they scored the game's first seven goals. From that point on, the Wildcats did not look back. But the Raiders gave it a good run. Seniors Will Schinabeck and Carter Belk each scored during the game, as well as sophomores Will Glasper and Davis Belk. With the loss, the team finishes the season with an 18-4 record and also as the top eight in the state. The team also had seven players named to the all-region team. With the conclusion of the season, the team will look towards the future.
Track and Field
Both the men's and women's track and field teams competed at the OHSAA Division 1 regional meet last Wednesday and Friday at Austintown-Fitch High School. Senior Brandon Duffett advanced to the state championship after finishing fourth in the 1600m. Duffett is also a member of the 4×800 meter team that finished 3rd, with the others being senior Matt Burnard, junior Ben Stefanski, and sophomore Ben Cox. Junior Jaivon Harrison also advanced to state championship after finishing second in the high jump with a height of 6' 8". Sophomore Avery Blaszak also will advance to states in the 3200m after finishing third. She also went to states for cross country this past fall. The state championship will take place this Friday and Saturday at Ohio State. The competitors who did not advance will look to make another run next season.
Crew
Six Shaker ladies competed at the SRAA National Championships Regatta in Nashport, Ohio this past Friday and Saturday. The highlight of the regatta was senior Sophia Calabrese winning the national championship for the women's varsity single. Calabrese had a time of 06:06.335, and with the win, her rowing career at Shaker has concluded. Calabrese will continue her masterful rowing career at the University of Texas next season.
Comment using your Facebook, Yahoo, AOL or Hotmail account
comments
Leave a Comment