Raider Review, Aug. 31 – Sept. 13
Aug. 31 – Sept 6
Women's Soccer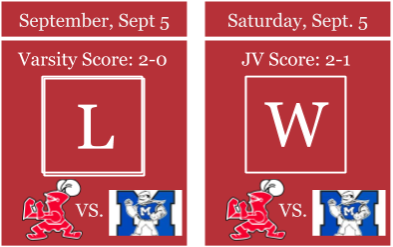 Varsity lost their only game this week 2-0 against Midview. JV started off the season strong by winning their first game 2-1. Goals in the JV game were scored by sophomore Izzy Hart and freshman Claire Russell who was assisted by junior Samara Lo.
Men's Soccer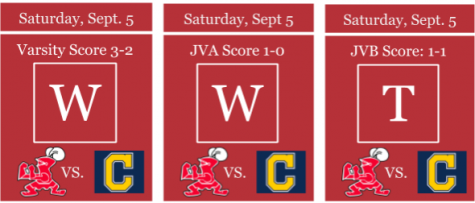 The men's soccer program did not lose a game this week with all the teams having a combined record of 2-1-0. Varsity beat Copley by a score of 3-2 with help from goals by senior Eric LaMonica (assisted by senior Mark Sauerland), junior Luke Stefanski (assisted by senior Tivaugh Robinson) and senior David Vahey. JVA shutout Copley and their lone goal was scored by junior Jack Adams. JVB tied Copley with a goal by Christopher Pelletier off a penalty kick.
Women's Tennis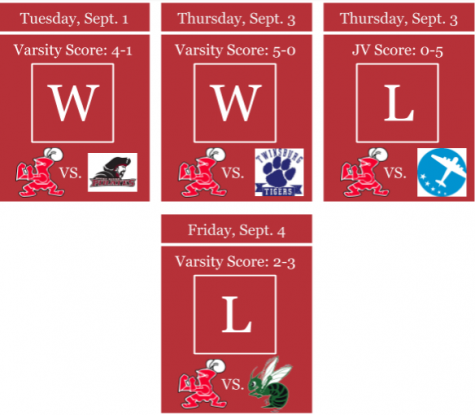 Varsity won 2 out of their three matches. They won four courts against Rocky River only losing a singles match. On Thursday they also swept Twinsburg by winning all five matches. Varsity's last game of the week ended in a 2-3 loss against Highland.
Football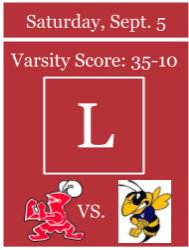 Varsity lost 35-10 against Kirtland. Their points came off of a field goal by senior Carson Fowler and a 55 yard TD pass from junior Adam Diaz to senior Alex Benson.
Women's Cross Country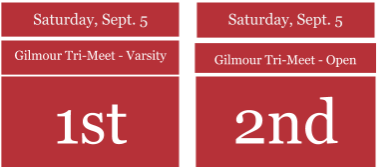 The women's varsity cross country team placed first at the Gilmour Tri Meet against Gilmour and St. Joe's . They were led by junior Mia Compton-Engle who placed second and senior Avery Blaszak who placed fourth. The open women got second place and were led by freshman Claudia Cullen who came in seventh.
Men's Cross Country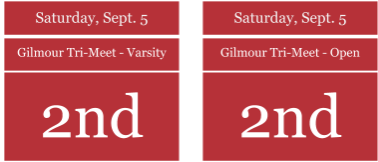 The Men's Cross Country Team placed second at The Gilmour Tri-Meet against St. Ed's and Gilmour. Senior DeAndre Hall placed second while sophomore Nico Moulthrop placed sixth and senior David Carpenter placed seventh. The open men also placed second, with sophomore James Stevenson leading and coming in 12th.
Field Hockey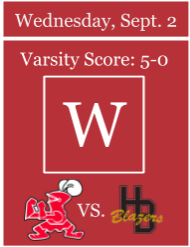 Varsity started off the season strong by winning their first game against Hathaway Brown 5-0. Freshman Ella Kaplan scored twice and got the game ball to go along with it.
---
Sept. 7 – Sept. 13
Women's Golf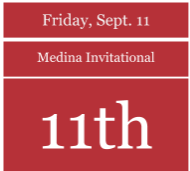 On Friday, the Women's golf team shot their lowest combined score within the last 8 years by 35 strokes. The team's total strokes were 389, led by freshman Emily Lamb who shot an 89. They finished 11th place out of 16 at the Medina Invitational.
Men's Golf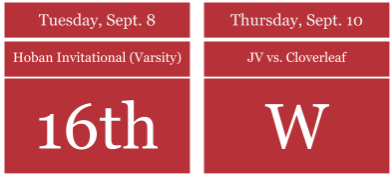 Varsity placed 16th out of 19 in their first tournament of the season. They were led by juniors Robert Kimmel, who shot a 72, and Kevin Spring, who shot an 84. JV beat Cloverleaf in their first outing of the season. Their lowest score was a 43, shot by sophomore Drew English, in 9 holes of play.
Women's Soccer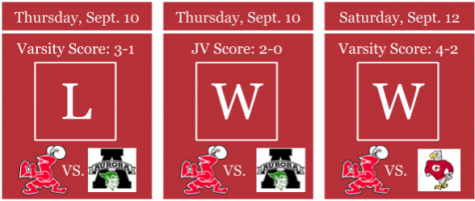 Varsity lost their game this week to Aurora by a score of 1-3. Their only goal was scored by junior Katy Christian (assisted by senior Sierra Hurle) towards the end of the second half. Varsity got their first win of the season against Geneva, with a score of 4-2. Goals were scored by freshman Ceci Favret, who had two goals, freshman Charlotte Smyers and Sophomore Izzy Hart. JV moved to a 2-0 winning streak, as they beat Aurora 2-0 with the help of goals from sophomores Meilani Walker and Claire Dunn.
Men's Soccer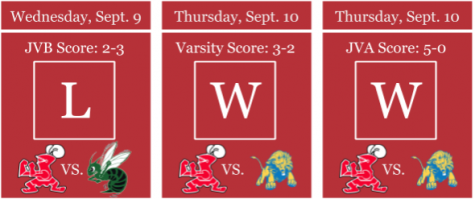 Varsity beat Notre Dame Cathedral-Latin by a score of 3-2. Goals were scored by senior Davis Belk, senior Eric LaMonica (assisted by senior David Vahey) and junior Luke Stefanski (also assisted by senior David Vahey). JVA also beat Notre Dame Cathedral 5-0. Their goals were scored by sophomore Krishna Divakarla, junior Logan Duffett, junior Riley Dean, freshman Jake Pernsteiner and junior Jack Adams. JVB lost their only game of the week. The score was 2-3 and their two goals were scored by sophomores Chris Pelletier and Angel Rosales.
Football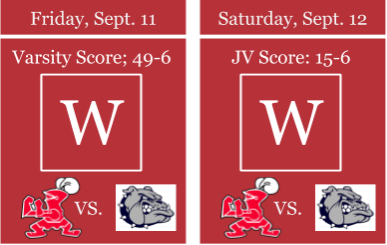 On Friday night, varsity football beat Garfield Heights by an astounding score of 49-6. Junior quarterback Adm Diaz threw 5 touchdown passes and 3 of them were caught by senior Alex Benson. Sophomore quarterback Flynn Bloch scored a touchdown on a 28-yard scramble. Senior Carson Fowler drilled a 41 yard field goal as well. JV scored all 15 of their points on defense. Their points were scored off of two interceptions returned for touchdowns and a safety.
Women's Cross Country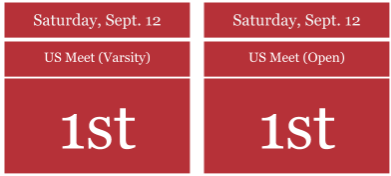 The Women's Cross Country team beat Gilmour and HB and 6 out of the top 10 finishers of the race were Shaker. Those 6 runners included junior Mia Compton-Engle, senior Avery Blaszak, junior Anna Carpenter, freshman Cami Blaszak and freshman Darby Murlin. Open also placed first against Gilmour and HB. Seven of the top 10 finishers were Shaker runners. Juniors Lydia Vadnal and Grace Fraser placed first and second respectively. 
Men's Cross Country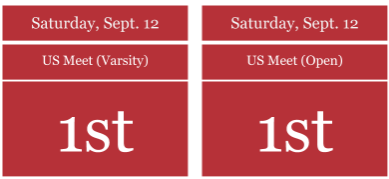 Both Cross Country Teams placed first this week. Varsity beat U.S. at the U.S. meet with senior Deandre Hall placing first. Open beat U.S. and Gilmour with help from junior Tyler Nordstrom who placed first. Seven of the top 10 finishers were runners from Shaker.
Field Hockey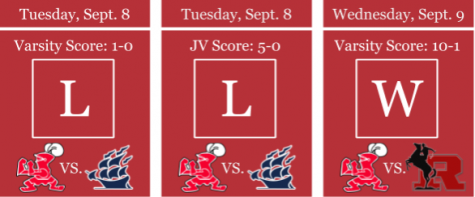 The field hockey team lost their home opener to Hudson on Tuesday. They will get their rematch against them when the teams face off again on Thursday, Sept. 17. On Wednesday, Varsity beat Kent Roosevelt by a score of 10-1. They were led by seniors Lily Camp and Eliza Bennett who both had 3 goals. JV won their first game of the season. Freshman Cece Grimberg had the assist for two of the goals that were scored.
Women's Tennis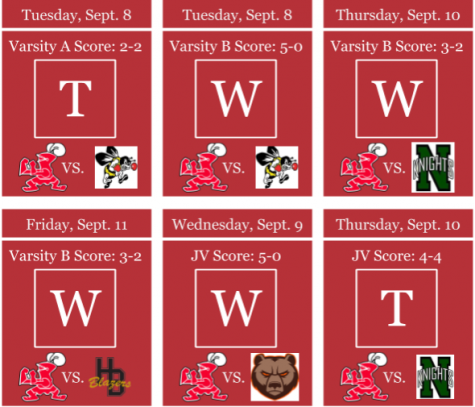 Varsity A tied Brecksville in their match on Tuesday, playing one singles match and three doubles. Shaker won the singles and the last doubles. Varsity B went undefeated in their 3 matchups this week. On Tuesday they beat Brecksville 5-0. They also beat Nordonia in a close 3-2 matchup on Thursday. And topped the week off by defeating HB in another close match. JV had two games this week and did not tally a loss. On Wednesday, they won their first match 5-0 against Padua. And on Thursday they tied Nordonia 4-4.
Comment using your Facebook, Yahoo, AOL or Hotmail account
comments
Leave a Comment