Raider Review, April 16-29
The "Raider Review" is a weekly series that The Shakerite will publish every Monday night, covering the previous week in sports. This week's edition covers sports events that fell between April 16-29.

Baseball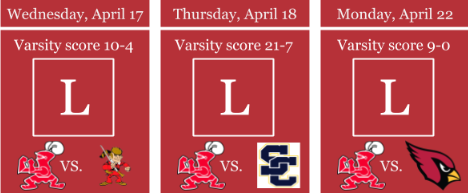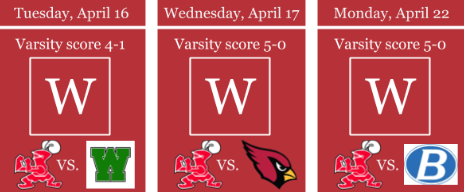 Over the past two weeks, the varsity baseball team went 0-5 as they lost to Elyria 10-4, Solon 21-7, Medina 10-0, Mentor 9-0 and Mentor 7-2 the next day. Two games against Twinsburg and Strongsville were postponed due to inclement weather. With these five losses the team falls to 4-13 and will try to get back in the win column as they face Strongsville next.
Softball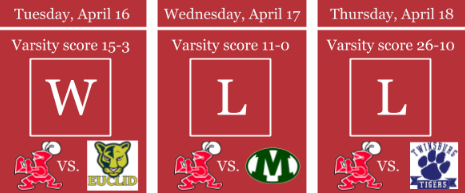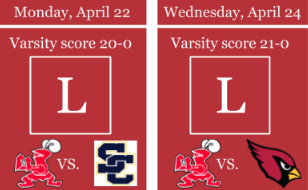 The softball team went 1-4 over the past two weeks as they beat Euclid 15-3, but lost to Medina 11-0, Twinsburg 26-10, Solon 20-0 and Mentor 21-0. The team will look to rebound as they travel to Elyria on Wednesday. The team has already lost to Elyria once this season.
Men's Tennis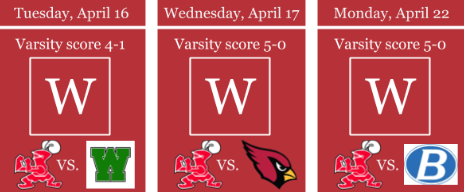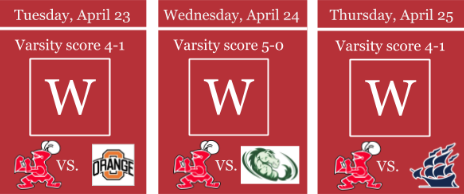 The varsity men's tennis team won all six of their matches these past two weeks as they beat Westlake 4-1, Mentor 5-0, Brunswick 5-0, Orange 4-1, Strongsville 5-0 and Hudson 4-1. With these six victories, the team improves their record to 10-1. Coach Al Slawson also reached his 1000th win as a head coach. With their winning streak at seven games, the team looks to extend it as they face Hawken today at home.
Men's Lacrosse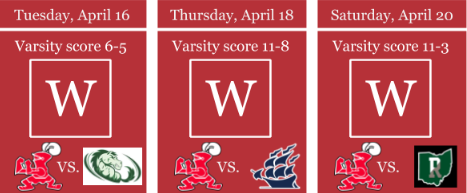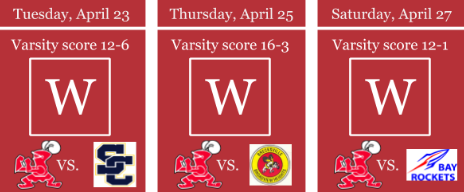 The varsity lacrosse team went 6-0 over the past two weeks defeating Strongsville 6-5, Hudson 11-8, Western Reserve Academy 11-3, Solon 12-6, Brecksville 16-3 and Bay 12-1. The team has now extended their winning streak to 11 games — their last loss was over a month ago. With a 12-1 record, the team is now ranked 4th in the Burning River Coaches Poll. The team will also test their winning streak against Brunswick at home today.
Women's Lacrosse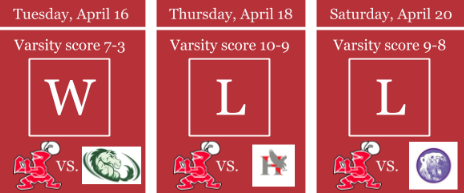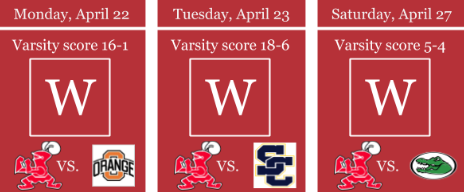 The varsity women's lacrosse team went 4-2 over the past two weeks, beating Strongsville 7-3, Orange 16-1, Solon 18-6 and Laurel 5-4, but losing to Hawken 10-9 and Massillon Jackson 9-8 in overtime. The team extends their record to 7-3 and now has a three-game winning streak. The team is ranked 32nd in the state according to maxpreps.com. The team will look to extend their winning streak to four as they travel to Brunswick today.
Track and Field
Both the women's and men's track team faced Solon and Mentor in dual-meets these past two weeks. Both teams also competed in the Weingart Relays and the Reynolds Relays. Notable standouts from both of the meets included juniors Jaivon Harrison, Lukas Zarders, Ian Suber, sophomore Tivaughn Robinson, and freshman Ethan Bryant. For the women's team, junior Adaeze Okoye and sophomores Anna Krouse, Avery Blaszak, Hilary Shakelton and Erin Williams contributed greatly to the team's success. Both teams will travel to Euclid on Wednesday.
Rugby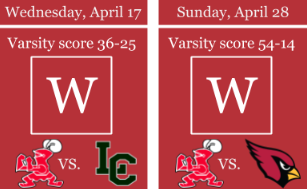 The rugby team defeated Lake Catholic 36-25 and Mentor 54-14 these past two weeks. The team will advance to the Ohio Division II Sweet 16 after going undefeated in their conference. The team was led by seniors Kenai Cooper, Khalil Abdullah and junior Andrey Bates. The team will play Brecksville Broadview for their next game.
Crew
The women's crew team rowed at the Hebda Cup Invitational in Michigan on Sunday. The team was awarded gold for it's JV-4 and Novice-4 boats at the meet.
Comment using your Facebook, Yahoo, AOL or Hotmail account
comments
Leave a Comment
About the 'Riter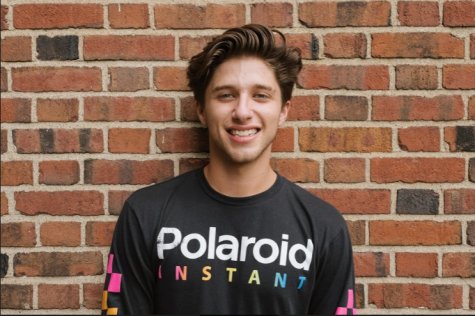 Ezra Marks, Raider Zone Editor
Ezra Marks ('20) is in his third year with The Shakerite. He is currently the Raider Zone Editor. As a Raider Zone reporter his junior year, Ezra covered many different sporting events and did the weekly "Raider Review." He also wrote two print stories and covered breaking news events such as the Brush-Shaker Brawl during a basketball game this past February.
Ezra runs both indoor and outdoor track. He is also a member of the Student Group On Race Relations and the marching band. Ezra also works two jobs, enjoys listening to music, training and sleeping.