Getting to the Heart of the Matter
As the season opens, men's basketball must work together to succeed, but coach and players are confident they will
When the heart of your team graduates, it may take 13 hearts to make up for it.
Esa Ahmad ('15) was that heart for the men's basketball team for three years. He now plays for West Virginia University.
During his career, he made 567 field goals and averaged 25.3 points his senior year. He lead the team in every major statistical category and catapulted the Raiders to a 69-19 record.
In addition, Ahmad piloted the team's postseason success, leading Shaker to four district championships and regional tournament appearances.
Head coach Danny Young knows his team will have to account for Ahmad's statistical output. "I need all the players to grab three rebounds a game, and that's more than Esa all together. We have to work together because we don't have that elite level player to rely on," Young said.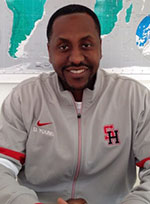 Although replacing Ahmad is a challenge, Young values the chance to coach more deliberately.
"I feel pretty encouraged because now I can slow down and actually teach the game to my guys," said Young. "It's kind of refreshing. Last year we went into games as the favorite, but now we know the outcome can go either way."
"I have to do a lot more teaching and go over video and break it down. In the past we had more talent and could just talk it through, and they'd get it. But now we have to really break it down for them to get it and understand it," he said.
This season, Young understands he will face different challenges as he prepares to lead a younger, inexperienced team. " I feel the biggest difference this year is that we don't have the height to fix mistakes in the paint; we really have to pressure the ball. We can't afford to let teams penetrate our defense," he said.
Young has also implemented a new game plan to counter the disadvantages of having a smaller team. "We're pressing the whole game. I have seven guards," he said. "My system is you play hard for three or four minutes hard! And then you come out. We're trying to wear teams down. That is the goal."  
Young said the Raiders have played fairly well during the preseason.
"
This play style should be fun. Fans should expect a lot of transition offense including a lot of open court layups and dunks."
— J'Van Beasley
"Our scrimmages have been good for the most part," he said. "We smacked a few teams and we only got our heads cracked one time on a blowout.  Otherwise, we've been in all the ball games, but with a young team, we just have to make adjustments."
Young said team speed will be an advantage.
"I see us as the fastest team in our league. I just don't see anyone who can run with us this year league wise," he said.
Young said freshman Kevin Bishop impressed coaches during the preseason. Bishop is 6'3", the second-tallest player on the team, and has a lot of raw talent. "Kevin has been progressing, and we're excited about him," said Young. "He's a bonus."
Bishop appreciates Young's confidence in him. "I'm glad to see that Coach Young believes in me, so I just want to make him proud and show him that I can play on the big stage," he said.  
During the preseason, when teams build continuity and stamina, Young observed a few flaws that he believes need to be addressed in order for the Raiders to succeed.
"We didn't rebound enough and we missed too many lay ups and open shots," Young said. "But everything we did wrong is correctable. Through hard work and dedication we should be fine."
Young has also seen some early leadership from a few of his players. "Jeramie Burge and Dale Bonner have stepped up as vocal leaders for the team. Jordan Burge has also been a quiet leader, along with J'van Beasley who's been a leader in our running and conditioning coming in first," he said.
Beasley looks forward to the newly implemented full-court press. "This play style should be fun. Fans should expect a lot of transition offense including a lot of open court layups and dunks," he said.
"
If we come into the season thinking we're bigger than the team, then we're a failure, but if we embody into the team concept, we'll win some games. "
— Danny Young
"We got a couple guys that can get up there and shock the crowd for sure, me being one of them," said Beasley, who feels Shaker is underrated but hungry to go out and prove the doubters wrong.
Despite the loss of a player of Ahmad's caliber, Young said he doesn't feel much pressure going into the season. "I feel we don't have a lot of pressure this year without having an elite player on the team. A lot of people feel we're going to fall off. I don't think so. I think we're going to surprise some people by our quickness, depth and pressure.
"Sometimes we might just look terrible," he said. "It's a process, but you never know until the ball goes in the air and we play."
Young, who is an active Twitter user, is emphasizing the need for a team identity through a hashtag.  "Our team's mottos this season are #Oneheartbeat and total focus and discipline in everything we do. If we come into the season thinking we're bigger than the team, then we're a failure, but if we embody into the team concept, we'll win some games. Our goal is always to win the league."
Young continues to maintain a relationship with Ahmad, who is already making an impression at WVU. "We talk all the time; I'm actually going down Saturday for his next game. He's starting as a freshman playing about 20 or 25 minutes a game. I've seen him on TV a few times, recently in a holiday tournament. He's doing well," Young said.
The Raiders open the season tonight at Strongsville. The home opener will be Dec. 11, a league game against the Solon Comets.
Comment using your Facebook, Yahoo, AOL or Hotmail account
comments
Leave a Comment