Nicholson Named New Football Coach
Former Brush assistant football coach looks to improve the Shaker program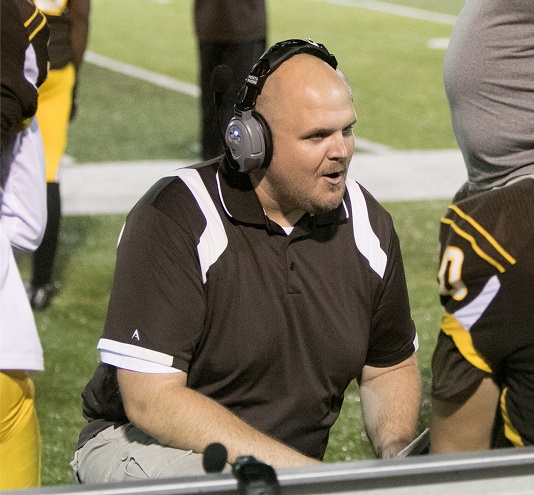 Alex Nicholson was named the new Shaker Heights High School head varsity football coach Feb. 19.
The hiring came after former head coach Jarvis Gibson resigned Oct. 26 after being put on administrative leave Oct. 23. Gibson was placed on leave after the district discovered that a volunteer assistant coach, Jonathan Harrell, was convicted of six charges and sentenced to 180 days in jail in 2014.
During Gibson's eight years at Shaker, the Raiders made the playoffs once, in 2013. Shaker's last appearance came in 2005.
Nicholson will continue to work at Brush High School for the rest of the 2018-19 school year but will work full time at Shaker beginning in 2019-20 as both physical education teacher and coach.
"I feel that competition year-round is the best when we are working in the offseason," Nicholson said. "We will work out every day in the summer and we will use our 10 camp days [according to OHSAA rule] the right way. We will compete and have fun doing it."
"It's going to take consistency and hard work to change the program. I am going to be here long hours and I am going to meet every player here individually," Nicholson said.
The upcoming football season will also be Shaker's last year in the Greater Cleveland Conference. The Board of Education announced in early January that all sports will transfer to the Lake Erie League beginning in the 2020-2021 season. An email message about the move cited "the lack of diversity and cultural sensitivity in some of the communities in the GCC," along with, "geography and travel time."
Nicholson said the conference move would not alter his approach. "Game planning doesn't change for me every week," Nicholson said. "I treat every game like it's my last game I played. We're going to scout every ins and outs. If there is a rock to pick up to look underneath, we are going to pick up that rock."
"We are going to spend a lot of hours in the film room and preparing," he said.
According to shaker.org, "after an extensive interview process that included a panel of teachers, administrators, counselors and parents [Middle School and High School], alumni and current and former Shaker football players," Nicholson was selected from a group of three finalists.
This post will be Nicholson's first as a head coach. He was an assistant coach at two Chicago schools and at Luis Munoz Marin School in Cleveland. Most notably, Nicholson has been the head assistant coach at Charles F. Brush High School since 2016. He contributed to Brush's success in the 2017 season, when the Arcs went 9-3 and advanced to the playoffs for only the third time in school history.
The Raiders went 5-5 last year and have not appeared in the playoffs for five years. However, Nicholson joins a program that sent 11 athletes play college football in 2014.
"This is the Shaker Heights community program," Nicholson said. "We will all make decisions together and we're going to run with it. In order to do the culture right, it's going to have to be consistency — that's the number one thing anytime you change anything — and you want to remain relevant for a long time. There is no gray area, it's this way or the other way."
Nicholson will bring in new coaches to complete the staff. He currently holds offseason workouts every Tuesday, Wednesday and Friday after school in the weight room.
On the first day Nicholson met with the team, he handed every player a paper bearing a mission statement: "To create an elite culture that will develop our athletes to thrive in stressful conditions, create student-athletes of high character, and build a common bond within our program."
Comment using your Facebook, Yahoo, AOL or Hotmail account
comments
Leave a Comment