Field Hockey Falls at States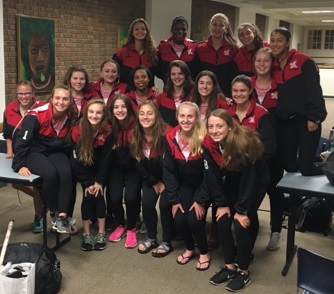 Brianna Ali
Friday, Nov. 5, 2016, Shaker lost 3-0 to Worthington.

"We knew Thomas Worthington is a great team, I thought we had a pretty good chance of winning," junior Lori Mack said. "I wish we had a few more games to practice."
"I was trying to really focus and envision us winning the game," said senior Haley Brady. "I feel like whenever I envision the win, that will be the outcome."
Although the Raiders had previously lost to Worthington 3-0 in the regular season, senior Kandyce Graham expressed confidence.
"I was just glad to be there, whatever happened, I was going to be proud of our team."
Shaker held Worthington scoreless until 7:43 remained in the second half, "Then, our defense just kind of collapsed," Graham said.
"We got a little flustered," Mack said.
Mack said she depends on Brady, Graham, and the other seniors to lift her up. "I was picking myself up, and I was picking the defense up," Brady said.
Graham said, "it's bittersweet," because it was her last game with her team. Brady was "really angry" they let the game slip away with only seven minutes left, but despite that, the players agreed they had a great season.
Mack stressed that they can only learn from the loss and get better. "We need to bring it next year and show Ohio what we've got. Going that far is incredible, there is nothing to be ashamed of," Mack said.
The field hockey team advanced to the Nov. 4 state title game by defeating Olentangy Liberty 2-1
Mack added appreciation for her coaches. "I want to thank them for letting us be the best athletes we can be. I can't thank them enough," she said.
Brady thanked "parents and fans who supported and greeted us on and off the field with hugs and pep talks."
Having come to the sport only two years ago, Graham appreciates her team's support. Graham would like to thank her team for having her back. She would like to tell future field hockey players to "keep the same mindset, don't get down on yourself and and keep working hard."
Comment using your Facebook, Yahoo, AOL or Hotmail account
comments
Leave a Comment