Field Hockey Aims For Third State Title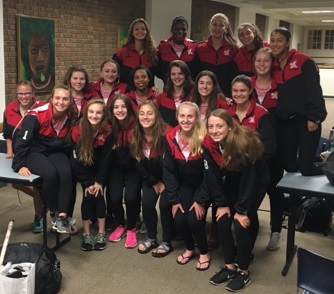 For the second time in three years, the field hockey team is two games away from earning a state title.
The Raiders secured their spot in the state semifinals Oct. 29 with a 3-2 overtime win over the Hudson Explorers. Two more victories would secure a third state title for Shaker, who were state champions in 2014 and 1991.
Senior Meagan Mitchell said the team must think about "one game at at time, whether we're playing the defending state champ, or a small school in our league." Mitchell is confident her teammates will succeed as long as they "keep doing what we've been doing this whole time." Mitchell said the team comprises coachable and passionate players, which makes it easy for the Raiders to adjust to difficult situations. "Last year we struggled in district finals," she said. "We lost to Hudson. We are hungry for a championship."
"I think we really can do it this year," junior Lori Mack said.
Unlike Mitchell, Mack didn't play a major role in the 2014 championship team, but she is confident that her presence will make an impact this year.
Mack said that Shaker will win by "knowing exactly what they're going to do in their corner unit, being first to the ball, and leaving it all out there."
Senior goalie Kandyce Graham said she did not anticipate this success. Unlike most of her teammates, "I've never thought I would make it to states for anything. I'm extremely excited," said Graham, who thinks the Raiders can beat the Olentangy Liberty Patriots.
"We lost to them 3-2 in overtime," in the regular season. "We need to win," Graham said.
Mitchell and Graham credit coaches Jennifer Clarke and Hilary Anderson for the team's success. "Coach Anderson and coach Clarke are amazing coaches," Mitchell said.
Graham said, "They care for us on and off the field. They're life coaches as well as sports coaches. We trust that they're setting us up for success, and they have."
Mitchell also had a message for her teammates: "If you don't let your own self stop you, then no one else can. If we work hard and push through, we will be victorious."
Shaker plays Olentangy Liberty today at 2:30 p.m at Upper Arlington High School.
Comment using your Facebook, Yahoo, AOL or Hotmail account
comments
Leave a Comment