Defying the Odds
Students Athletes must endure an arduous process to move on to college sports
It might be easier to become one of the 1 percent than the 2 percent.
Some of the 1 percent — the richest segment of Americans — may have inherited their fortunes. But without exception, the 2 percent of high school athletes who manage to join the National Collegiate Athletic Association on scholarship every year earn it.
That 2 percent represents a mere 160,000 of the 8 million athletes who compete in United States high school sports each year.
Shaker graduate and former National Football League and Ohio State University football player Nate Clements ('98) explained how he woke at 5 a.m. every morning while in high school, prepared breakfast for himself and his mother and came to the high school to work out before class. "Being consistent in what you have a passion for will allow you to reach your goal," he told the audience at the Oct. 11 Hall of Fame Assembly.
Also graduating from Shaker, Nasir Rashid ('19), who now plays football at the U.S. Air Force Academy, said the recruitment process is, "like riding a roller coaster. I enjoyed some parts of it, but a lot of it was frustrating, and it can be for a lot of high school players. When you're being recruited, things are different for everyone."
A high school athlete can be recruited to three divisions of the NCAA: Division I, Division II and Division III, which are based on school size and athletic budget. The NCAA provides statistics on the ratio of athletes to students at each division. Division I schools have one athlete for every 25 students, Division II schools have one for every 11 and Division III have one for every six.
Last year, six Shaker student- athletes signed their letters of intent to play to play Division I.
"The dream really started when I first started playing baseball," said senior Calvin Brown, a University of Pennsylvania baseball recruit. "Not just for the notoriety, but just for the love of the game. I really enjoy playing, and it's kind of hard to envision myself stopping."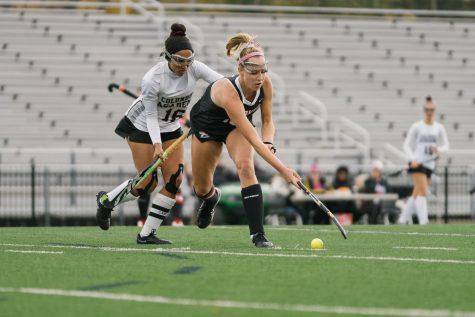 Cornell University wrestling recruit Najee Lockett said, "After years of wrestling, I realized I wanted to fulfill my potential at the next level. I wanted to fill my athletic capacity, along with my intellectual and academic capacity. I don't want to do one and neglect the other. I want to do both. I worked as hard as I possibly could on and off the mat."
University of Michigan recruit Lora Clarke described what motivated her to pursue college field hockey. "I remember, on November 2, when I played in the state final game my freshman year, and we lost. Until that day, I thought I was going to play ice hockey in college, but after we lost that game, that feeling — I can't even put words to it — I just wanted to be able to play field hockey all the time."
Every year, $3.5 billion in athletic scholarships are given to more than 180,000 athletes. To be an eligible NCAA athlete, you must earn above a 2.3 grade point average and an SAT score of 820 or an ACT sum score — the highest scores from each section added together — of 68.
Clarke said sports gave her a great opportunity to attend a selective school. "I have good grades, and I know I work hard in school, but my standardized test scores aren't as good as most people's. Michigan has everything I could possibly want," she said.
"I wasn't a straight-A student, by far. I got mostly B's, but I worked just as hard — academically, I worked just as hard — just so I could play football," Clements said. He also described how hard he worked to get good test scores. "I took the SAT six or seven times. I took the ACT once, and I knew that I would keep on trying," Clements said. He said he practiced only briefly with his team after school so that he could attend SAT tutoring classes. Any athlete must balance their time, as in-season practices for sports at Shaker are typically 4-6:30 p.m., five days a week, with games or meets throughout the week. But athletes who earn NCAA scholarships must do more.
"A lot of mentors taught me it's not enough to just go to practice 4 to 6 every day," Brown said. "You got to work before school, after school and do 100 pushups a day when you're 14 years old. That all developed into a work ethic that helped me propel myself," Brown said. According to Prep Baseball Report, Brown is ranked 42nd in the state.
Clarke said she had to give up social events in order to pursue her dream. "Every weekend, my friends would be hanging out, and I would just be gone doing a field hockey clinic, whether it was college clinic or working with my club coach or just putting in extra work. I don't think people realize that I literally put my heart and soul and my everything into field hockey," she said.
Clements also described having to give up certain things he liked to balance academics and athletics. "I had to sacrifice a lot of luxury [and] time," Clements said. "Sacrifice going to the latest parties, going to hang out."
In addition to practicing with their school teams, athletes hoping to play in college typically practice during the offseason with club teams, trainers or camps. Clarke is a member of the USA Women's National Indoor Development Team, Brown is a member of the B2 Bulls travel baseball team, and Lockett is a member of USA Wrestling. Ohio High School Athletic Association rules state athletes are not legally allowed to play club and school concurrently.
Brown credits Zak Blair, his club coach, for encouraging Division I programs to take an interest in him. "You can't find anyone better than him, as far as recruiting is concerned. His contact list is huge — people from the West Coast all the way to the East Coast. He opens doors for you."
Blair played baseball at Winthrop University and Mercyhurst University. He also played two seasons for the Chicago Cubs and has connections to prestigious college baseball programs.
Blair stressed that participating in both club and school baseball is vital to being recruited. "Both school and club are equally important," he said. "What I found over the years is, you get seen at camps and tournaments over the offseason, and then they follow you into your high school season. A lot of people seem to assume club is way more important, and school doesn't matter. That is not the case."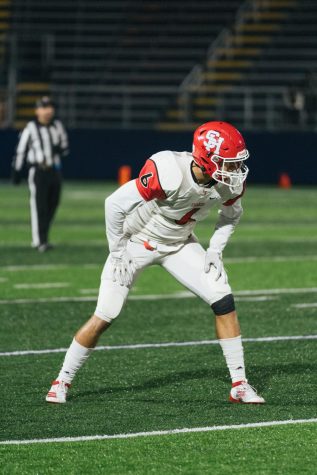 Highlight videos are also important for recruitment. "You have to have early film, mainly sophomore and junior year," said senior football player Avery Dunn, who has verbally commited to Michigan State University. "If you have the film, then you have to go to a lot of camps and meet coaches. You have to pass the eye test, and you get that through offseason work."
"People think they get 50 calls from DI colleges, and that's just not how the process works," Brown said. "You really have to work on sending video out and getting in front of coaches. Especially now, because it has gotten so competitive for every spot."
Another aspect of the college recruitment process is player ranking. Sports media organizations such as ESPN or 247Sports list players by factors like size, speed and athletic ability. The higher ranked a player is, the higher the demand is for that player. According to 247Sports, Lockett is ranked third in Ohio for the 170-lb. weight class, while Dunn is ranked as 79th.
"You can have a player who has great stature and has the perfect body and then have a few highlights and get Big 10 offers," Dunn said. "You can also have a player who has amazing highlights but also doesn't have the grades and is small and can struggle to get Division I offers."
Blair dismisses the idea that rankings are 100 percent accurate. "Ultimately, beyond everything else, the biggest thing is pure desire and the want to be great," he said. "I've worked with a lot of good players, but only a handful of them have that inner passion for the game and are willing to sacrifice things that a normal average athlete that wouldn't be willing to sacrifice. I call it the 'killer instinct.' Only some athletes have it, and that's the difference maker."
Despite all the efforts required to attract college scouts, deciding which offer to accept can be the most challenging part of the process.
"Picking a school to commit to is very stressful," Dunn said. "During the season, it's hard, because you have a lot on your plate and you can't really focus on schools you want to go to."
However, Lockett said the decision was easy for him once he received an offer from his top school. "I really had my mind on Cornell since sixth grade, simply because it really is a school that values academics along with sports," he said. "Considering my athletic and academic inclinations, it was truly something I thought that I should pursue. It was a no-brainer for me."
Brown and Clarke both signed their letters of intent Nov. 13; Lockett and Dunn, however, will sign Feb. 5. Dunn considered offers from nine Division I schools. Rashid offered encouragement to young athletes who aspire to play in college.
He said, "What I'd tell someone who wants to follow in my footsteps is to do better than I ever did. Go harder and live in the moment. Things go fast. Focus on your passion and put in the hours upon hours of work if this is really what you want."
Journalism I Reporters Ari Green, Chethan Chandra and Ruth Wilson contributed reporting.
A version of this article appears in print on pages 48-51 of Volume 90, Issue I, published Dec. 9, 2019.
Comment using your Facebook, Yahoo, AOL or Hotmail account
comments
Leave a Comment
About the 'Riter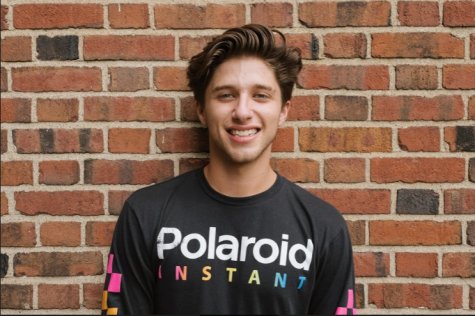 Ezra Marks, Raider Zone Editor
Ezra Marks ('20) is in his third year with The Shakerite. He is currently the Raider Zone Editor. As a Raider Zone reporter his junior year, Ezra covered many different sporting events and did the weekly "Raider Review." He also wrote two print stories and covered breaking news events such as the Brush-Shaker Brawl during a basketball game this past February.
Ezra runs both indoor and outdoor track. He is also a member of the Student Group On Race Relations and the marching band. Ezra also works two jobs, enjoys listening to music, training and sleeping.