Coaching Shortage Continues
The high school's women's lacrosse and crew teams start the season coachless
Both the crew and women's lacrosse teams have been without coaches for months, and the district has not yet found replacements as the spring season nears.
"It makes it extremely hard to figure out how the next season(s) will look," senior rower Charlie Ockner wrote in a text message. "It has created some unwanted stress for the entire team, but everyone is giving their all and working together to make the next seasons as competitive as possible."
The crew team practices in downtown Cleveland on the Cuyahoga River. Their coach quit when COVID-19 shut down the school, leaving them without a coach for the winter portion of the 2022-23 season.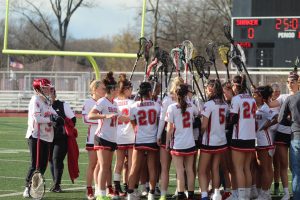 Conditioning is continuing despite the vacancy. "We train on the rowing machines under the north gym. We do pretty much strictly cardio. We are able to have a parent supervising us every day," Ockner wrote.
The women's lacrosse team remains without a full-time head coach as the preseason approaches. Coaches can begin pre-season practice for lacrosse Feb. 20, and the season starts March 17, according to OHSAA.
Senior Anna Welsh said that she thinks there have been no advancements as of yet from the district's Athletic Department in hiring a new coach. "I don't think there has been any progress yet. At least that's what I've heard," Welsh wrote in a text message. "The Athletic Department does not comment on personnel matters," Athletic Director Michael Babinec stated in an email to The Shakerite.
The Raider Rowing website advertised the available coaching positions. "We are recruiting a Head Coach and three Assistant Coaches. These jobs are part-time from mid-August through May and are a hybrid of school district employment (spring season) and SHHS Crew Parents, Inc. appointment (fall season, winter conditioning)," the website stated.
As of Dec. 8, Shaker alumni Lincoln Luzar ('19), former captain of the crew team, is acting as an interim coach until a permanent coach is hired. Luzar declined to speak to The Shakerite.
Senior women's lacrosse player Lily Collier said in a text message, "Not knowing who our head coach is hurts our team because we don't have anyone to give us winter workouts, and preseason practices are disorganized."
Comment using your Facebook, Yahoo, AOL or Hotmail account
comments
Leave a Comment