Cavs Are 'All In' For Domestic Violence, Apparently
Cavs promo video glamourizes domestic abuse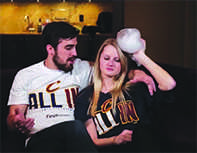 A man and his daughter are sharing a snack in the kitchen before the big game. The 6-year-old girl's long hair hides the logo on her shirt. A peppy song comes on the radio. The girl and her dad, who is sporting the home team's logo on his shirt, begin to giggle and dance. The girl takes a running start and leaps trustingly into her father's arms. When she jumps, the logo on her shirt is revealed — and it's the logo of the opposing team. He throws her to the ground and walks away, muttering. The girl lies on the ground, writhing in pain.

Does this scene make you laugh? Does it make you cringe?

Replace the 6-year-old girl and her dad with a 20-something woman and her husband or boyfriend. Would you react differently? If so, at what age does domestic assault of a women become funny? When she is 10? Fifteen? Twenty?

The Cleveland Cavaliers broadcast a video on the Quicken Loans Arena Jumbotron May 6 depicting a man throwing a woman across a room when she reveals she is a Bulls — not a Cavaliers — fan.

The video, supposed to be a parody of a health insurance company's TV commercial, aired during game two of the Cavs' Eastern Conference Semifinal series against the Chicago Bulls. According to the Chicago Tribune, "many fans in the arena laughed."

The video shows a couple in their kitchen before th

"

Though the video is cartoonish, it communicates a concerning message to women: If you don't support your husband's or boyfriend's choices in sports teams he is entitled to throw you across a room until you agree.

e game, the woman wearing an apron, the man an "all in" Cavs shirt. The couple goofily dances to "Time of My Life"
from the film "Dirty Dancing." Though the apron is annoying (what could a woman possibly do before a game other than prepare food?) and the acting is cringe-worthy, there is nothing inherently wrong with the video — yet.

But then, the woman takes off her apron and reveals she is wearing a Bulls shirt. As she runs to her significant other, ready for him to hoist her over his head like the characters in "Dirty Dancing," he throws her across the room, and she crashes to the floor. He then mutters, "I didn't know you were a Bulls fan."

The woman is seen on the ground, clutching her leg and clearly in pain, while a voiceover says, "When it's playoff basketball season, you have to be all in, so don't make the same mistake she made." Later, the woman is seen sitting on the sofa next to her attacker. She wears a Cavs shirt and holds an ice pack on her head. She tells her partner she is now "all in".

The Cavs took down the video after criticism from groups fighting domestic violence such as the National Domestic Violence Hotline and National Network to End Domestic Violence and news organizations. The Cavs then released a statement, saying "it was a mistake to include content that made light of domestic violence."

Though the video is cartoonish, it communicates a concerning message to women: If you don't support your husband's or boyfriend's choices in sports teams (or movies, friends, what to order for dinner, etc.) he is entitled to throw you across a room until you agree. It's normal for you to watch a sports game, but only if you make food for your boyfriend first and root for his team. You must submit to your man, otherwise he has every right to hurt you.

What's concerning to me is that kids who viewed the video, at the game or otherwise, are at risk of continuing this misogynistic cycle. Young girls who view this video are taught that dating someone who abuses them it is acceptable — even funny. Boys are taught abusing women is OK.

After watching the video, I went on Twitter to see the reaction. More people expressed outrage at Tom Brady's awareness of deflated footballs than at a video encouraging domestic violence. How can most people overlook a video promoting abuse? It's a disturbing mystery to me.

Perhaps it's because domestic violence has become the norm.

For example, on May 13, seven days after the video was broadcast, Cavaliers' center Kendrick Perkins was allegedly involved in a domestic dispute. A 911 caller reported a man and woman in a physical altercation and believed the woman was pulling Perkins back into the car. Perkins has gotten legal attention for violence before. He faced assault charges in 2013 when he allegedly punched a woman.

Perkins is not alone. Recently domestic violence has brought professional athletes a lot of attention. Most famously, in September videos surfaced of former Baltimore Raven's running back Ray Rice knocking out his then fiancée and dragging her limp body out of an elevator.

In light of the domestic violence reports among professional athletes, public pressure is mounting, and teams, as well as leagues, have taken action to discourage domestic abuse. The Cavs' misguided video, however, proves that the "strong and lengthy track record of supporting domestic violence-related causes and efforts" described in Cavaliers' statement is not enough for the Cavs take abuse seriously.

To set an example and take a stand against domestic violence, the Cavaliers need to do more than issuing an empty apology. The Cavs, now in the NBA Finals, need to prove to their fans that domestic violence is not acceptable to them and they need to work to end, not strengthen, a sports culture that accepts and glamorizes abuse. The Cavaliers have not shown that they respect female sports fans — or females at all.

Maybe we should not go "all in" for a team that doesn't value the safety and wellbeing of all its fans.
Comment using your Facebook, Yahoo, AOL or Hotmail account
comments
Leave a Comment