Bringing Students Together Through Esports
State Championship Team Puts Shaker on the Map
What started as an afterschool digital gaming club grew to be a state-winning esports team.
In 2017, three students approached German teacher Keith Szalay with the idea to start a social club for students to play video games after school. The club became very popular among students with Szalay as the advisor.
 Students in the newly formed club proposed starting an esports team. "They saw the talent we had and the dedication," Szalay said. The Shaker Heights High School Esports Team was officially established in fall 2018 with Szalay as their coach. Their first game was Smash Brothers and the team finished as the state runner up in the Esports Ohio League that spring.
The esports team plays two seasons each year, spring and fall. Currently there are 61 players and eight teams. They currently play Smash Brothers, Overwatch, Rocket League, League of Legends, Fortnite and Valorant. 
The Overwatch team won states in both fall 2019 and fall 2020, making them back-to-back champions. The Smash Brothers team was a state quarter finalist and the League of Legends team were conference champions in spring 2019. 
The esports team gives students an opportunity to represent Shaker. "My favorite part of the team is getting to represent my school doing something I enjoy," sophomore esports player Jacob Gearity said. 
The team currently plays in room 253b, previously a computer lab and classroom. New equipment was paid for by a grant of over $20,000 given to the team by the National Guard. This grant was given to only 21 schools out of over 3000 applicants.  
Shaker's esports team is diverse both economically and racially, but fails to attract girls to play. Only ten percent of the 61 member team is female, according to Szalay. "The team pulls kids from many different backgrounds, they all come together because they have this love of gaming, but we don't get many girls," he said. 
The lack of girls in gaming isn't only a problem in Shaker. Sophomore esports player Samantha Pavlovic says it would be comforting if there were more girls who play esports. "I wish there was more female representation in general in video games," Pavlovic said.
The team practices four times a week with league matches for each game once a week. Spectators often come to watch the teams play, but room 253b is relatively small. The esports team hopes to make it easier for students to watch and support them. "Our biggest goal for upcoming seasons is to create a streaming presence," Szalay said. This streaming presence would be available on Shaker's website and would make games available to spectators online by joining a link. 
Esports is a way for students to play the games they like while on a team instead of alone at their homes. Pavlovic said, "I like the matches because of how understanding my team is, my team actually listens to me and respects me."
Comment using your Facebook, Yahoo, AOL or Hotmail account
comments
Leave a Comment
About the 'Riter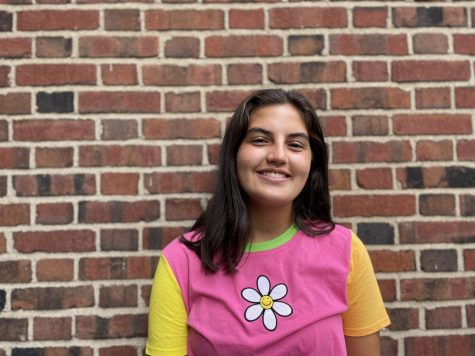 Amelia Raymond, Raider Zone Editor
Amelia Raymond ('24) is in her second year with the Shakerite and is writing as the Raider Zone editor. As a Journalism I/II student last year, Amelia published stories on masks and grading policies. Other than the Shakerite, Amelia spends her time on the soccer field and babysitting. In her free time, she enjoys baking, painting and reading.