All Ohio Athlete, Mia Compton-Engle Runs to Success
Shaker cross-country runner leads the team to State
Senior Mia Compton-Engle finished her high school cross-country career as the Shaker Heights High School women's school record holder for a 5k race.
Compton-Engle holds Shaker's women's cross-country record with a time of 17:50.7 at the Midwest Meet of Champions. The past two years the team has placed in the top three in the state and this year she finished 19th in the state, winning her all Ohio honors.
The top 30 runners in the state earn All-Ohio status. Mia was the first Shaker runner to hold this status since Sophie Carrier ('18) placed 11th in 2017 at the state meet. 
This past year she captained the girls' team to a great season, leading them to conference, district and regional championships. She also led them to a third place title in the state meet. 
Cross-country practices five times a week and competes in races every Saturday, so having personal time and school is scarce. Compton-Engle said that having the daily routine of going to practice every day really helped her out.  
Compton-Engle also runs track as a spring sport, and last year she placed eighth individually for the two mile race with a time of 11:14.64. This year she plans to improve on her time from last year. "This season, with that as my foundation, I definitely want to improve upon my times and position in terms of state rankings," she said.  
Last year the indoor track season was canceled due to Covid-19. This year Compton-Engle has faith that her teammates can improve "I think we have a ton of potential this season because we can actually have an indoor training period as well," she said. 
Her prized cross-country race was the Midwest Meet of Champions this year, where she earned the school record. "That's where I set my PR, and beyond that it was a super exciting race." The girls team placed first in that race and she placed first overall, winning by 43 seconds.
Her favorite memory was cross-country camp over the summer at Camp Kern in Oregonia, Ohio. Every year the team goes to camp for four days to bond with the team members and the coaches. "My favorite memory was that one time at camp when I think it was Gage and Maclin on the guitar and we were all singing and holding hands. We had some good times this summer," she said.
Compton-Engle says that the bonds that she has formed with her teammates and coaches are extremely important to her. "I think that there are moments where I don't believe I can run a certain time or perform a certain way on my own and then I really have to turn to the strength of that community to propel me forward," said Compton-Engle, "They trust in me so I can trust in myself."
Over the past 16 years as the cross-country coach David Englander has formed many bonds with his runners. "I trust him more than anyone in my life before, just that he wants what's best for me and he'll do whatever he can to help me achieve my goals," Compton-Engle said.  
Compton-Engle plans to come back and check in on her former teammates and coaches after she graduates. "I certainly intend to come back and make myself as supportive as possible to future teams. I think the hard part will be restraining myself because Coach is, like, 'come back for all the summer practices.' Part of me is, like, OK bet, and part of me is, like, I cannot keep showing up to those," she said.
The future for women's cross-country is bright with talent and Compton-Engle thinks the team will continue to be contenders for state. "I think that our team has proven itself again and again to be very competitive and I think that from that standpoint I would love to see future teams go where we could not this year and of course individuals continuing to improve and pushing one another to improve so I'd love to see that develop," she said. 
From a more unified standpoint, Mia wants to see the team grow back together as a family. During last year's COVID-19 season, Englander had to split the team up into pods. Compton-Engle wants to see everybody come together and support each other to build a cohesive team.  
Seniors are remembered for the impact that they had and the legacies they left behind. Compton-Engle wants to be remembered as a person that was always positive. She said, "I want to be that person that held people's hands or gave them a warm smile and a hug and was always a welcoming presence on the team."
Comment using your Facebook, Yahoo, AOL or Hotmail account
comments
Leave a Comment
About the 'Riter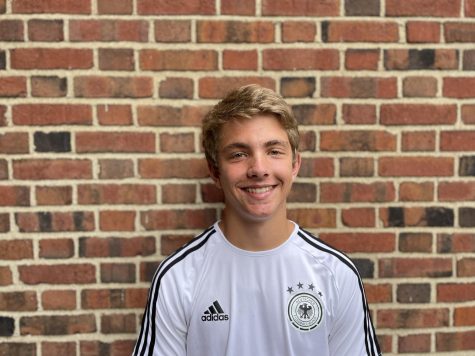 Andrew Fogerty, Raider Zone Reporter
Andrew Fogerty (24) is in his second year with the Shakerite and is currently a Raider Zone reporter. As a Journalism I/II student last year, Andrew contributed to publishing stories about online learning and vaccinations. When not busy writing Andrew spends his time running with the XC and track team and on the baseball field. In his free time Andrew likes to listen to music and hang out with friends.