With Homework to Spare, School Invades Students' Summers
Homework creep continues as assignments go beyond reading novels for English
We've all experienced the anxiety that overtakes us during the last two weeks of August. The realization hits all too suddenly. Summer is coming to an end, and school will be starting in a few weeks. The worst part? You still have summer homework to complete.
We all know the side effects that come with the August Panic. Nausea, dizziness, shortness of breath. Soon, we enter a state of denial, in which one typically undergoes a drastic change, the most extreme being dropping the homework-laden class all together.
Last year, as rising sophomores, we were faced with annual task of APUSH summer reading. Six textbook chapters, four essay outlines and three chapters into a supplemental reading, we felt like the colonists venturing into the New World, scared and alone.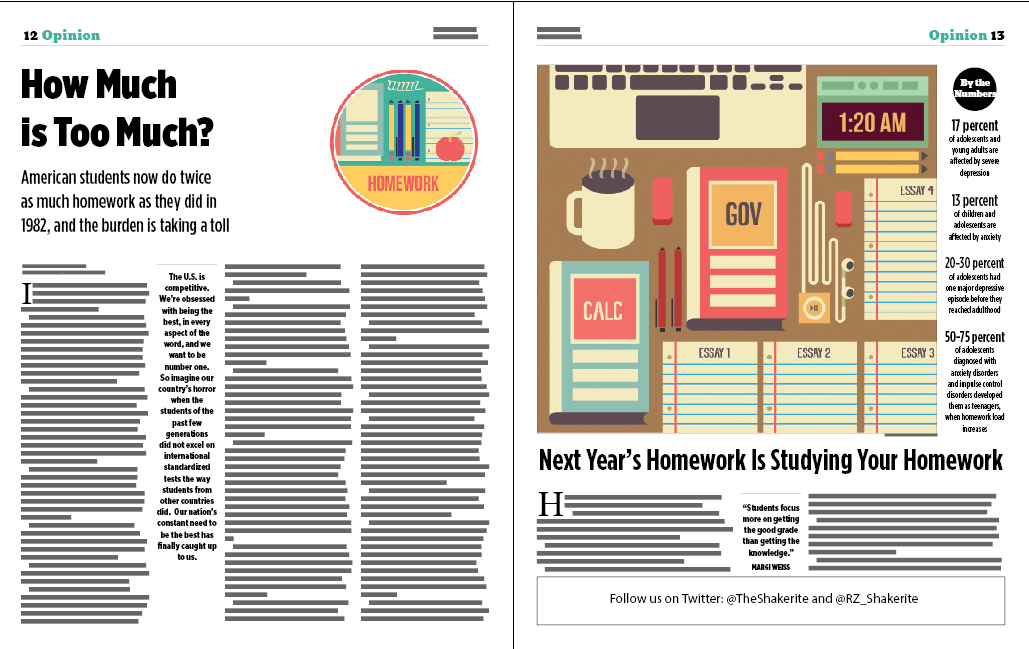 With little guidance and a daunting amount of work, many of our peers considered dropping the class, even before the school year began.
"It was a lot of work, and pretty intimidating," said sophomore Ella Ball. "I think it's important to get a base for your upcoming class, but sometimes they give too much work over the summer, which is supposed to be for relaxing."
So if summer is meant for relaxing, and this work only adds stress, why is there a need for summer homework?
AP World History teacher Amanda Ahrens assigns her students mapwork, the first chapter in the textbook and roughly 150 pages of "Guns, Germs, and Steel" by Jared Diamond to complete over the summer.
"I do think that you have to do something over the summer, especially if it's a college course," Ahrens said. "I just want the kids to start thinking and be ready on that first day, as opposed to not knowing anything or not really understanding what the class is about, so at least I know that at least a day or two before they're in school mode again. I think it makes the transition easier for everybody involved."
However, Ahrens isn't the only teacher requiring summer homework for her course. For example, the English Department requires summer reading to be assigned for all classes, meaning every Shaker student has at least one significant assignment over the summer. As for AP courses, the required work becomes increasingly tedious. For example, AP U.S. History students must complete the first six chapters of their textbook, "The American Pageant," and three more chapters in a supplementary reading.
The work paid off for APUSH student Ball.
"I think reading over the summer gave me more time to complete the work and showed me what was to be in store for the rest of the year," Ball said. "The time definitely helped me prepare myself."
AP Economics students, however, are expected to watch two documentaries and take graded notes on each. Although this change of pace is refreshing for students fed up with reading, it's unsure if it proves equally beneficial.
"I do think kids need to read more. I think that a tendency now is to not read, so I hesitate moving to all movies or documentaries because I think that sitting down with a book is something that is valuable, and you're going to have to do that in college," Ahrens said. "For me, summer reading is like two parts. For one, it's to show you the rigor of the class, and also, two, to spark your interest."
But whether reading more than 100 pages of a textbook and taking notes on the material really sparks students' interest is debatable.
Sophomore Max Markey, who will be starting the International Baccalaureate Programme next year has to read two books for IB Theory of Knowledge, two for English, and watch documentaries for Economics.
"I think it depends," Markey said of his interest in summer work. "There are some classes, especially AP and IB classes, where you do kind of need it to get started and introduce the material before the year starts. With the Econ [documentaries] it should be interesting, but for the most part it'll be horrid."
In fact, some students are so uninterested in the information and unprepared for the rigorous course they signed up for that they wind up dropping it within the first couple weeks of the school year, if not before. So to what extent does summer work double as a weeding-out tool for unprepared students?
"I want to get away from that [summer work as a weeding out tool], but I do think the class is a huge jump for some kids, and it's important to understand what is going to be asked of them," Ahrens said. "It's a preview of what they're going to encounter, so what's better? That they don't see it beforehand, or they do see it and do find it intimidating. Personally, I think the latter is better."
Although intimidation and an overwhelming workload is often the case, some students drop advanced classes for other reasons. Junior Bess Aronoff ended up dropping APUSH only halfway into the first quarter of her sophomore year because she did not feel she was getting sufficient direction for the course.
"Because APUSH is the first AP class that people take, that summer homework is hard because there's no guidance. You're just handed over a textbook and sort of forced to figure it out yourself," Aranoff said.
But what happens to all those students who toughed it out and completed the rigorous course? According to College Board, although the total number of AP tests taken by each high school class more than doubled from 2002 to 2012, AP test scores have been dropping rapidly in recent years. The overall pass rate dropped from 61 percent for the class of 2002 to 57 percent for the class of 2012. In fact, the class of 2012 failed about 1.3 million AP exams during their high school career.
So at the end of the day, after all AP tests have been taken and forgotten, how much did that summer homework really help?
Comment using your Facebook, Yahoo, AOL or Hotmail account
comments
Leave a Comment