The Arts' Last True Renaissance Man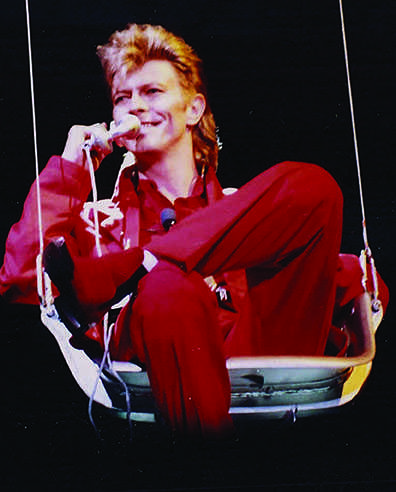 The death of a hero is never expected, but the idea that David Bowie could die is unfathomable. His persona, tied to immortality, seemed beholden to another world, one above the lowly idea of death. But cancer has once again proven itself the great equalizer, and we find ourselves in a world where David Bowie no longer exists.
The legendary British rock star died Jan. 16 at age 69. His sudden death spurred waves of sorrow and a universal assessment of his legacy.
Bowie once said, "I don't know where I'm going from here, but I promise it won't be boring," and it certainly wasn't.  His lifelong career of forty-seven years and fresh musical styles redefined what is known as today's pop-music landscape. His album, "The Rise and Fall of Ziggy Stardust and the Spiders From Mars" is essential to the world of glam rock.  Bowie furthered his impact on the folkie singer-songwriter realm with, "Space Oddity" and "The Man Who Sold the World."  He even made an impact on the world of R&B by producing "Young Americans and Fame."  His musical leadership is visible in today's artists from Lady Gaga to Cat Stevens, and his legacy is apparent even in those whose music sounds nothing like his, such as Kendrick Lamar.
David Bowie's talent was undeniably weird.  His unique style and fresh ideas managed to keep his career relevant in the music industry.  In the entirety of his career he has released 27 studio albums, 9 live albums, 49 compilation albums, 6 extended plays (EPs), 121 singles, including 5 UK number one singles, and 3 soundtracks. Bowie also made 14 video albums and 59 music videos.  His presence in the music world can be compared to his just as equal presence in the fashion world.  He was married for years to a supermodel, Iman Abdulmajid, and was always on the forefront of fashion as a sophisticated dresser.
David Robert Jones (Bowie's given name) transformed to David Bowie, Ziggy Stardust, and finally The Thin White Duke . Bowie used these nicknames to separate the different eras of his life. His legacy encompasses much more than just good music; he challenged the limits of gender expression as well.
"It was about the androgyny of mixing it up, and that was what was so incredible about his concepts—he was one of the first rock stars to really push the idea that sexuality was not black and white, but an exploration," Adam Lambert, an American singer and songwriter, said after Bowie's death. A bisexual man, Bowie advocated for gay rights and became an iconic LGBT figure. In addition to gay rights, Bowie spoke out about the lack of diversity in the music industry. diversity of the music industry.  MTV released a 1983 interview in which Bowie bluntly brought up one issue he had with race in the music industry. "I'm just floored by the fact that there's so few black artists featured on [the music industry]. Why is that?"
In addition politics, a spotlight shines on Bowie's artistic side. His style oozed confidence unto himself and all who watched him. His defyingly open theatrics and emphasis on fashion and visual arts set him apart from every other artist in the industry. Well-known singer Lorde shared a tribute to Bowie, saying, "He was a piece of bright pleated silk we could stretch out or fold up small inside ourselves when we needed to . . . he heralded me into my next new life, an old rock and roll alien angel in a perfect gray suit."
David Bowie could do it all.  As a political activist, a deeply-rooted songwriter, and a fashion icon, Bowie has left his footprint behind for emerging artists to learn from and follow. He refused to let the winds of anything but his own inspiration sway him. He dedicated himself to making the world of music a groundbreaking business and an equal place regarding race and gender. Bowie once said, "I suppose for me as an artist it wasn't always just about expressing my work; I really wanted, more than anything else, to contribute in some way to the culture that I was living in. It just seemed like a challenge to move it a little bit towards the way I thought it might be interesting to go."  
We have so much to thank him for. This world of music, of arts and equality is unaccountably lesser for his departure.  Carrie Brownstein of famous TV show Portlandia said, "It feels like we lost something elemental, as if an entire color is gone."
Thank you, David Bowie.
Comment using your Facebook, Yahoo, AOL or Hotmail account
comments
Leave a Comment