Summer's Fun Fading Away
Ever more pressure to boost resumés robs students of lazy, rejuvenating days
Temperatures are rising, and so is the pressure to determine your future over summer break.
Students once relished summers of peaking excitement, elevated temperatures and increasing bathing suit costs. But more and more students' summers are instead devoted to working, interning and providing service abroad.
When I started reporting for this article, I felt disgusted. Confronting what's become of summers made my stomach drop. As a longtime camper, my summers embody the best days of my life. In the serene woods of northern Wisconsin where the water is blue and fresh, the sunshine pure and the smiles authentic, happiness prevails. I admit that to non-campers, stories about camp experiences sound overrated and dull. But for me, camp is anything but dull. When I think of the happiest place on Earth, I think of camp.
Surrounded by thick green forest on all sides except the lake, it's a peaceful place. Camp allows us to wash off the school year stress and anxiety, embrace summer spirit, and just relax. Camp Nicolet is a girl's camp, which for many relieves the stress of having boys around all day.We are encouraged to be our best selves, but I believe this comes naturally at camp.
"
It's reaching the point where I'm 15 and I'm starting to gear up to be an adult.
— Chad Hamilton
With greasy hair, dirty shorts and wet shoes, we march from activity to activity, content to be in the company of others like us. Because cabin mates spend 24 hours a day together for six weeks, we subconsciously grow closer and closer each day. Through jokes, songs, secrets and non-stop laughter, we become comfortable with one another in a sort of sisterhood. Knowing that there are nine girls who support you unconditionally is the greatest feeling in the world, especially when camp provides daunting new opportunities unavailable at home.Camp has taught me how to make friends, how to be a leader, how to win and lose graciously, but most importantly, how to be myself. Without the stress of parents, boys and school, I can truly embrace myself, and teach others to do the same.
Those days are over now. No more lounging by the pool or sleeping in, because today, teenagers are bearing down and using summer to distinguish themselves from thousands of others in the college admissions race and careers.
"It's reaching the point where I'm 15 and I'm starting to gear up to be an adult," said freshman Chad Hamilton, who will work at Hawken Day Camp this summer. A few decades ago, that sentence might never have come from a 15 year old. "I think teens are realizing that at some point, you have to start your life. Getting a job is that first step."
The cutthroat college admissions process underlies the phenomenon of resume-building summers. Internship rates are climbing, and statistics from Millennial Branding, a Gen Y research and management consulting firm, show 77 percent of high school students are either extremely or very interested in volunteering to gain work experience, compared to 63 percent of college students.
"In today's economy, students have to start building their careers in high school in order to better compete in the college admissions process, for college internships and eventually full-time jobs," Dan Schawbel, founder of Millennial Branding, stated.
The pressure to professionalize summer doesn't come from parents as much as it does from peers. It is simply not enough to volunteer during the school year — everyone is doing that now. "I feel like nowadays everybody works, volunteers or does something like that for their resume, so it doesn't make much of a difference anymore. It's hard to know what colleges are actually looking for and what they find to be important but honestly, I don't know how much summer jobs actually helped me for the application process," said Isabel Haber, a senior.
"During the school year, most people are taking AP, IB or Honors-level classes, which makes it hard to stand out. Usually you'll have to have something extra that's not just those types of classes," freshman Honor Zetzer said. It seems unimaginable that spending a summer away at camp or just relaxing at home is frowned upon because it's not "proactive".
"If kids haven't filled their summers, there's almost the perception that they're lazy or don't want to do things, and there's negative connotation, but I feel like the reason we have summer is to relax, so it's frustrating," junior Helen Yusko said. Summer's lively opportunities remind you that you're not in school and should provoke thoughts of happiness and sunshine. Today, loafing is out as kids look into more serious summer options.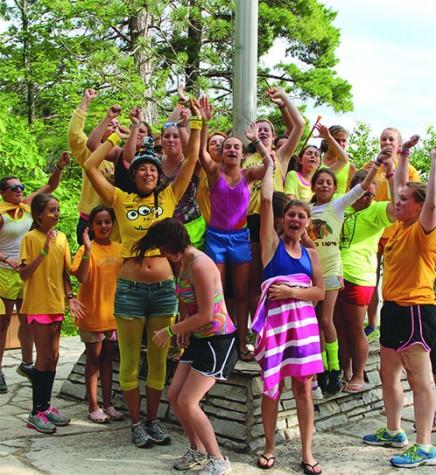 According to The New York Times, college tuition at public universities has risen nearly 25 percent over the past 35 years, and the acceptance rate at each and every college has dropped significantly. "Kids have started to realize how expensive colleges are. That's why we're all getting jobs in the summer, to support our future," said freshman Ellen Meyerhoefer. "All people really talk about these days is what they're doing over the summer to make money for the future." While it may seem like preparing for the future is a wise decision, does it really need to start at such a young age… and in the summer?
Our parents had a very different experience.
"We had more freedom to act without the feeling that every single activity needed to look good for a college application. I don't think the pressure to perform all the time was there," said Shaker parent Anne Flamm.
It's not that our parents didn't work during the summer, it's just that for kids whose families did not rely on them for wages, the purpose of their jobs held less significance. There were no negative consequences for having fun rather than working, and summer jobs did not hold the key to students' futures.
"I had a lot of pool time, a lot of outside time, a lot of chill time," said Hallie Stewart, a Shaker parent. "I worked hard, but I played pretty hard, too." This is the essence of summer, a mixture of work and play.
"The amount of stress this process puts on students is horrible," said junior Abbey Bugenske. Every high schooler is well aware of the effects of stress — irritability, frustration, impulsivity and reduced work efficiency. Our moods range from angry to angsty and include frequent temper tantrums and breakdowns. Now imagine typical teen stress in addition to humid, sticky temperatures and long hours in the office. It makes for a hot mess. Literally.
Instead, students should be experiencing the radiance of childhood summer while it remains. Not necessarily spending all their time loafing by the pool, but sincerely enjoying the "off the cuff" summer children yearn for. We devote too much time worrying about how previous experiences will look on paper rather than actually living them.
"When it gets to the point where people say, 'I'm only doing this because somebody told me I should,' or, 'I'm only doing this because I feel like I have to,' that's when it becomes a problem," Yusko said. It's simple. People should just do things that they enjoy doing. Do what makes you happy."
Now we worry that we are spending too much time at camp, and not enough time studying for college, boosting our resumés. Well, that's too bad. Building your resumé is about showing others what you're passionate about, things that make you happier than anything in the world. And for me, camp is one of those things. Although you aren't earning money, or contributing to a charity, or curing cancer, being a camper has taught me valuable life skills that are simply unattainable at school or during a summer internship.
Comment using your Facebook, Yahoo, AOL or Hotmail account
comments
Leave a Comment