Pop Culture Shock: What Rush Limbaugh Stands For
Rush Limbaugh represents ignorance in our media
On Feb. 4, at the State of the Union, President Donald Trump awarded conservative talk show host Rush Limbaugh the highest civilian honor in the United States — the Presidential Medal of Freedom. And, in turn, our definition of humanity was brought down. 
The Presidential Medal of Freedom was created by an executive order of John F. Kennedy in order to recognize those who have made, "an especially meritorious contribution to the security or national interests of the United States, world peace, cultural or other significant public or private endeavors."
Past honorees include Maya Angelou, Martin Luther King Jr., Stevie Wonder, Rosa Parks and Madeleine Albright. These larger-than-life figures have legacies that extend beyond their recognition. We all know King's "I Have A Dream" speech and get chills when we repeat the story of Parks claiming her equality in the front of a bus in 1955. Then I remember Limbaugh's claim that feminism, "was established so as to allow unattractive women easier access to the mainstream of society." This is who Trump has given the same honor as the greatest change-makers in American history. 
Limbaugh is the host of "The Rush Limbaugh Show," with an audience of about 27 million people a day. Trump described him in his speech as "the greatest fighter and winner that you will ever meet." Basic moral values would say that his rhetoric is anchored in white superiority, male privilege and absolutely no humanity.  
In 2012, when Georgetown University law student Sandra Fluke testified before Congress in support of the Obama administration's effort to require employers to cover contraceptives for employees through their health insurance, Limbaugh called her a "slut," and a "prostitute." In 2013, he said on his talk show that, "If any race of people should not have guilt about slavery, it's Caucasians." This is just a sliver of his abhorrent behavior.
A week after Limbaugh received the award, he continued his pattern of bigotry regarding Democratic presidential candidate Pete Buttigieg and his husband, Chasten. Limbaugh said, "Mayor Pete — a 37-year-old gay guy, mayor of South Bend, loves to kiss his husband on the debate stage. And they're saying, okay, how's this going to look, a 37-year-old gay guy kissing his husband onstage next to Mr. Man Donald Trump?"
But this endless parade of ignorance by Limbaugh has deeper effects than we imagine. People like him create space in the mainstream for bigotry. Normalizing outlandish slander like his marginalizes those targeted by his language — women, minorities and ideological adversaries — from entering the conversation about politics. Differing opinions are a staple of democracy, but the way in which we express them is just as important as what we have to say.
It's arguable that a medal of freedom is not as important as the unjust and discriminatory policies and legal loopholes that the Trump administration is pushing. I agree that the public often spends too much energy focusing on Tweets and soundbites of Trump's newest Neo-Nazi infatuation or sexist insult, but the president should set our moral standards. He is telling us that we should value hatred and bigotry over truth and acceptance.
Pop Culture Shock is a bimonthly opinion series focusing on current events in pop culture. Written by Opinion Editor Olivia Warren, it reads between the lines of social issues and explores new entries into pop culture.
Comment using your Facebook, Yahoo, AOL or Hotmail account
comments
Leave a Comment
About the 'Riter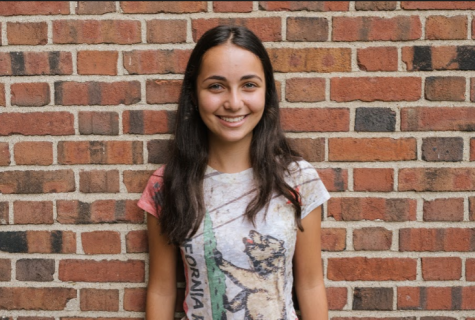 Olivia Warren, Opinion Editor
Olivia Warren ('21) is in her fourth year with The Shakerite. She is currently the Opinion Editor and the Chairwoman of the Editorial Board. Olivia has covered issues ranging from rape culture to veganism. Outside of The Shakerite, Olivia is the president of Political Action Club, Pennies for Paws and Extinction Rebellion Youth in Cleveland. She also serves on the Superintendent Student Advisory Committee. Olivia also has a passion for tennis, music and social justice.