'I am Pee-ved'
Grace Wilkinson offers advice about Shaker Heights High School's most trying issues
Dear Grace,
Good morrow! I'm a junior at Shaker Heights High School. I arrive to school at around 7:30 every morning and typically dine on a breakfast I purchase from the cafeteria. Waiting for me every day are little cylinders of joy: Dunkin' Donuts Cookies and Cream Iced Coffee. These little guys just get me. I guzzle down about three, or as many as my gullet can handle. I only cut myself off once my belt is dressed in cap and gown, ready for a notch graduation. Let me tell ya, it has not been an easy road.
With this daily decision, I am forced to retreat to the loo at least once a class period. The upside? My calves have never looked better! You could crush a baker's dozen of walnuts with those things. The downside? As I make the trot toward the lavatory every day, I am overcome by a paralyzing fear (which is not good for my bladder, mind you).
And yes, I do know the cause. It spawns from the knowledge that I will enter the lavatory and most likely NOT be greeted by a genteel washroom attendant who is waiting to dry my paws, baby bird-feed a mint into my mouth, and tell me I don't need to look in the mirror because I'm already perfect.
Nay, I will be greeted by the dreaded beings of the bathroom — the bathroom gremlins, if you will — the Juuling Jamboree.
They lurk in the lavatory, waiting for the creak of the bathroom door to sound. On this cue, they channel a middle school theater prodigy as they, accompanied by jazz hands, sing "SHOWTIME!" and assume their onstage positions. What follows is a musical number in which I try to avoid the glazed-over eye contact of my peers while they do a dance of puff, puff, pass. As I usher myself through their army, I'm overwhelmed by the same feeling I used to get when breaking through a wall of comrades during the once-beloved childhood game Red Rover.
When I finally find myself in a stall, I am distracted by the green apple smell of liquid cancer that lingers so powerfully in my nostrils that I forget to pee. I resort to just blowing my nose and, defeated, exit my stall. You win this time, Mr. Juul.
As I depart the stall and make a grand re-entrance to my high school's very own smoke lounge, I try to avoid any interaction that would inspire one of the Juuls to offer me a single puff. Some evasive tactics are tucking and re-tucking my shirt, acting like I'm incredibly nervous about the cleanliness of my hands, and pretending that I am deaf.
Suddenly, a sense of familiarity washes over me. I'm reminded of my great aunt's home, where cats lie on every surface. Some of the Juuling Janes perch on the lip of cement underneath the mirrors, some stand behind bathroom stall doors, some occupy the sink and some cough up hairballs from the overuse of nicotine (similar to my aunt's Siamese cat, Raphael).
Grace, I've been reading your column for years and have learned so much from your generosity and charisma. You are also gorgeous. Please, I beg you, help me find a way to eliminate these interactions from my daily routine.
Pee-ved
Dearest Pee-ved,
Hey, you! I'm glad to hear from ya. I'm sorry (and honestly, a little put off) to hear about your bladder. Boy, am I glad I'm not you! Get a grip, woman.
I did once have a yorkie, ya know, the pooch. A beautiful girl named Priscilla who just couldn't find it in herself to not wet the bed. After several visits to the vet, I decided to take matters into my own hands. My solution? I purchased one of those little doggie diapers for the girl. I am given no choice but to offer the same advice to you.
Honestly, they can be stylish. Throw a good ol' fashioned Aeropostale belt on that baby and strut right into Heinen's — you'll be turnin' heads, sugar!
I will add, you're not the first struggling teen to bring this issue to me. Do you know how many kids have been locked in the chamber of nicotine addiction all because they need to relieve themselves? Well, me neither, but my guess is at least one or two.
Just last week, a petition was created by an anonymous high schooler to restore the Egress to its original 1980s use: a smoking lounge. The name would then be changed to the "E-(boy)gress."
Discussions are ongoing, but things are not looking good. Juuling is a sticky situation in high schools.
For those struggling with the effect that Juuling can have on an innocent lamb, might I refer you to a "The Real Cost" vaping commercial?
All jokes aside, Pee-ved, the Juuling epidemic, especially in teens, is a true problem. For those who are trapped in its Blue Razz'd grip: Hey! It's not your fault. We all find ourselves in troublesome phases. I will, however, add the following: C'mon guys. People are dying from this activity. I'm not sure how to include a graph in this newspaper, but if I did, I would use one that shows teenagers' deaths in relation to Juuling. If you think you have to quit but don't know where to start, talk to an adult.
Pee-ved, I hope that you can find it in you to accept the fact that kids who find comfort in a Juul are no different than you. Sure, you may question their decisions, but they'll learn the cost of their actions sooner or later. For now, I suggest either sporting the Priscilla technique or continuing with your bathroom routine. Who knows, perhaps you'll even make some friends along the way.
Good luck.
Grace Wilkinson
Comment using your Facebook, Yahoo, AOL or Hotmail account
comments
Leave a Comment
About the 'Riter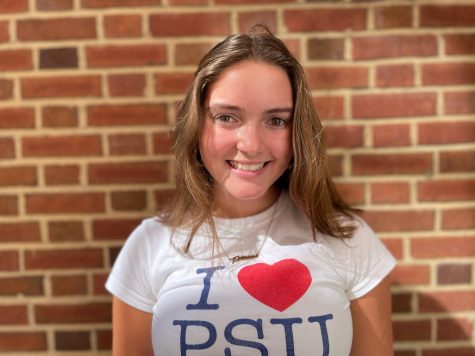 Grace Wilkinson, Print Managing Editor
Grace Wilkinson ('22) has been with The Shakerite her whole high school career. She has been the Satire Editor since her Sophomore year, and it has been one of her favorite parts of school. Grace has her own T-Shirt company, is the vice president of Mock Trial, and founder of a Non-Profit. She enjoys spending time at school.