If We're Lucky, Loud or Oprah, They Just Might Respond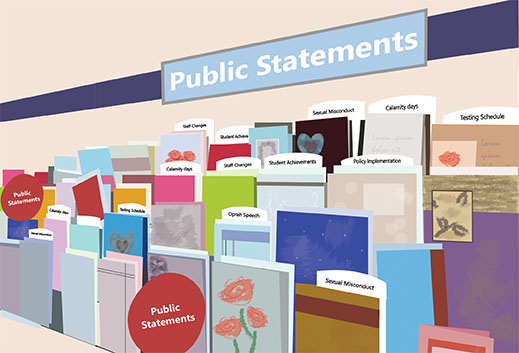 Communication goes both ways, and with two overdue public statements, the administration has failed yet again at both of them.
Timothy Mitchell pleaded guilty to child endangerment Oct. 12, having provided alcohol and marijuana to and having had sex with his 16-year-old student when he was 36 in 1995. He served 68 days of his nine-month sentence, then was released Dec. 19.
Aside from two vague emails, the administration has remained silent since their statement on his indictment in April. Executive Director of Communications Scott Stephens made it clear that Mitchell is out of sight, out of mind when he said the former social studies teacher's release "doesn't affect the district — he has been gone since Memorial Day."
What might be more infuriating than the administration's prolonged silence was what they said when they broke it.
High school Principal Jonathan Kuehnle and Superintendent Gregory C. Hutchings, Jr., are the only two employees to have publicly stated the district's intolerance of sexual harassment and misconduct, and their respective district-wide emails were too little, too late and too offensively ignorant.
When Kuehnle sent his email over Thanksgiving break, he credited the holiday for providing an opportune time for families to discuss sexual harassment and victim empowerment. Nine months after his formal April 2017 statement, Hutchings finally released a more passionate email, inspired by a single celebrity 2,000 miles away: Oprah Winfrey.
Winfrey, who needs no introduction, gave an empowering, emotional, eloquent speech when she accepted the Cecil B. de Mille award at the 2018 Golden Globes Jan. 7. The next day, Hutchings exploited these words in a district-wide email, delivering a stinging smack in the face to so many, including me, who have provided a number of opportunities —  all ignored —   for the administration to engage in this very discussion.
"Oprah Winfrey's words, and the words and actions of so many others, provide us an opportunity to reflect on our own values," Hutchings wrote. "As a result, I want to publicly state that we will never tolerate or condone any form of harassment or assault to our young people in the Shaker Schools."
Well, thanks, Oprah, for saying what we have been shouting at him for months.
"
Well, thanks, Oprah, for saying what we have been shouting at him for months.
The Editorial Board published a 'Rite Idea titled "Moving on Requires More Than Paint" in the October print edition. "None of us can reconcile alone, and none of us should have to," we wrote. Shaker's five months of administrative silence and lonely reconciliation are apparently over; now, we can reconcile with a few inspirational Oprah quotes.
Sophomore Ainsley Snyder, our Spotlight editor, published online her Nov. 9 column, "Who Deserves It?" and courageously shared her own Me Too testimony —  recurring incidents of verbal sexual harassment. "I am writing this story to bring awareness to this issue and to fight for what I believe in," she wrote. Kuehnle shared her article on his Twitter account and commented, "Our young men need to learn to treat everyone with respect."
I responded online to this tweet with an open letter to Kuehnle, five days later, titled "Tweets Will Not Protect Us." I argued that it is his responsibility to lead and teach said young men. I received no response until Dec. 6, when I asked him for one directly. He agreed with an assortment of points I made in the letter. Then he stated that when he first read my letter, he felt inspired by the effect his one tweet achieved and expressed his wishes that other leaders in our country could tweet such impactful things.
On Nov. 17, Jennie Reiff publicly addressed the administration in her online op-ed, "They shouldn't need to learn it from me." Reiff, now 38, was the 16-year-old Shaker student whom Mitchell assaulted. She emphasized Shaker's need to proactively address the reality of sexual harassment in their buildings, and voiced that she is continuously disappointed in the administration's silence. "The perceived inaction does a disservice to me and to every Shaker student, past, present and future," Reiff wrote. The administration did not respond.
Most recently, senior Madi Hart published an online Guest 'Rite titled, "Be Safe, Be Respectful and Sweep Things Under the Rug" on Jan. 9. She expressed her own disappointment that the administration keeps avoiding Mitchell discussions, and that Hutchings ignored students' demands for comment until Oprah delivered her speech. Kuehnle reached out via email for further discussion, but, Hart said, he never scheduled it.
Reiff commented on Hart's piece on Facebook, noting the hypocrisy underlying Hutchings' promises: "He claims to stand with us, but he certainly wasn't standing with me at the Justice Center in October," Reiff wrote. "It's clear the administration would prefer to pretend I don't exist. I'm glad Oprah got through to him, though."
"
It's clear the administration would prefer to pretend I don't exist.
— Jennie Reiff
Her comment is heartbreaking, and its subject is enraging. He chose to respond to Winfrey rather than to the women who walk his halls, who have repeatedly urged him to consider our perspectives and our demands — as a leader should. He chose to ignore the woman who spoke her truth so that she might live unburdened by something that was never her fault.
I'm disheartened that at this point, I'm afraid to ask for any further administrative statements because I don't want the same copied-and-pasted language about Shaker policy, values and dedication to students; the same robotic buzzwords couched in emotionless jargon and promises to "continue" protecting students.
I'm disheartened by how little effect I expect to have on administrative decisions. I'm disheartened to learn that in my own community, no one's voice carries as far or resounds as loudly as Oprah's.
A version of this article appears in print on pages 34-35 of Volume 88, Issue 2, published Feb. 8 2018.
Comment using your Facebook, Yahoo, AOL or Hotmail account
comments
Leave a Comment