Shaker Should Do More Than Hide
In an era of mass school shootings, school districts should educate their students and staff on the means of their survival
Three times a year, if we're lucky, we huddle in the corners of our classrooms with peers we've known since elementary school. During these lockdown drills, we imagine the sound of gunshots in the hallway growing louder. We imagine the fear we would feel. We imagine waiting to die.
Waiting to die.
When we huddle together like sitting ducks, our fate is already decided for us. Last year, during a lockdown drill, my teacher turned to us and said, in the event of an active shooter, that he would instruct us all to jump out of the window and run for our lives.
Literally run for our lives.
Last summer, I was a counselor at a local day camp. During staff training week, my co-counselors and I were ushered to a large auditorium where an ALICE-trained Beachwood police officer was waiting for us. We watched a slideshow and a few short videos.
That's where I was ALICE trained. And it changed my life.
I learned how to barricade a door. I learned how to try to tackle and throw things at a shooter. I learned which window to open to get the campers out in case we had to flee. My co-counselor and I decided who would run with the kids and who would help them out the window, should we ever need to protect them from a shooter. Our ALICE-trained camp director taught us self-defense techniques like how to dodge a knife and break someone's nose and ear drums. But most importantly, I learned that at school, I have been just sitting there, waiting for a shooter. It is much easier to shoot a still target than a moving one.
So what is ALICE training? The acronym stands for Alert, Lockdown, Inform, Counter, Evaluate. Anyone in any setting — including K-12 schools, businesses, healthcare facilities, houses of worship and higher education — can be taught by a licensed instructor what to do in the case of an active shooter.
I am not saying that I would know exactly what to do if such an assailant appeared before me. I know my body may be paralyzed by fear; I know that I may only feel strong enough to just sit and wait. What I am saying, however, is that there's a chance that I could act because now, I am at least a little more prepared.
In the horrible truth of the America we are growing up in, students who want to learn, just like you and I, are being shot dead. And do not say that it couldn't happen here, because it could happen anywhere, even in the safest of neighborhoods. In this gruesome reality, we need to be prepared. This is something the administration is completely ignoring.
I know that ALICE training itself can be traumatic. Trust me, I know. So is it worth it?
According to a 2014 FBI study of school shootings, most police officers arrive at the scene of the crime too late to prevent harm. Incidents end before police arrive 60 percent of the time. Former Special Agent Katherine Schweit, who headed the FBI's Active Shooter Initiative, stated, "Even when law enforcement was present or able to respond within minutes, civilians often had to make life and death decisions, and therefore, should be engaged in training and discussions on decisions they may face."
Along with this, the study found that hiding under desks does not reduce casualties, and shooting happens all over a school, not just in classrooms.
And what do we do if we are in the cafeteria eating lunch? No one knows! Because we are not prepared. Student leadership groups brought this concern to former Superintendent Gregory C. Hutchings, Jr.,  and nothing was done.
When I was younger, we were told that we would be a target if we ran outside during an attack, but in all but two incidents studied, the shooter acted alone. ALICE training was instituted because of the 1999 Columbine shooting, in which 10 students were killed in the school library and two were found dead outside the school.
The United States Department of Education endorsed ALICE Training all the way back in 2013. Ohio Gov. Mike DeWine did so in 2014 when he was Ohio attorney general.
Joseph And Florence Mandel Jewish Day School, St. Paschal Baylon, Hawken, Laurel, Hathaway Brown, Beachwood, Chagrin Falls, Medina, Orange, Brush, Kenston, Ohio University, The University of Akron and Kent State University are just some examples of schools that have been ALICE certified.
So why aren't we being ALICE trained in Shaker?
The district looked into this approach in 2014, but decided not to pursue it. If the district chose to complete ALICE Training, staff would receive prior training online, and staff would be trained at a cost of $12-15 each. In a phone interview, ALICE Training Co-Founder Lisa Crane estimated the total cost to be at $10,800-13,500.
Are our lives not worth that much?
No shooter is going to be fooled by a locked door and a silent, dark classroom.
And I won't let my classmates die before we do anything to try to stop the rain of bullets.
Since lockdown procedures were instituted the high school has experienced a social media bomb threat and social media gun threats. In the 2017-18 school year, a gun was found in a student's locker and another student discarded a gun while fleeing from the building. Nationwide, 40,000 people died last year because of gun violence.
This is a plea to the next superintendent, whoever you may be: Please do not wait for bullets to enter your students' and staffs' bodies before you take action.
Comment using your Facebook, Yahoo, AOL or Hotmail account
comments
Leave a Comment
About the 'Riter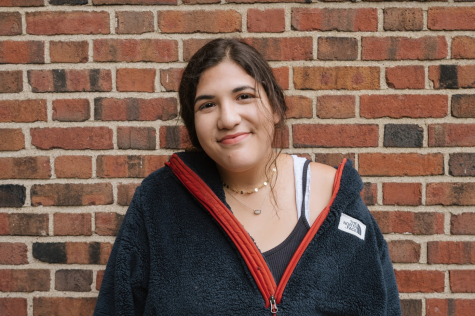 Danielle Krantz, Web Managing Editor
Danielle Krantz ('21) is in her fourth year with The Shakerite. She is currently a Web Managing Editor alongside Ben Cox, running and overseeing coverage for shakerite.com. Danielle is also a member of the Editorial Board. As Campus and City editor last year, Danielle covered topics such as police brutality protests, the "Shaker Bubble," COVID-19 cancellations and administrative changes. Danielle is a captain of the diving team, part of the Israeli Culture Club and is president of her Temple Youth Group. In her free time, Danielle enjoys hanging out with friends and playing ukulele.