Shaker Convocation Starts the School Year out Strong
Shaker staff were gathered in the large auditorium Aug. 17 to attend the annual convocation
#WeAreShaker has returned.
With 97 new hires, 70 of them being teachers, this year's convocation was many staff members' first official district-wide Shaker event. It was also the start of a new chapter after the low morale plagued the high school at the end of last year.
Shaker faculty gathered in the high school's large auditorium to attend Superintendent Gregory C. Hutchings Jr.'s third annual staff convocation Monday, August 17.
Hutchings described the convocation as "a way to bring our staff back on a high note and to also celebrate our victories."
In an interview with the Shakerite, Hutchings said, "We are all about thanking our teachers, making sure everyone is positive and making sure that we realize that we are a team. There will be challenges, but we are Shaker and as you look at #WeAreShaker, it is a reminder that no matter what we go though we are a family and we stick together."
"We always start every school year with high hopes," Shaker Heights Teachers' Association treasurer and science teacher William Scanlon said regarding the same topic.
SHTA President John Morris echoed that point and said that administration hope that the district learns from last year and keeps a positive outlook on the upcoming school year.
Personnel were bused from their respective buildings to the high school and greeted by the Shaker band and Raiderettes on their walk through the main entrance parking lot. Upon entering the high school, faculty members were given red #WeAreShaker bracelets and welcomed into the large auditorium by Hutchings, members of the SHTA and the school board.
Similar to previous events coordinated by Hutchings, the auditorium was filled with music and the stage was decked out with a red carpet.
After the pledge of allegiance and national anthem, which were led by Shaker staff, Hutchings was introduced by Allison Kao, senior class president.
"When I think of Dr. Hutchings, I first think of his ubiquitous bow tie," Kao said. "To students like myself, it's become woven into his distinctive identity . . . His bow tie, and the impressive anticipation surrounding it, are testaments of the indubitable presence Dr. Hutchings has made upon the Shaker community."
Chris Auginas of the Shaker Foundation followed and mentioned it was their foundation that was responsible for providing the funds to hire the convocation's keynote speaker, Clint Smith.
Smith is a teacher, poet and doctoral candidate at Harvard University. He is also the 2014 National Poetry Slam champion, 2013 Christine D. Sarbanes Teacher of the Year and delivered one of the top 20 TED Talks of 2014.
In addition, he served as a cultural ambassador for the U.S. Department of State, but in an interview with the Shakerite Smith said, "I would say I'm a teacher and a writer and everything I do stems from those identities."
Hutchings, along with senior Max Markey, traveled to Davos, Switzerland this summer for a global leadership conference, at which Smith spoke to the student leaders. His words resonated with Markey so much so that he pitched the idea to Hutchings to have Smith speak at Shaker himself.
Hutchings found it only fitting to have Markey himself deliver Smith's introduction.
"This man's thoughtfulness and ability to move and capture the attention of a crowd was truly shocking to me, and the topics he discussed have stuck with me since," Markey said. "[He] draws on the personal narratives of his childhood and the resilience the young people he works with to create poetry that blends art and activism."
Smith performed  "The Danger of Silence" and "How to Raise a Black Son in America," two spoken word pieces that Smith has done for various TEDx events.
In "The Danger of Silence," he spoke about the importance of speaking out against injustice.
"We spend so much time listening to the things people are saying that we rarely pay attention to the things they don't. Silence is the residue of fear. It is feeling your flaws gut-wrench guillotine your tongue," he said. "It is the air retreating from your chest because it doesn't feel safe in your lungs. Silence is Rwandan genocide. Silence is Katrina. It is what you hear when there aren't enough body bags left. It is the sound after the noose is already tied. It is charring. It is chains. It is privilege. It is pain. There is no time to pick your battles when your battles have already picked you."
Smith's second piece, "How to Raise a Black Son in America," offers his view on racism in America and how it shaped his upbringing.
"Over the course of the past several months, the world has watched as unarmed black men, and women, have had their lives taken at the hands of police and vigilante," he said. "These events and all that has transpired after them have brought me back to my own childhood and the decisions that my parents made about raising a black boy in America that growing up, I didn't always understand in the way that I do now."
In total, he performed six spoken word pieces for Shaker staff in the hopes of inspiring dialogue on tough topics.
"I think Shaker Heights is a really unique school district [because of its diversity] . . . I think there is an opportunity for conversations about race and class and how those things shape the opportunities that students have," Smith said in an interview after convocation.
Hutchings' thoughts on Smith's pieces echoed the goals Smith outlined.
"What [Smith] talked about are some of the things that we grapple with as a community right now that we never really talk about," Hutchings said. "The time is now to start tackling [these issues] and not just saying we embrace diversity, but rather show how."
In addition to Smith, Hutchings also had five students give "Shaker Talks" to provide student perspectives on Shaker schools.
The Shaker Talks' speakers were sophomore Emma Neil, sophomore Brynn Williams, sophomore Ose Arheghan, senior Branden Augustine and senior Kobe Saunders.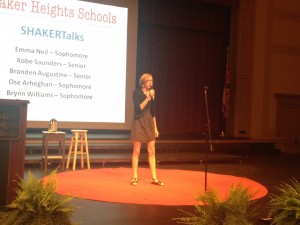 "I just love Shaker," Neil said was the reason she wanted to give a talk. "I wanted to tell people just how special Shaker is."
Their talk topics ranged from the dedicated teachers, the wide array of extracurriculars and the strong sense of community in Shaker Heights.
Williams' speech was based on Shaker's teachers and diversity. She believes that Shaker and its teachers are "The best in the world," partly because the student body resembles all of it.
"[My speech] was about the people that make up Shaker and how my experiences of moving around have changed the way I see things," Augustine said.
His speech ended with him proudly saying, "When people ask, I can tell them, 'I'm from Shaker Heights.' "
The addition of student speeches at the convocation was one that both the staff and students enjoyed.
"[Having students at convocation] is important because I think often times adults get stuck in their own thoughts thinking about their own experiences and feelings and forget students have a different perspective," Augustine said.
Fifth grade teacher Lyndon Brooks reiterated Augustine's thoughts, but from a teacher's standpoint.
"I thought the [kids] were great and really inspired us as teachers to see teaching is bigger than what's in the textbook and more important than we sometimes feel it is," he said.
After a short, inspirational and congratulatory messages from leaders of the school board, Parent Teacher Organization, Shaker Heights Teachers' Association and support staff leaders, Hutchings took the stage again, this time for closing remarks.
Ending with a review of the 2014-15 school year, Hutchings noted that Shaker is now one of eight districts in the nation to receive K-12 International Baccalaureate accreditation. In addition to that, Shaker also raised its graduation rate to 93 percent from its previous 89, produced eight National Merit Scholars, sent seniors to 233 colleges across the world and completed the first year of its Five-Year Strategic Plan.
According to Hutchings, his expectations for the upcoming school year are to exceed last year's successes.
After the convocation, teachers seemed refreshed and ready to get back in action.
"I'm excited and ready for whatever happens in the new year," Rachel Luther, a music teacher at Mercer and Fernway, said. "It's more of a feeling then something I can put into words, just the energy and excitement."
Like many others, fourth grade Mercer teacher Jennifer Lesak felt inspired and optimistic when the day drew to a close.
"[The convocation] reminded me of why I'm a teacher," Lesak said. "Every year I feel like it's going to be the best year."
Raider Zone editor Alexa Jankowsky contributed reporting.
Comment using your Facebook, Yahoo, AOL or Hotmail account
comments
Leave a Comment