Clubs Cooperate to Aid Puerto Rico
Spaghetti dinner designated for hurricane relief sees largest turnout in 20 years
With Puerto Rico still recovering from Hurricane Maria, high school clubs collaborated to help those left in the wake of the storm's destruction.
"It was great. It's always exciting when everyone gets together for a great cause," said Mano en Mano adviser Kimberly Ponce de Leon. "Collaborating was the key to our success this year."
Nov. 9 marked the latest spaghetti dinner hosted by Youth Ending Hunger, which every year chooses a charity to support for the event. This year's dinner was a collaboration between YEH, Student Council and Mano en Mano, a club that develops relationships between the Shaker educational community and Hispanic communities in Cleveland and globally.
Together, the organizations raised more than $1,000 to help those in Puerto Rico, a U.S. territory approximately 1,000 miles Southeast of Florida. The dinner, along with several other fundraisers in the high school, was part of an effort by Mano en Mano to raise money for the territory.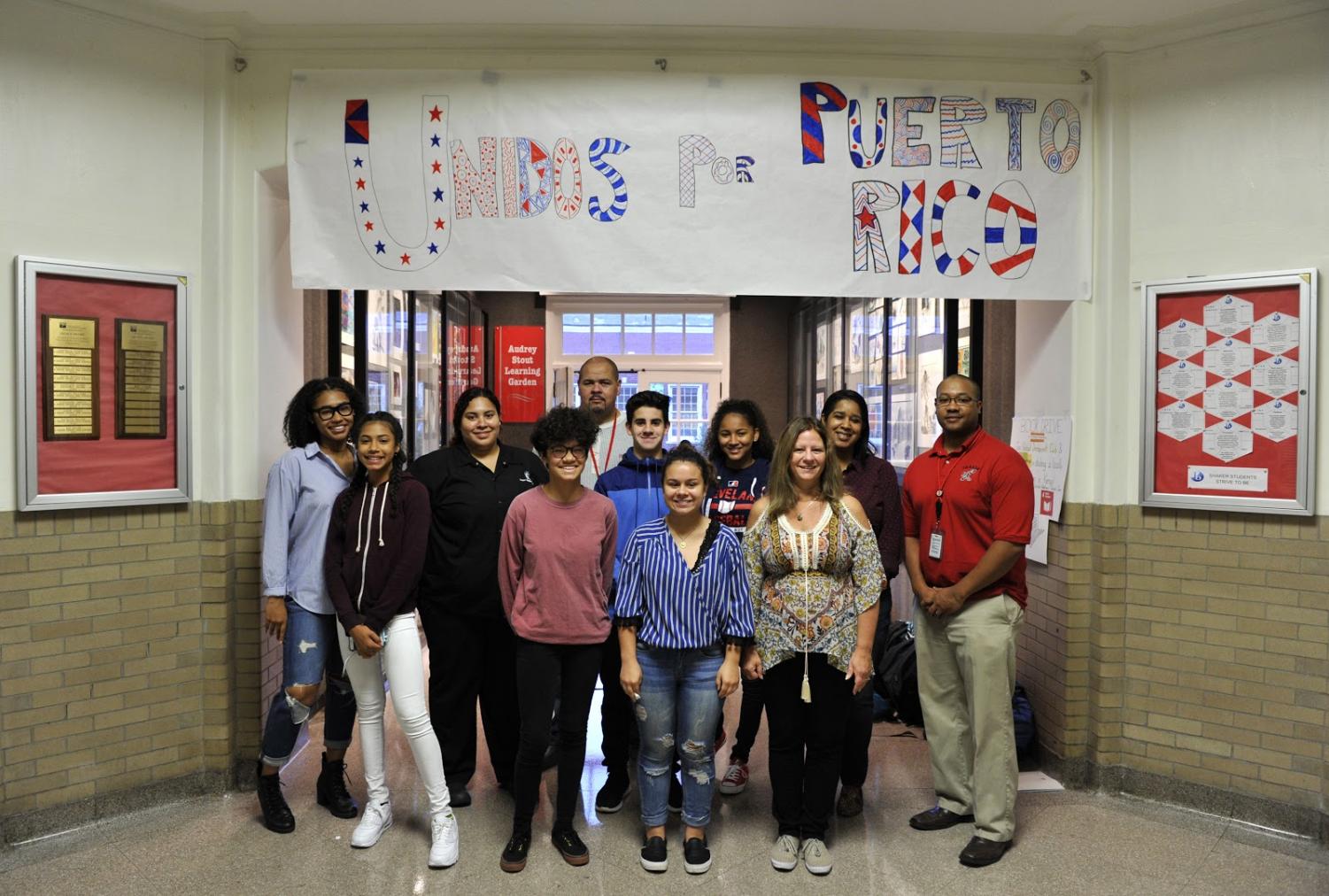 "With all those hands involved, I think we got more people there," said Bill Scanlon, science teacher and YEH adviser, who helped organize the event. "It was the best we've ever had in 20 years."
Even now, nearly two months since the hurricane hit, homes in Puerto Rico are left without power. The lack of electricity has caused businesses to close and left residents, some without a home and many without a job, to make do without power or hope. Many have been faced with the prospect of months without reliable access to daily necessities, so at least 100,000 of the territory's 3.4 million people have left since the hurricane hit.
"There are people in this building that have relatives down there," said Scanlon, who attributed some of the event's success to its choice of charitable recipient.
"I thought it was a lot of fun," said freshman Student Council member Owen Lockwood, who volunteered on cleanup duty for the dinner. "It raised a lot of money for people who needed it."
Other factors played a role in the spaghetti dinner's success as well, said Lockwood , who cited the announcements as a means of raising awareness. "It was also in the Shaker calendar, which was how my parents found out," he said.
"It was well-organized, it was well-attended," Scanlon said, but he was not without worries while it was being set up. "I always get really nervous that no one's going to show," he said. "I was concerned that we didn't have enough volunteers, but it ended up that we had more than enough."
Due largely to the spaghetti dinner, Mano en Mano's efforts to support Puerto Rico have raised more than $1,500. The club is now close to the $2,000 goal it hopes to meet by Nov. 21 and has been selling paper hearts for $1 in the high school cafeteria to garner support for the cause.
"Mano en Mano was the group that spearheaded the efforts to support Puerto Rico," Ponce de Leon said, but in conjunction with other high school clubs, Mano en Mano raised more than it ever could have alone. "We joined forces," said Ponce de Leon. "It was a bigger event than we've ever had."
Anyone wishing to donate or get involved, or who has questions, can contact Kimberly Ponce de Leon via email or at (216) 295-6282. Readers can also donate directly to Unidos por Puerto Rico.
Comment using your Facebook, Yahoo, AOL or Hotmail account
comments
Leave a Comment