Van Aken District Aims to Enrich Shaker
After construction delays, residents and high-end retailers begin to move in
The newly renovated Van Aken district, dubbed "The New Downtown" of Shaker Heights, has caused frustration, along with eager anticipation, among Shaker residents. The district, originally set to open summer 2018, is now to open in spring 2019. Some stores and restaurants, however, are open or will open through the fall and winter of 2018.
"With all the construction going on, the roads have been blocked off," said sophomore Amelia Berg, who lives near the Van Aken development. "The only aggravating thing is that they said it was going to be done three or four months ago and it's not."
Social studies teacher Tod Torrence lives on Farnsleigh Road, near the construction. He echoed Berg's opinion. "It's been terrible. The one-way and the closed-access roads have been a real pain. Getting to work, getting home" is difficult, he said.
Social studies teacher Brian Berger said that the city has talked about redeveloping Van Aken for as long as he can remember. "I'm 42 years old. I've been a part of Shaker for over 40 years," Berger said.
The idea for a revamped Van Aken has been in process since 2000, according to a project timeline published at shakeronline.com. However, the plan was not made final until 2008.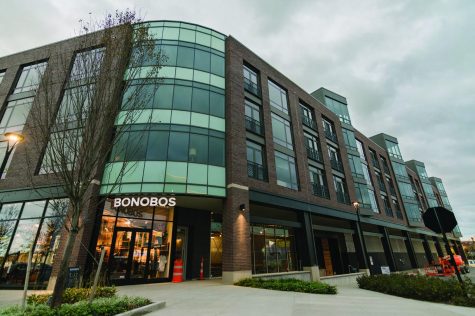 According to Brian Meng, senior associate of Bialosky Cleveland, the architecture firm designing Van Aken, the goal of the development is to create "a liveable public space that would be welcoming to all the residents of the city."
The development also offers 103 living spaces, located above the commercial occupants. Promotional material invites tenants to live "upstairs."
Jason Russell, neighborhood general manager of RMS Corporations, the developer of Van Aken,  explained why the apartments at Van Aken are being called "The Upstairs."
"We wanted the name of the apartment building to be very much connected with the district itself, and we see the district as an amenity to the apartment buildings, so we wanted the two to work cohesively," Russell said.
But the housing in Van Aken is not cheap.      
A Van Aken one-bed, one-bath apartment rents for $1,635 a month — $865 more than an apartment at nearby Fairway-Marchmont Terrace Apartments on Warrensville Center Road. A two-bed, two-bath apartment at Van Aken costs $1,022 more than the Terrace apartments of similar square footage.
A  competing apartment complex is in Pinecrest, a new shopping and living development, similar to Van Aken, being built in Orange Village. A one-bed, one-bath apartment there rents for $1,868—  $233 more than Van Aken. A two-bed, two-bath residence rents for $101 less than Van Aken. 
The median household income in Orange is $102,109 — $24,370 more than Shaker's. But property taxes are $2,370 — $1, 637 per $100,000 lower than Shaker's, as of 2017. Apartment tenants do not pay property tax, but building owners do. So, property tax may be passed on to tenants through rents.
Some retail outlets leasing space at Van Aken are not economical, either. Whiskey Grade is an apparel store. "It's really nice. It's more on the pricier side," Berg said. On its website, a men's leather belt sells for $89, and T-shirts go for up to $38.  
A Detroit-based watch company, Shinola, will be opening; Shinola watches cost $500-1,500, and a women's handbag on the company's site lists for $495.  
"
The only aggravating thing is that they said it was going to be done three or four months ago and it's not.
— Amelia Berg
In addition to the apartments and retail at Van Aken, the development also features a common space called "The Living Room."
"The Living Room is the half an acre public space which will have two buildings situated around it: the Mitchell's building to the South and what we're calling building B1 to the North, which is the two-story restaurant building," Meng said. There will also be lawns to allow people to gather and a play area for children.
Meng thinks that Van Aken will help Shaker by creating retail tax revenue and new living opportunities. "It creates a public space that will allow people to gather, meet and hang out" and replaces an outdated commercial center that what was there previously, he said.
Some other businesses moving into Van Aken are Luster, Manifest, Xhibition, Urban Orchid, Stump Plants, See Eyewear, Grooveryde, Eddy's Barbershop, Double Rainbow, Cleveland Clothing Company, Bonobos and Andrews Colour Atelier. Restaurants include On The Rise, Bottlehouse Brewery, Banter, Jonathan Sawyer, Rising Star Coffee Roasters, Restore Cold Pressed, Mitchell's Ice Cream, Genuine Pizza and Brassica. 
The development emphasizes renting to local businesses, rather than chain stores. Community members are excited about these local stores.
Sophomore Zoe Rosenfelt lives near the Van Aken area and is very excited about Mitchell's Ice Cream. "We love ice cream, and I'd like to have somewhere that I can be with my friends without driving," she said.
According to the Jean Presby, shop manager of Mitchell's at Van Aken, even though construction delayed the opening, Mitchell's opened Oct. 18.
"As with all construction, delays occur because of weather and unforeseen issues with new construction. We, of course, would have loved an earlier opening, but we are understanding of these issues and do not intend to rush perfection," Presby stated in an email.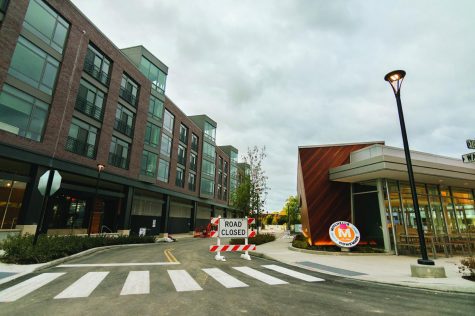 Another goal the city is trying to achieve is to make Van Aken an area that provides retail and restaurant space, according to Shaker Heights Director of Planning Joyce Braverman.
"The city is a residential community, mostly, so we wanted to add more commercial and office space to diversify the tax space," Braverman said.
"Van Aken was really [about] making a pedestrian-oriented neighborhood that stitched together the surrounding area to create a walkable experience that would bring residential, retail and office use and really creating Shaker's city center," Meng said.
Russell called the district a "a place where you interchange, recreate, enjoy life — and then you retreat upstairs to your private residence."
Berger said the revamped Van Aken development has "been a long time coming."
A version of this article appears in print on page 10-13 of Volume 89, Issue I, published Dec. 21, 2018.
Comment using your Facebook, Yahoo, AOL or Hotmail account
comments
Leave a Comment