Interview Panel Was Unanimous, But Only For Naming a Finalist
In district messages about principal hiring, omission of one word prompts question
The district released two statements following the appointment of Jonathan Kuehnle as high school principal yesterday, essentially alike except for one word. 
The first was sent to high school faculty and staff at 4:30 p.m. yesterday in an email message titled "A Message from the Superintendent." The other was published on the district website immediately after for all Shaker community members to view.
For the most part, both statements conveyed the same message: Jonathan Kuehnle has been named the next principal of the high school. In fact, the language, in some parts, was identical.
However, there were some differences. Most notable was the characterization of Kuehnle's "unanimous recommendation." The email message sent to staff states that he "received a unanimous recommendation as a finalist from an interview panel made up of teachers, parents and administrators." This statement accurately describes the outcome of the interview panel's work, which was to choose one finalist from the four out-of-district candidates interviewed.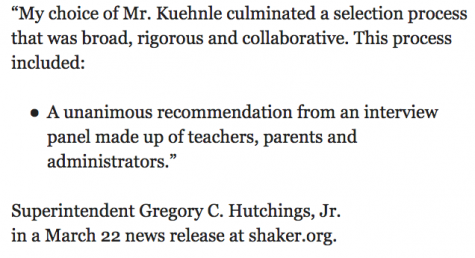 In the web release, Superintendent Gregory C. Hutchings' comments omitted the word finalist. "My choice of Mr. Kuehnle culminated a selection process that was broad, rigorous and collaborative," he stated. "This process included: A unanimous recommendation from an interview panel made up of teachers, parents and administrators."
The unanimous recommendation that both statements reference was to consider Kuehnle, along with Interim Principal James Reed III, for the position, not to hire him.
"The problem with the version that went out to the community is that it makes it sound like the teachers unanimously recommended Kuehnle," said SHTA President Dr. John Morris, "while we know in fact that more than 80 percent of the staff chose Reed over Kuehnle." This preference was reflected in the open letter to the administration the Shaker Heights Teachers' Association posted on Facebook March 7 recommending that Reed be retained as principal.
"We want to assume that was a typographical error, but it would be unfortunate if the message was changed for the two audiences," Morris said. "We expect the best, we hope for the best."
In a direct message, Director of Communications Scott Stephens stated that there was no difference between the two characterizations. "The letter to the staff is naturally different than the one to the community and the news release to the media because they are aimed at different constituencies," he stated. "There is no discrepancy. This hiring process has been transparent, fair and inclusive. It is disingenuous to imply otherwise."
Morris, in response, posed the question, "Why weren't the same statements sent out to everybody? It doesn't seem like that big of a thing."
Comment using your Facebook, Yahoo, AOL or Hotmail account
comments
View Comments(1)