Trump's Anti-Muslim Comments Provoke Protest
Citizens are shocked and fear his stance since he is leading the Republican Primary.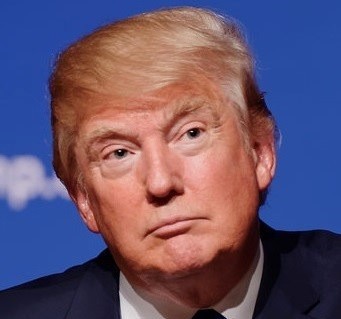 Maya Gulani is not Muslim, but Donald Trump wanting to ban Muslims from America hits too close to home.
Gulani, a sophomore, although not a Muslim, takes Trump's comments personally. "This reinforced my beliefs that Trump is crazy and Islamophobic…When I discuss Trump with my family, they have pretty much the same reaction as me," said Gulani. "I think it summed up the situation pretty well when my dad said, 'Yeah, Nicole,' my stepmom, 'and I are genuinely debating moving to Canada if Trump gets elected; especially because, you know, we are brown.' "
Trump released his statement regarding banning all Muslims from entering the United States Dec. 7 following the San Bernardino attacks. He stated, "Until we are able to determine and understand this problem and the dangerous threat it poses, our country cannot be the victims of horrendous attacks by people that believe only in jihad, and have no sense of reason or respect for human life." His statement shocked people, including his rival Republican candidates, President Barack Obama and Prime Minister Benjamin Netanyahu of Israel.
However, common citizens are most outraged. 
"I think it's anti-American. We're a nation of immigrants. That's how I feel about it," government teacher Tod Torrence said. 
"
I knew there were some crazy people in this country, but this election season is really opening my eyes.
— Maya Gulani
Freshman Fenner Dreyfuss-Wells believes that Trump's Muslim comment will harm his campaign. "In my opinion, the only reason Trump is still leading is because the comment was recent. I think his comment guaranteed that he won't be elected, and likely not even nominated," he said.
American Government teacher Brian Berger agrees with Dreyfuss-Wells. "I don't think he will be the nominee; I think that the establishment will make sure that he doesn't. But I think he might then run for a third party," he said.
CNN.com stated, "A majority of U.S. adults oppose Donald Trump's plan to ban all Muslims from entering the country, according to a NBC News/Wall Street Journal poll. And shortly after Trump's proposal, Israeli Prime Minister Benjamin Netanyahu joined other world leaders in condemning the plan. Trump canceled a planned trip to Israel to meet with Netanyahu following the prime minister's response. But Trump denied that world leaders are 'distancing themselves' from him."
Since Trump's comments, he released a controversial TV ad repeating the call to ban Muslims. BBC News reported, "The advert also includes photos of the San Bernardino attackers, so-called Islamic State militants, a U.S. warship firing cruise missiles, exploding buildings and undated footage of migrants purportedly crossing the U.S.-Mexican border." However, the border featured in the ad belongs to Morocco and not the United States. Trump's campaign claimed that using the Moroccan border footage was intentional. It is supposed to represent what would happen to the U.S. border if it was left unprotected.
"
I don't think he will be the nominee; I think that the establishment will make sure that he doesn't.
— Brian Berger
Berger said the Republican party would undermine Trump. "I think the establishment is extremely anti-Trump, and are afraid of what might happen and will do what they can secretly to do so," he said.
"I agree totally," said Torrence. "I think they're looking for one of the other guys to be the candidate; probably even Jeb Bush if he's able to hang in there long enough."
 Gulani said, "I feel pretty disgusted that such an openly racist, sexist and Islamophobic person is doing so well in the polls.  Before the primary, I knew there were some crazy people in this country, but this election season is really opening my eyes."
Comment using your Facebook, Yahoo, AOL or Hotmail account
comments
Leave a Comment