The Future of Horseshoe Lake
Doan Brook will return to its original flow after the dam is removed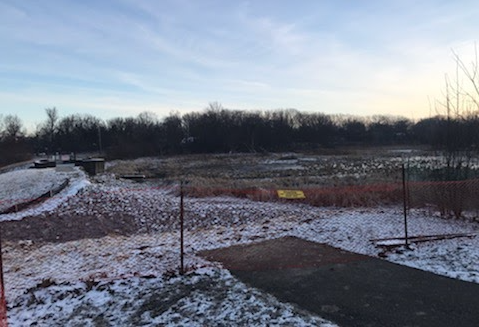 Shaker Heights and Cleveland Heights City Councils voted to remove Horseshoe Lake's dam and return Doan Brook to its original flow.
Due to the poor condition of its dam, the lake was drained in 2019. Recent small repairs to the nearly 170 year old dam have not corrected major issues which included cracks and leaks.
According to the Northeast Ohio Regional Sewer District, the instability of the dam created a safety hazard. Any large storm could  lead to property damage or potential fatalities from flooding.
The city of Shaker Heights started an emergency controlled breach in late October to ensure that water collected in the lakebed during heavy rains flows out, rather than building up and overwhelming the fragile dam.
After the lake was drained the initial options were to rebuild the dam and refill the lake, or to remove the dam entirely. The latter would restore Doan Brook to its original flow, returning it to the state it was in for over 14,000 years before its ecosystems were disrupted by the man-made formation of the lake, according to the Shaker Historical Society.
Members of the community are adamant that the dam should be rebuilt. Some residents close to the dam put up yard signs that say "Save Horseshoe Lake." 
However, others  believe that returning Doan Brook to its natural flow is best for the environment.  Shaker Nature Center President and CEO Kay Carlson thinks allowing the stream to retain its original state would benefit water flow and let sediments move freely instead of accumulating behind the dam. "It would attract different species to the stream. It would provide a better habitat for the fish and aquatic organisms. It would provide more opportunities for repairing marsh habitats and wetland areas. It would generally be healthier for the rest of the Doan Brook stream," she said. 
According to Cleveland Historical, the  North Union Shakers built the dam in 1852 to power a wool mill. People in favor of keeping the lake believe that  its history should be honored by rebuilding the dam. 
The Shaker Historical Society urges people to consider the entire past of the Doan Brook watershed.  Prior to  colonization, Indigenous people protected and maintained Doan Brook for thousands of years.
Removing the dam allows Doan Brook to return to its natural flow. "We're interested in the environment and protecting natural habitats," Carlson said, "So we want to make sure that whatever is done in that place is done in a way that protects the native environment as much as possible."
Comment using your Facebook, Yahoo, AOL or Hotmail account
comments
View Comments (1)