Teachers Test Limits of Student Stress
Despite schedule, students can take two or more tests a day
Bringing up the word testing incites stress and fear among students in any high school in America.
Although most negative reactions can be attributed to the rise in annual standardized, high-stakes testing, some Shaker students are struggling to manage home-grown tests when given on the same day.
"It's really stressful to have more than one test in one day because it forces you to prioritize subjects," said senior Amani Hill. "You have to choose which class to study for the most, and that can lead to you feeling overly prepared for one test and under prepared for another
The practice raises questions about Shaker's test policy and why some teachers do not follow it.
"Every department has two test days and one flex night. There should never be more than three tests on a single day," English Department Chairwoman Elaine Mason said.
Biology teacher Nathaniel Hsu said that the policy can never be perfect because there are too many subjects and too few days.
"Each subject is assigned two days of the week to give tests," Hsu said. "With at least four core subjects, it's going to be difficult to give each subject its own test day separate from any other course without restricting the curriculum and disrupting learning."
Hill said that there are many holes in the policy because of rescheduling.
"Most of my teachers enforce a subject test day, or stick to two days at the most and alternate which day to test on," Hill said. "However, that doesn't mean that tests that get pushed back don't end up scheduled on days that are not their usual test day."
Sophomore Emma Ponitz said the policy is not in effect. "It was never enforced," she said. "Teachers say that they will enforce it on the syllabus, but they don't. They just do what's convenient for their class."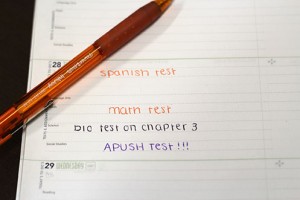 Math teacher Eric Babcock thinks that the testing policy is very important for students' balance, even if it is difficult to follow sometimes.
"It's hard sometimes when you are ending the unit because you want to give a test right after you finish a chapter. But if we end the chapter on Friday, it's not helpful to wait until Wednesday to give the test," Babcock said.
However, this policy only applies to tests in single classes for core subjects. Students who take more than one class in the same subject may still endure class tests on the same day.
"I have Physics and Environmental Systems and Societies this year, so on Fridays I usually have tests in both classes," Hill said.
Hsu believes that several tests on one day poses a realistic challenge.
"It isn't bad for a student to have multiple tests on one day, but it is challenging," he said. "However, I always note that during final exams, you are given two gigantic tests in one day, and in college, there is nothing stopping a student from potentially having four tests in one day."
Sophomore Jude Hinze-Gaines believes that the issue is common.
"The policy is not always enforced, which is understandable, but I know many people who have had three or more tests in one day," he said.
Mason believes that the policy isn't truly enforced among teachers.
"It's been in place a while, but it's suggested, brought to people's attention, reminded to teachers, but I don't think anyone has been told, 'Don't do a test on this day,' " she said.
Junior Brian Johnson said that the test policy can be easily avoided.
"When we have days off of school during the week, teachers will give a test on a day, and some teachers give quizzes on any day of the week because they aren't technically tests," he said.
Hill said taking two or more tests on the same day exhausts already tired students. "Knowing that you wasted time studying for an easier test than for a harder one is really frustrating. That said, just having to take more than one test is stressful because tests are draining, especially when so many of us students already barely get any sleep as it is."
"
It's really stressful to have more than one test in one day because it forces you to prioritize subjects.
— Amani Hill
Latin teacher Nora Murphy said that teachers don't always follow the test policy. "I think some teachers violate that by scheduling tests frequently on days that are not their test days,"she said.
Because the policy seems more like a suggestion, students are pessimistic about its merits.
"It's pointless because it is not enforced," said Ponitz, "and I think the teachers just ignore it."
Hsu believes that there is no perfect policy. Taking more than one test a day is an unavoidable.
For example, sophomores often take Advanced Placement United States History and Honors Biology tests on the same day, but if one test were to be rescheduled for another day, it could then conflict with two other subject tests.
But, even if imperfect, the testing schedule helps students.
"If we put ourselves in the students' shoes, we can see how students take advantage of flex nights and test days," Mason said. "All of this is in the best interest of students."
"It's the best policy that can be put in place that I can think of to maintain a relatively equal balance of tests on each day," Hinze-Gaines said.
"I would personally like it to be enforced to be more consistent, or to be modified to be more effective," she said.
"I have had four big tests in one day before, and I'd prefer not to have that again in the future."
Comment using your Facebook, Yahoo, AOL or Hotmail account
comments
Leave a Comment