Sweating it Out
High temperatures cause Cleveland schools to close; Shaker classroom temps vary widely depending on AC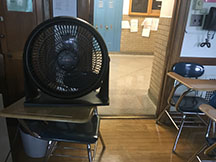 Too cool for school? Not in Cleveland this week, with several schools dismissing students early due to temperatures well into the 90-degree range.
A Shaker parent who requested anonymity said that her 8-year-old daughter "came home from school crying because she had never experienced this type of heat in school. Her chair was wet all day from her sweat and that only scared her more."
"If anyone is sweating while sitting still in a classroom, there is a problem," said senior Joe Sammon.
The Occupational Safety and Health Administration of the U.S. Department of Labor recommends office temperatures of 68 to 76 degrees. Yet, because many high school classrooms lack air conditioning, temperatures can exceed that range. On Sept. 7, outdoor temperatures fluctuated from around 84 to 89 degrees Fahrenheit throughout the day, but it was not much better indoors.
Yesterday's high temperatures led to the early dismissal of 10 Cleveland Metropolitan Schools.
The trend continued, with today's temperatures reaching 86 degrees Fahrenheit with a humidity of 68 percent, according to The Weather Channel. According to National Weather Service, the heat index Sept. 8 reached 93, which falls into the "extreme caution" category.
The corresponding impacts on the body, as indicated by the National Weather Service are "heat stroke, heat cramps, or heat exhaustion possible with prolonged exposure and/or physical activity."
High School Principal Jonathan Kuehnle sent an email to all staff this morning stating that "a number of Cleveland-area schools closed yesterday and today due to the heat. We need to make sure that we are monitoring students and staff today and tomorrow." He added that staff should "ensure everyone (students and staff) have ready access to water."
On the high school's third floor, the heat only adds to already-crowded classrooms. Junior Caroline Walsh, who takes French in Room 310 during tenth period said that she thinks "the French room is way too small for the amount of people in it. It's also a safety hazard, and I find it hard to focus. There are many ways to solve the problem, like moving to a larger classroom or even dividing up the class."
Spanish teacher Bernadette Thoennes, who teaches in Room 303, said that she has "been teaching in Shaker on the third floor for 25 years, and nothing has been done about the heat," Thoennes said. "The students are drained of their energy, they are so tired."
"The heat has most definitely been distracting to both teaching and the students learning," said Kimberly Ponce de Leon, World Languages department chair. "The temperature in these [third floor] classrooms has been in excess of 80 degrees. Add 20 to 30 bodies to the space, and you have the recipe for a miserable time spent there . . . people are irritable and the class climate may become an issue."
Thoennes also noted the disparity in temperature throughout the building. "The admin has AC, the office has AC, the lounge has AC. Why can't we have some AC up here? The computer rooms are cold. You'd think they care more about the computers than they do the people," she said.
Senior Claire Connors said air conditioning the building would be better than closing school due to heat. "We're lucky to have the air conditioning that we do. As opposed to closing, they should consider better distributing the air conditioning because some rooms are really cold and some don't have any air conditioning," she said.
Sophomore Christos Ioannou experienced significant temperature differences. "I notice air conditioning in some parts like in the North Gym lobby but sometimes I'll walk into a room and it's like 20 degrees from the hallways," he said. "We should get a centralized AC system. Sometimes you walk into the room and there are six fans running, sometimes you walk into a room and it's nice and cool."
High temperatures affect students who can't drive to school. "In heat like this some people have no choice but to walk, which can be straining and could actually be dangerous depending on the distance," said junior Brian Ford. "In extreme heat, it could cause heat stroke."
According to Mayo Clinic, the symptoms of heat stroke include an altered mental state, nausea and vomiting, flushed skin and rapid breathing.
"Today I biked to school in the rain and with the heat my clothes were super heavy," said sophomore Miles McCallum. "So I sat through classes in wet clothes and it was terrible. The heat made it so much worse."
Shaker sports teams, too, must  accommodate the intense heat. The girls' soccer game Sept. 7 ran long because, every 20 minutes, the referee stopped the game so the players could drink water. Similarly, physical education classes leave students struggling to learn.
Junior Calvin Nagusky, who takes weight training class in the afternoon, said he had difficulty focusing after the class. "I came back and was dripping sweat," said Nagusky. "I didn't feel well and was light headed. The heat was unbearable and made it hard to focus in school."
"I am not a health professional," said Ponce de Leon, "but I do know that extended exposure to such heat is very uncomfortable, resulting in headaches from dehydration and an overall feeling of weariness . . . Closing school may not be the answer, but preparing for such weather occurrences should be a priority."
Emet Celeste-Cohen, Astrid Braun, Lily Roth and Zachary Nosanchuk contributed reporting.
Comment using your Facebook, Yahoo, AOL or Hotmail account
comments
Leave a Comment