Substituting One System for Another
Although the district hired substitute management company Rachel Wixey and Associates to improve efficiency, teachers and students have noticed problems with the coordination of substitutes
In an attempt to improve efficiency, Shaker has outsourced the recruitment and scheduling of substitute teachers. However, teachers and students are noticing problems with substitute management.
Rachel Wixey and Associates, known as Wixey, is a company based in Maumee, Ohio, that recruits, offers training to and schedules substitutes for schools in Ohio. "We focus on our core services of substitute recruiting, human resources, scheduling and employment, so that schools may focus on core services of instruction, curriculum, student safety, and the hiring and development of staff," their website states.
The service, first used by Shaker during the 2014-15 school year, is also used by neighboring school districts such as Beachwood, Orange and Rocky River.
Shaker previously assembled its own database of substitute teachers that the district recruited and approved. However, Wixey now provides all substitute teachers for Shaker. The company recruits substitutes, who are then added to a database. Teachers enter their absences online, and substitutes may pick which assignments they wish to cover through the Wixey website.
Executive Director of Communications and Public Relations Scott Stephens explained the reason for hiring Wixey. "A district the size of Shaker Heights can sometimes have a difficult time finding substitutes when they need them. Our thinking was that [Wixey] was more cost-efficient as well as time-efficient, and we could better ensure that we could have a qualified substitute in every classroom necessary," he said.
Dr. Lois Cavucci, director of human resources for Shaker Heights City Schools, agreed that Wixey is better than Shaker's previous method of finding substitutes. "Otherwise, you have one person trying to find subs for the building, and that's a huge task," she said.
Wixey is provided to Shaker through the Educational Service Center of Northeast Ohio which, according to their website, "provides individualized support for area school districts through city/county services; fiscal management; contract services; direct program services; consortium and cooperatives; and interagency programs across many fields of education."
The ESCNO is able to provide Wixey to all member districts through the North Coast Shared Services Alliance. The NCSSA comprises the ESCNO and the education service centers of Lorain and Medina counties. The NCSSA partners with Wixey to provide its services to all participating districts.
Shaker pays a yearly fee of $58,260 to the ESCNO, on behalf of the NCSSA, to pay for Wixey's services. Shaker pays the salaries of substitutes, as well. According to Stephens, no budget or staffing cuts took place as a result of hiring Wixey.
Orange City Schools started using Wixey during the 2013-14 school year to provide substitutes for classroom teachers and teacher aides. Before using Wixey, teachers called in absences the morning of the school day, and Orange personnel would then call in a substitute.
Judy Robinson, director of human resources for Orange City Schools, said that a big reason for switching to Wixey was the increased efficiency of the online system, which allows teachers to enter their absences and request a substitute earlier. Robinson said another reason was that Wixey had a much larger database of substitutes than Orange was able to assemble.
Unlike Orange, Shaker teachers have entered absences online using a software called Frontline Education for at least 10 years.
"
It feels like we have less coverage available and also less consistency in the ability to communicate with subs.
— Aimee Grey, English Teacher
Robinson said she believes a shortage of substitutes is not unique to Wixey users. "Our experience with [Wixey] has been fine. The struggle that all schools have right now is a shortage of substitutes in all areas," she said.
Nonetheless, teachers have expressed concerns with the efficiency of the third-party service. "My perception is that Wixey has actually made it more difficult for people to arrange for subs," English teacher Aimee Grey said. "It feels like we have less coverage available and also less consistency in the ability to communicate with subs."
Math teacher Angela Harrell said that she receives many email requests from administrative assistant Gloria Cottingham asking teachers to supervise classrooms in which the regular teacher will be absent, but no substitute is scheduled to cover. "About two to three days out of the five [of the week], you'll see 'class coverage needed' " emails, she said.
English teacher and Shaker Heights Teachers' Association President John Morris said, "Our relationship with Wixey started out very rocky because we were not able to get the volume of substitutes that we really wanted," he said. "I think it's getting better. It's not perfect."
Morris also mentioned a lack of qualified special education substitutes. "I'd say one of the pitfalls right now of Wixey is that they do not have a lot of people who are certified in special education," Morris said. "Those are highly specialized roles, and previously our HR department could kind of headhunt people to come in and be Special Education substitutes."
History teacher Joseph Konopinski expressed concern about the cutoff time for entering an absence and requesting a substitute through Frontline Education. "I've even tried to put in that my daughter was going to be out sick and I needed to take her to the doctor — hours and hours before school, before my contract begins — and the website didn't allow me to do it," Konopinski said.
"I have to write an email to many people, hoping that someone sees it in time," he added.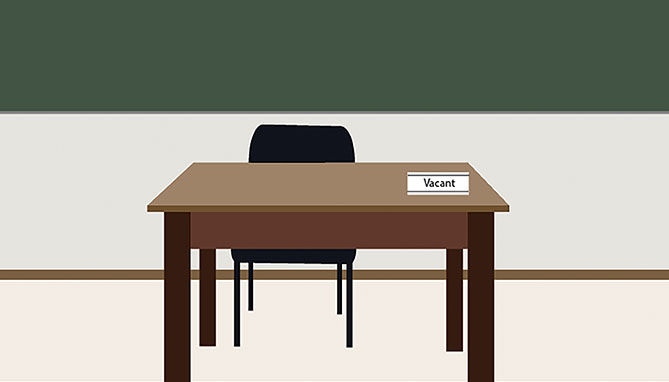 Alexa Jankowsky
Frontline Education is not connected to Wixey. According to Stephens, the district is not aware of when the cutoff time is. Efforts to determine the cutoff time and which entity determines it were unsuccessful; sources in the district personnel department would not speak on the record, and inquiries to Frontline and Rachel Wixey & Associates were directed to the personnel department.
While Wixey assigns one substitute per submitted absence by a teacher, Shaker does ask substitutes to cover the classes of multiple teachers. Morris expressed the concerns of teachers about this practice. "You have people going from second period from one part of the building to third period in the other part of the building to a different class. They have to pick up a different set of lesson plans and try to begin that class on time," he said.
"I think Wixey, but also our desire to be diligent and maintain our budget, caused increased problems with this issue."
Stephens said that shortages in substitutes from Wixey could stem from last-minute requests from teachers. "Teachers, like any other human being, can wake up in the morning ill or, perhaps, right before they go to bed, they discover that they cannot make it in. So there has to be a lot of nimbleness with substitutes," he said.
Stephens said that the administration is pleased with Wixey's service. "We have found that, for the past three years, Wixey has helped us manage substitutes better than doing it ourselves. We have found it to be an improved system from what we used to do," he said. "Eliminating the duty of assigning classroom subs each day frees up our HR department to spend time on other initiatives related to our 5-Year Strategic Plan. One specific example would be recruiting underrepresented areas, such as teachers of color or women who teach math and science."
Before contracting with Wixey, the district designated one Shaker employee per school building to contact substitutes and schedule them. At the high school, for example, this duty was fulfilled by secretarial staff who worked in the main office.
The lack of efficiency in substitute management expressed by teachers has manifested itself in unsupervised classes. Sophomore Lukas Zarders has been in a class with no teacher or substitute present. "Security only stopped by because we were yelling. I don't think they even knew we were alone. They got the teacher next door to stay in our class," Zarders said. He added that the classroom was unsupervised for about 30 minutes, until security arrived.
According to sophomore Kyle Langford, who also went to an unsupervised class, approximately 25 minutes passed before a nearby teacher noticed no teacher in the classroom and had a security guard come and supervise the class for the remainder of the period.
Langford said that his classroom became unruly when there was no supervision. "People started playing music. There were people jumping on desks. It was pretty crazy. I was just trying to do my work to get caught up because I missed a day," he said.
Sophomore Lizzie Kohler and her class were told by their teacher to expect a substitute the next day. The following day, no substitute came to the classroom. According to Kohler, after around 30 minutes, the class received a phone call asking if a substitute was present in the room. After learning of the situation, the caller said a substitute would be there soon. A substitute, who had no plans at the time, came to supervise for the last 10 minutes of the period.
Kohler added that the substitute who came to supervise the class was not the planned substitute. "We asked the sub what happened, and he said that he was just waiting in the office. Then they said they needed him so he just went. Apparently he didn't even know what period it was," Kohler said.
A junior who requested anonymity also had an experience with an unsupervised classroom this school year. "We all showed up to [class], and no teacher or sub was there. A few people wanted to leave, and we ended up going to Ben and Jerry's," the student said. "Since there wasn't a sub, we didn't really miss anything, and nobody was hurt. It was a fun experience."
A version of this article appears in print on page 16-19 of Volume 88, Issue III, published May 18, 2018.
Comment using your Facebook, Yahoo, AOL or Hotmail account
comments
Leave a Comment
About the 'Riter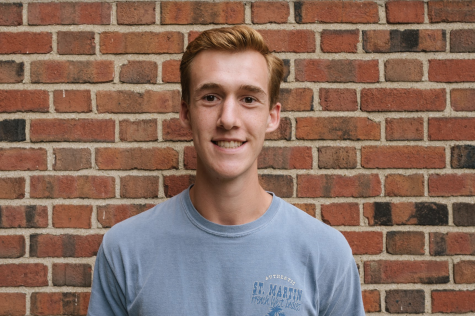 Ethan Bloch, Alumni ('20)
Ethan Bloch ('20) is in his fourth year with The Shakerite. He is currently a Print Managing Editor alongside Anna Krouse, overseeing the production of The Shakerite's print issues. As a Campus and City Editor his junior year, he covered stories such as the SHTA's arbitration with the school district. Aside from The Shakerite, Ethan is Vice President of the class of 2020 and participates in Model U.N.