Students Return For a Historic First Week of School
Students reflect on their first week of remote learning
At 8 a.m. Monday, Aug. 31, Shaker Heights High school students logged into Google Classroom to attend the first day of school like no other.
The long, uncertain journey to that historic first day began back in March, when COVID-19 first dictated what would happen in school. 
Gov. Mike DeWine announced at a March 12 press briefing that "children of the state will have an extended spring break for the duration of three weeks." He later that day clarified in a tweet that all K-12 schools — public, private and charter — would remain closed until April 3. 
On March 30, DeWine announced that K-12 school closures statewide would be extended until at least May 1 because of the state's rate of COVID-19 transmission. On April 20, by order of DeWine, All Ohio K-12 school buildings were closed for the remainder of the school year, and students continued remote learning. 
DeWine, however, did not extend closures into this year, so the district, like all Ohio public schools, spent the summer trying to decide on a plan for how exactly to resume school safely in the fall. 
On June 23, at a special meeting, the Shaker Heights Board of Education heard and asked questions about plans for students to return to school for the 2020-21 year. Administrators presented three plans, one each for elementary, middle and high school. 
K-4 students would attend in person schooling five days a week; middle school students would attend alternate weeks; and high school students would attend in person three days a week for four hours each day and then remotely for the rest of the week. 
However, as Cuyahoga County reached red, the state's highest level of COVID-19 infection, teachers and community members expressed concern July 25 about the district reopening plan and recommended full remote learning. During his July 31 Summer Update, Dr. David Glasner, superintendent, announced Shaker schools would start remotely and continue remote instruction for at least the first quarter of the 2020-21 school year.
Junior Leela Khatri described the first day of school as "hectic — a lot of back and forth between classes. Honestly it was a lot to handle and difficult to organize my time efficiently."
The first day of school followed the district's online class schedule, which in part resembles a regular school day. On Mondays, high school students attend all eight, 40-minute class periods, with a one-hour lunch break. In between Monday classes, students have five minutes to stretch and take a break. 
However, on Tuesdays, Wednesdays, Thursdays and Fridays, students attend four, 80- minute class periods with the same one-hour lunch break. 
"The first week was super overwhelming," senior Natalia Glinzler said. 
Sophomore Ana Halliburton said she liked the 80-minute class days. "I feel like it will ultimately result in less homework. But I feel that as the year goes on, I will start to get tired of just sitting there every day for 80 minutes at a time," she said. 
Sophomore Lily Collier said the first week was a good transition from summer to school. "It went by pretty slowly because a lot of the classes were the same thing," Collier said. 
On Tuesdays, Wednesdays, Thursdays and Fridays, students have a 10 minute break between classes.
 "I like to go outside and get some fresh air before coming back to my computer," sophomore Jed Skilken said.
Students might also use their time to prepare for their next class. "I usually eat and see what the teachers have put out for my next classes. When I have German next, I practice to be prepared to speak a lot as this is my first year taking German," Halliburton said.
The breaks are a good time to mentally refresh for your next class. "I think they will become very useful in the future when classes get more stressful," Collier said. 
Online classes could affect students' work ethic. Some may find it harder to find motivation to do their work while at home. "I honestly think that I will not be as driven to work as hard as I usually do, but I'm sure I will still complete all of my assignments," Collier said. 
Halliburton said remote learning may improve her overall performance."I think online classes will make me more focused because it's much harder doing everything online for me," she said, "so I think learning to do school online will help me become a better student."
While fire drills, hallway noise and peers can distract students at school, home can disrupt student concentration, too. 
"There are a lot of distractions in my house, like just things to fidget with or stuff in my room.  Especially having my phone in the same room as me will tempt me to go on it during class," sophomore Angelo Parrino wrote in a text message. 
Google Meet and Zoom allow participants to mute their microphones and turn off their cameras. But when students do this, teachers and classmates struggle to tell if students are present, both physically and mentally. "The classes are a bit awkward and hard to navigate when students don't have their camera on, especially with participation," Glinzler said.  
"I think once we all become more comfortable with Google Classroom, more students will use their cameras and we can hopefully have a better, more interactive class," Collier said.
Parrino said, "Although remote learning isn't ideal for most students, it's what we need in times like this. We will need to learn to adapt to online classes and make the most out of this situation".
Comment using your Facebook, Yahoo, AOL or Hotmail account
comments
Leave a Comment
About the 'Riter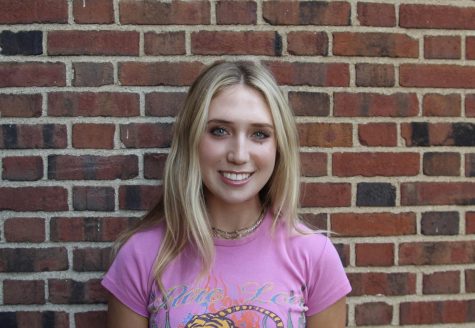 Annie Sullivan, Executive Managing Editor
Annie Sullivan ('23) is in her fourth year with The Shakerite and is currently The Executive Managing Editor. Last year as a Junior, Annie was the Campus and City Editor and prior to that, as a Sophomore, Annie was a Campus and City Reporter. Aside from The Shakerite, Annie spends her time on the courts with the girls tennis team, in room 229 as a Gristmill Editor and working at Pizzazz! In her free time she likes listening to music and being with family and friends.