Students Reflect on a Semester of Crew Time
Principal Eric Juli created the weekly meeting to help every student connect with an adult at school
Among the changes that accompanied the start of school this year was the debut of Crew Time, which met weekly for 40-minutes throughout the first semester after eighth period every Wednesday.
During Crew Time, teachers use Google Meet to check in with about 15 students assigned to them. Teachers ask students how they are feeling and how their school experience is going. When hybrid learning begins Jan. 19, Crew Time will become a class period during the school day on Mondays. It replaces Advisory, which met once a month to discuss topics such as time management, college applications and planning for senior project.
Crew Time is not a state requirement; Principal Eric Juli created it, and has said that the idea preceded the pandemic. Juli said that the objective  of Crew time is long term and hasn't been accomplished yet, but that they are building toward it.  "The goal of Crew is to ensure that every single student has at least one adult in the building that they feel connected to, that they feel like they can go to," Juli said
There is no set curriculum, and students have said that Crew Time activities range from playing trivia games to talking about tests and movies. Some students said they appreciate the chance to interact with others, and some said the additional meeting won't be necessary after school resumes normally. 
Sophomore Ella Szalay said that she doesn't hate Crew Time, but likes it less because it is a mandatory class. However, she also said that as an extrovert, she likes having other students to talk to. "I really appreciate the social time since my parents are kind of strict about letting me see my friends in person," Szalay said. "Crew is a decent substitute."
Some students expressed concern about continuing to go to Crew meetings for the rest of high school. "That seems excessive," junior Margaretta Milgram said. "I can see going to Crew Time until we go back fully in-person, but until graduation? Nope."
But some students said Crew Time is valuable during remote learning. Senior Max Shaw said that although he doesn't want Crew Time to continue after remote instruction ends, he appreciates it now. "I like that there's a bit of time to talk to people. Because of coronavirus, I haven't really been social, so it's nice," he said. 
Math Teacher Lori White said that she likes the idea of Crew Time and thinks it is a good concept, but that she wishes the administration had provided more guidance about what to do during the weekly meeting. "They haven't given us much direction. It feels a little bit hard sometimes to know what to do with the students," she said.
Juli said that Crew Time is meant to be relationship building and that he thinks students and teachers could talk about almost anything at the weekly meetings. "If there's topics that students feel comfortable with talking about, then that's fine. So, dealing with struggling in school, struggling with relationships, successful relationships, being healthy," Juli said. "But I also don't want anybody to think that this is intended to be more time for school. It's totally appropriate to be trying to beat your Crew leader's butt in Among Us, too."
Other students think that although Crew Time is a nice idea, the school district could have implemented it differently. Sophomore El Rendall said they like the idea but not the additional time in a virtual meeting . "I definitely think it should be optional, at least when we're online and our time on Google Meets is already so long," they said.
White said what becomes of Crew Time depends on students. She said, "For me one of the big things is, you get out of Crew what you put into it. If you are showing up and engaged, you will get more out of it, so I'll be interested to see what happens when we return."
Investigations Copy Editor Marin Hunter contributed to reporting.
Comment using your Facebook, Yahoo, AOL or Hotmail account
comments
Leave a Comment
About the 'Riter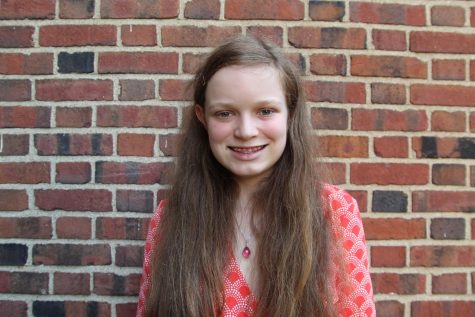 Stella Staneluis, Social Issues Columnist
Stella Staneluis ('24) is in her third year with The Shakerite, writing as the social issues columnist. As a podcast reporter last year, she wrote about her experiences as a trans woman in Shaker and the future of Horseshoe Lake. In her free time, she enjoys writing, swimming, and playing video games with her friends.