State Troubles Derail Freshman Science Exam
Ohio fails to link student ID numbers to test, leaving freshmen and computer labs idle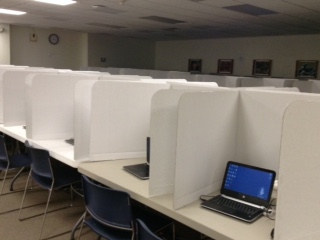 A state error in online test administration prevented ninth grade students from taking the Ohio Physical Science Performance Based Assessment this morning.
Freshmen were to report to school at 8 a.m. despite the late start schedule to take the science assessment online. However, because of issues with state identification codes, the district couldn't administer the test.
"Unfortunately we had to abort the first testing session on computer this [a.m.]," Principal Michael Griffith stated in a faculty-wide email. "The state did not have the student IDs linked to the testing, therefore students could not log in."
Freshmen in the first testing group were told to work on non-science homework while school officials tried to solve the problem. After about 40 minutes in the testing rooms, those freshmen were released for the start of first period. The online science test monopolized computer labs throughout the school, and classses that meet daily in computer labs, such as Room 109, were displaced for the morning.
At 10:40 a.m., Griffith made an announcement to tell the school that third period testing of a second group of freshmen would continue as scheduled.
However, the same problem arose third period. Consequently, those freshmen returned to their third-period classes with approximately 10 minutes remaining.
The exams and delays frustrated ninth grade students, who completed the three-part PARCC English Language Arts Performance Based Assessments over the last two weeks.
"The [state] assessments are ridiculous," said freshman Trisha Roy. "The freshman class has been forced to waste seven to eight hours of instructional time on tests that aren't even guaranteed to work."
Roy questioned why the Ohio Graduation Test wasn't an adequate indicator of college readiness when Shaker graduates who took that test succeed at Ivy League schools.
Freshman Gabe Dacanay also questioned the change in testing measures.
"We survived for years on the Ohio Achievement Assessment, and that test was written," he said, referring to a pencil and paper test. "All the malfunctioning of the tests could have been avoided if we could just use paper and pencil."
The only state assessment successfully administered today was the goverment exam, because it was taken on paper rather than online.
Science teacher William Scanlon said it was "foolish" for the state of Ohio to think testing all students online at once would go well.
"I'm no mind-reader, but we teachers saw this coming," he said.
Freshman Andrew Mohar summed up student opinion. "Today is a great example of the 'meaningful' testing aspect of standardized tests that Shaker is attempting to adopt," he said. "We have to abandon the tests after nearly an hour of wasted time and [the test] has proven to be even more meaningless that any test we've taken in the past."
Comment using your Facebook, Yahoo, AOL or Hotmail account
comments
Leave a Comment