State of the Schools Addresses Community Concerns
Superintendent's presentation aimed to assure residents of changes' benefits
In his second State of the Schools appearance, Superintendent Gregory C. Hutchings, Jr. exchanged last year's formal speech for a PowerPoint-aided talk and devoted significant time to reiterating the district's respect for and commitment to arts education.
Last year, Kool and the Gang's "Celebrate" filled the auditorium as about 400 people took their seats before Hutchings spoke, and Journey's "Don't Stop Believin'" concluded the evening. This year's Feb. 10 event  began with Taylor Swift's "Shake it Off" and ended with "Survivor" by Destiny's Child as the audience of approximately 250 exited.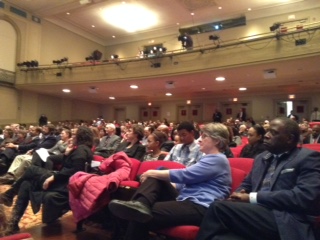 To kick off the address, the superintendent's daughter, Micah Hutchings, and Rebecca Jacobs, both fourth graders at Onaway Elementary School, led the Pledge of Allegiance.
Last year's SOTS theme, "#IAmShaker," became  "#WeAreShaker" this year. Before Hutchings spoke, members of three Shaker families testified to Shaker's diversity, International Baccalaureate Programme and powerful educational impact. Like last year's three students, who explained the role of the schools in shaping their identities, these families also exemplified the district's diversity. Pictures of their families were displayed on the Large Auditorium screen while they spoke.
"Unlike other school districts, my children don't have to choose what part of themselves to be," Shaker parent Rachel Hackenberg said, starting off the #WeAreShaker testimonials.
Community member Keith Langford said his family is "here today and here to stay." He noted the reading instruction and support that helped his daughter rise above grade level in reading.
Shaker parent and lifelong resident Jessica Bell Semel expressed gratitude that her daughters have received the Shaker experience. She said some aspects of the Shaker experience "can't be quantified."
In an interview before the speech, Hutchings said he was  "ready to rock and roll." He began with a brief discussion of Shaker's history.
"It's important to know Shaker's history before we talk about the future," Hutchings said. Using pictures of Shaker 100, 75, 50 and 25 years ago, Hutchings detailed the school's establishment.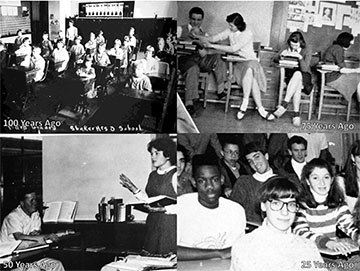 Last year he said, "Shaker, as we know it today, started as a suburb so exclusive that Jewish and African-American people were not allowed to buy property. Many, if not most of us, in this room would not have been welcome in the Shaker Heights of 70 years ago."
This year he echoed that statement more briefly, saying, "Here, we embrace diversity, and that is what makes us Shaker."
Following this slide, he compared teaching in the 20th and 21st centuries. This PowerPoint slide illustrated the evolution of teaching from dictating knowledge to guiding students toward knowledge. He also noted that due to technology, students have access to even more information.
"Teachers aren't the only ones with knowledge," said Hutchings. Students "have phones, and Google is at everyone's fingertips."
Along with teaching styles, Hutchings repeatedly emphasized Shaker's strong arts programs. He spoke about the band and its trip to Turkey, along with the upcoming choir trip to cities in Austria and Hungary, which he will chaperone.
"We embrace the fine and practical arts, and that is what we will continue to do," Hutchings said.
He paid particular attention to arts programs and the middle school's upcoming schedule and programming changes, citing the many emails he has received on the subject since the district proposed the changes, which would affect arts education.
Hutchings explained that these changes also would establish extended class periods, from 39 to 50 minutes; the implementation of an after school "Raider Time" to take arts classes during what was previously after-school conferences; and changes in Design, the project-based class that replaced the middle school's financial literacy class. The current Design program is being revised to feature a science, technology, engineering and math-based curriculum. The proposed changes have spurred concerns from parents and community members.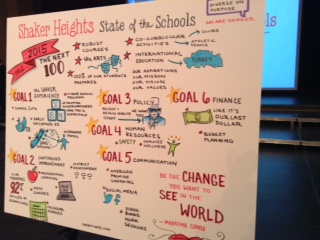 Hutchings assured the audience that the changes will help the middle school. "We want to make sure that 100 percent of our students move on to future success," he said. "This proposal is allowing students to be engaged in their learning."
In last year's SOTS speech, Hutchings noted that Shaker "has the largest Advanced Placement program in the area, with high participation and a high rate of success," but this year, he focused almost entirely on IB. He said that once Shaker earns Middle Years Programme certification, Shaker will be one of seven school districts nationwide to receive full IB accreditation.
Along with IB, Hutchings also addressed the new Common Core standards.
"At Shaker Heights we do believe in Common Core," he said. "It's not about making cookie-cutter teachers. As a Shaker parent, I do not want a cookie-cutter teacher. This is just leveling the playing field."
Hutchings intends to see 100 percent of his students graduate, and he celebrated the first student to earn a diploma through study at the Innovative Learning Center, Denzel Merritt, who graduated in December and now attends community college. Hutchings also said that the district is implementing a College Credit Plus program to let students access college classes as soon as seventh grade.
However, technology issues have impeded the district's efforts to offer more online classes. Hutchings referenced a Dec. 19, 2014 Shakerite story about the schools' troubled Internet service, saying the district works on technology "every day."
In addition, he said the district is developing a work force partnership to give students the opportunity to intern and shadow professionals.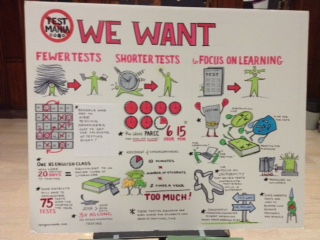 At the end of his presentation, Hutchings responded to audience questions moderated by Cleveland City Club CEO Dan Moulthrop. Community members raised questions about Shaker's achievement gap, the middle school changes, graduation rates, low teacher morale, technology issues, IB costs, and the district's teacher recruitment plans, but PARCC testing dominated the audience queries.
Parents questioned why Hutchings was not as vocal as superintendents in surrounding districts have been about voicing concerns about PARCC tests.
Hutchings mentioned that he was one of the first to send the state a letter regarding the tests and that "I don't want to lose my superintendent's license." He noted that he also happens to be a member of the State Superintendent Advisory Committee and traveled to Columbus with high school English teacher Jody Podl to "give our two cents" about testing.
In an interview after the State of the Schools, Hutchings said he is now "ready to roll up his sleeves and get to work."
Comment using your Facebook, Yahoo, AOL or Hotmail account
comments
Leave a Comment