A Greener Shaker
Environmental Club installs solar panels on the high school roof to improve sustainability
The Environmental Club recently installed solar panels to decrease the footprint the high school is leaving on the world.
The district hired the company Better Together Solar, which is based in northeast Ohio, to install the panels. The company was founded by Shaker graduate Robert Martins.
Ten 280-watt solar panels were installed in November 2018 and began powering a few classrooms in the school through solar energy. The project cost around $8,000.
According to science teacher, Juliet Perry, a group of photovoltaic cells are packed into a frame called a solar panel. Most commonly, these cells are made up of semiconductors. When the cell is struck by light, the semiconductor absorbs some of the energy, knocking electrons loose and creating electricity.
Senior Katrina Cassell helped make the project happen. "It would be a really cool thing to be able to power a couple classrooms. It would make a super lasting impact. Once you have solar panels, you can always add more," Cassell said.
The process started just over a year ago, according to Cassell. The club has been fundraising, brainstorming and meeting with both the administration and Better Together Solar.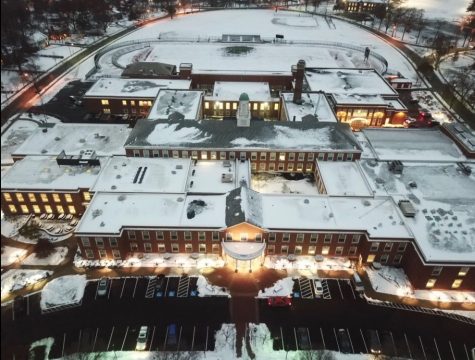 Cassell said it was difficult and time consuming to gain administrative approval. "We just keep having meeting after meeting," she said.
Sophomore Colin McCabe, vice president and treasurer of Environmental Club, said that the final cost of the project was between $6,000 and $8,000. However, McCabe said more panels should be installed.
Freshman Kjell Aspelin expressed skepticism about putting up solar panels in Shaker Heights, a city not known for its balmy weather, especially in the fall and winter months when school is in session.
"There's no sun in Ohio," he said. "If you were in Hawaii, yes."
Shaker Heights has about 160 sunny days per year, 45 under the national average of 205. Hawaii, on the other hand, has 271. While solar panels work best in direct sunlight, they can still produce electricity using available light on overcast days.
McCabe thinks the solar panels are a step in the right direction. "Our green program and environmental friendliness is not as great as we'd like it to be," McCabe said. "The solar panels were one of the great installations of a program or actual hardware that will make the school a more green, a more better place."
According to McCabe, other schools in the area, such as Hathaway Brown, have recently installed solar panels. He said Shaker needs to follow their example.
However, Cassell and McCabe don't think Shaker is doing enough to improve the school's sustainability.
Cassell said that the school needs to recycle more and hopes that more solar panels are installed in the future. The Environmental Club is still raising money for future projects similar to the solar panels. McCabe said the club attempted to gain approval for a carpooling plan last year, and would still like to see it happen.
Cassell said that the solar panels send a message to the community. She said, "We're showing the community that sustainability is one of our priorities."
Journalism II Reporter Alex Markland contributed reporting.
Comment using your Facebook, Yahoo, AOL or Hotmail account
comments
Leave a Comment