Shakerite Reporters Earn National Awards for Digital Media, Podcast Coverage
The Columbia Scholastic Press Association recognizes The Shakerite's coverage in five categories and the National Scholastic Press Association recognizes The Shake.
Shakerite reporters earned awards from the Columbia Scholastic Press Association and the National Scholastic Press Association for print, online and podcast stories during the 2018-2019 school year.
"CSPA is an international student press association, founded in 1925, whose goal is to unite student journalists and faculty advisers at schools and colleges through educational conferences, idea exchanges, textbooks, critiques and award programs," according to their website.
On April 8, the CSPA announced winners in its 37th Gold Circle Awards competition for yearbook and digital media entries produced by students at colleges, universities, secondary schools. A Gold Circle Award is among the highest honors in scholastic journalism. 
"Judges cited a total of 656 winners for yearbook and digital media for either First, Second or Third Place or for Certificates of Merit for those deemed worthy of honorable mention in a category. Entry categories included those for yearbooks and for digital (online) media, in its annual competition for individual achievement by student writers, editors, designers and photographers," according to the CSPA.
The CSPA evaluated 5757 yearbook and digital media entries submitted in 91 categories that were published from Oct. 2, 2018 through Oct. 1, 2019.
The Shakerite earned awards in five categories.
Emet Celeste-Cohen ('19) earned a Certificate of Merit in the Breaking News Category and Second Place in the News Writing Category for "District Releases Podl Investigation Documents." Ashley Sah ('21) and Hilary Shakelton ('21) earned Third Place for "In the Wake of Administrative Leave" in the Secondary Coverage Category. Bailey Pasternak ('21) earned First Place for "Just Don't Do It" in the Entertainment Reviews Category. 
The 2018-19 Editorial Board, led by Chairwoman Emilie Evans ('19) and comprising Astrid Braun ('19), Mae Nagusky ('20), Emet Celeste-Cohen ('19), Ainsley Snyder ('20), Ashley Sah ('21) and Lauren Sheperd ('21) earned a Certificate of Merit for "'Rite Idea: The Kuehnle Documents" in the Editorial Writing Category. 
The NSPA awarded Second Place in the Digital Story of the Year podcast category to juniors Katie Cronin, Madeline Price and Bess von der Heydt for their fourth episode of The Shake, The Shakerite podcast they created and launched as sophomores. The episode, "Processing Changes in the Community," aired Nov. 16, 2018 and addressed consequences of the Nov. 8, 2018 community meeting, which unraveled quickly into criticism of the administration and an airing of community grievances.
The Story of the Year award was announced Nov. 23, 2019 at the NSPA Fall National High School Journalism Convention in Washington, D.C.
"Through education, training and recognition programs for members, the National Scholastic Press Association promotes the standards and ethics of good journalism as accepted and practiced by print, broadcast and digital media in the United States," according to their website.
The Shakerite, shakerite.com and The Shake are advised by Natalie Sekicky, who assumed the role in 1997.
Comment using your Facebook, Yahoo, AOL or Hotmail account
comments
Leave a Comment
About the 'Riter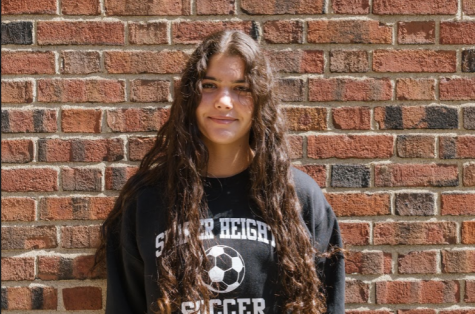 Caroline Brancato, Print Managing Editor
Caroline Brancato ('21) is in her fourth year with The Shakerite and is currently Print Managing Editor. During her time at The Shakerite, she has written about Shaker's now-defunct Rifle Club and how police contracts negatively impact communities and limit police officer accountability. Caroline is a two-year varsity captain of her high school soccer team and plays on a club soccer team in the winter and spring. She also enjoys cooking and spending time with her family and friends.