Shaker Reacts to Trump's Win
Emotions range but are equally strong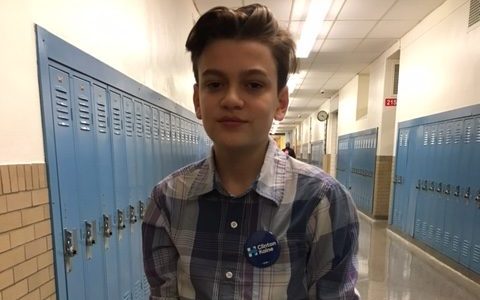 Faculty and students expressed a range of emotions about the election of Donald Trump, ranging from satisfaction, shock and mortification to cautious optimism.
Trump was elected the 45th president of the United States yesterday. He won 279 electoral college votes, including Ohio's. Democratic nominee Hillary Clinton won 218. The result contradicted the predictions of professional polling organizations and journalists across the country.
"I don't know what's wrong with America, like, he needs to be impeached or something. I'm scared how this is gonna turn out," said senior I'Anna Smith, who expected Clinton to win.
Science teacher William Scanlon said, "I think we're going to a recession. Our economy is going to tank. I'm just really scared, I'm scared for the people I care about. I'm scared for Muslims, African Americans, people in the inner city. Those people have a difficult road ahead of them."
"People were dedicated to Trump, and people saw Hillary as a lesser of two evils," said senior Shalyn Foster, who expected a Trump presidency.
Senior Delaney Hunter said, "The corrupt government will stop." She believes that the country will become more united due to his victory.
History teacher Paul Kelly is not pleased with Trump's election but tries to remain optimistic. Kelly said, " Is Trump the greatest candidate, no! But the reality is change in society politically, happens very, very, very slowly."
Sophomore Lauren Grace Reynolds, who supported Clinton, said that due to a Trump presidency, "The country might take five steps backwards." However she also said, "I would really like him to go against what people think of him and see him be a great president."
Principal Jonathan Kuehnle said, "I'm not one of those who think we should leave the country. I believe we can pull together and come out stronger. This is a test."
Journalism I students Brianna Ali, Rasheen Ali, Zion Cole, Quinn Cutri, Hannah Givens, Julian Hinze-Gaines, Tiffany Hsich, Elena Landow, Samuel Lehman, Mysharia Mcginnis, Lan Morgan, Mae Nagusky, Micheal Prowell, Lauren Reese, Torrey Roper, Joe Schmidt, Ainsley Snyder, Makary Stanberry, Patrick Wise
Comment using your Facebook, Yahoo, AOL or Hotmail account
comments
View Comments (1)