Searching for Safety
Police dogs have searched the high school twice, finding no contraband either time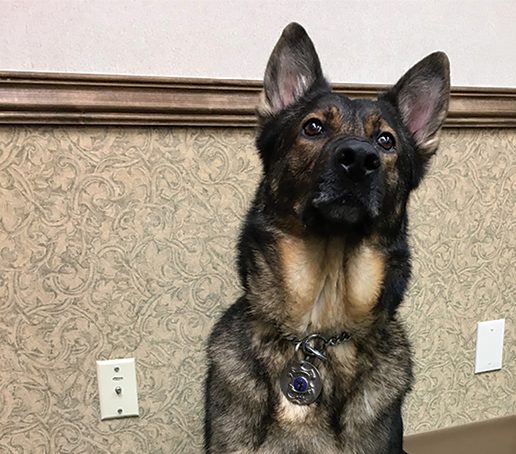 The K-9 unit of the Shaker Heights Police Department entered the high school, unannounced, April 11 for the first time since Dr. Gregory C. Hutchings Jr. introduced the practice in 2013.
Both times, the SHPD used drug-sniffing dogs to search lockers.
Both times, the searches yielded no contraband.
While both lockdown drills during which the K-9 unit conducted its searches were unannounced, administrators alluded to the searches in communication prior to the event.
In a Feb. 11 email to community members, Principal Jonathan Kuehnle wrote, "In the spirit of open communication and maintaining a safe learning environment for our students and staff, please be aware that Shaker Heights High School may conduct periodic searches of lockers and parking lots."
In an interview with The Shakerite, Kuehnle explained his decision to notify the community.
"We just felt it was appropriate given the current climate regarding school safety that we notify everybody — 'Hey, here's what we have in place, here's stuff that we do, just in case,' " he said. "Because if somebody sees us searching a locker, you know, it's only fair that you know the policy and the expectations."
Notifying parents and students that dogs will visit the school raises the question of whether the searches are useful in identifying problems as students who know the dogs are coming may leave illegal substances or weapons at home.
Senior Miles McCallum said that alerting the community of K-9 unit searches is inefficient. "I think that would sort of ruin the point. Granted, though, if you're committed to bringing something dangerous, you'll bring it anyways or find a way around," he said.
A 2011 Chicago Tribune analysis showed that only 44 percent of sniffer dogs' positive signals led to the discovery of drugs or paraphernalia.
However, Ohio has a very strict guidelines when it comes to police dog certification. Lt. Richard Mastnardo of the SHPD said each K-9 unit is certified annually and the department has the dogs complete maintenance training six hours a month.
"The school is actively working with the police department to keep contraband out of the schools," Mastnardo said.
"To let the community know that we do this — that we partner with the school district to bring the dogs — I think that that's OK because [the district] is not saying what day they're doing it, they're just letting the students know that 'We work with the police department,' " he said.
A version of this article appears in print on page 14 of Volume 88, Issue III, published May 18, 2018.
Comment using your Facebook, Yahoo, AOL or Hotmail account
comments
Leave a Comment