School Institutes New Late Policy
Students arriving to school late must check-in with their IDs at the security desk
Shaker has instituted a new ID check-in policy for the 2022-23 school year as a part of the high school's increased safety efforts.
Students were made aware of the rule during Crew classes Aug. 30 through a document titled "Changes to High School Student Handbook." The new policy requires students arriving after 8:20 a.m., the start of the first block, to present their Shaker student ID badges to security before entering the building. Students without visible ID cards will be directed to a security guard who will verify their identity via PowerSchool, and they will be given a "temporary student badge," according to the document. "A student or visitor cannot enter the building if we [the school] cannot confirm their identity," the document states.
This change comes alongside additional increased safety measures for the high school including a newly enforced ID policy, requiring students to wear IDs at all times, and a new visitor policy requiring visitors to present photo ID at the security desk and have a security escort with them at all times.
Some high school students have accepted the new policy, and understand why it has been instituted. Freshman Audrey Steinmetz thinks wearing an ID is easy. "I don't really care about wearing it. I think it's fine. It's good for keeping us safe. Sometimes it's hard to remember to bring it, but they have visitor IDs, which is nice. I think it's just simple to wear," Steinmetz said.
The rule change has been met with skepticism and annoyance from other students, who believe the policy will not be enforced long-term by the administration after the administration failed to enforce a similar policy last year. Senior Nico Moulthrop said the ID policy is justified, but doubts its longevity. "It's kind of just a hassle because we know they're gonna give up on it in like a week anyway, maybe two weeks, if they're lucky," he said. 
Senior Azaria Bryant, said she thinks the policy needs refinement. "I think it's a little unnecessary but at the same time it does account for safety, because it makes sure students that are here actually go here," she said. "It could be done a little differently. Maybe we could have something to scan our IDs on when we go in, so the process is faster but still thorough." 
Other students are worried that the check-in policy will block the high school's main doors in the mornings. Senior Jonathan Jaques was late to class Aug. 30 because of the policy. "It was definitely incredibly inefficient. It's like, you get a 10-minute window to get to class, and then after that you're late no matter what you do. Like yesterday—there was a line out the door," he said. 
Principal Eric Juli said that administrators are working to address these concerns. "We already changed what we did the last two days for the future, and it has already worked significantly better," he said. "Students who arrive on time will just go directly to class. At 8:20 everybody has to come through the main entrance. Anybody who is arriving after 8:20 is stopped, and their IDs are checked, or they are given a temporary ID badge."
Juli also said that the enforcement of this, and the regular ID badge policy (requiring students to have IDs visible at all times), is a team effort. "The teachers are a part of this, too. Students who arrive on time go directly to class. Ms. Sharpe will make an announcement at 8:30, and teachers at that point will send students without IDs down to the security desk so they can receive temporary ones," he said. "The best thing students can do is just have their IDs on and ready, and to get here on time."
Juli expressed confidence that the ID check-in policy will remain in place and contribute to a safer school. "We will get this process going faster. We'll make it work so kids aren't missing class time, but this also isn't going away," he said. 
Now, Sept. 16, the ID check-in policy remains in effect and lines have dwindled significantly.
Senior Nathalie River said she understands why the school is enacting this policy. River said, "Having IDs showing is normal at private school, it's normal at college, and what makes public school different is that we're exposed to more threats and strangers coming in because there's more people. Plus, it's so easy to just put your ID on and have it visible, and it can only make us that much safer."
Political Columnist Ingrid Holda contributed to reporting.
Comment using your Facebook, Yahoo, AOL or Hotmail account
comments
Leave a Comment
About the 'Riter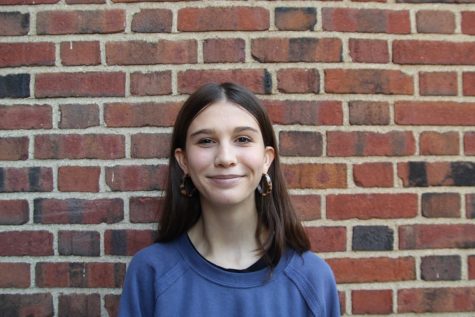 Marin Hunter, Web & Print Managing Editor
Marin Hunter ('23) is in her fourth year with The Shakerite. She is currently Web and Print Managing Editor. Last year, Marin was an Opinion Columnist and a Copy Editor. As a sophomore, she worked as a Copy Editor. Aside from The Shakerite, Marin is the president of SAY Club, president of SAY Council, an intern at the Cleveland Museum of Art and an active volunteer in her community. She enjoys lunching with her friends, reading and listening to music in her free time.