Shaker Heights Maintains Restroom Practice, Not Policy
Unofficial high school practice allows transgender students to use bathrooms that correspond to gender identities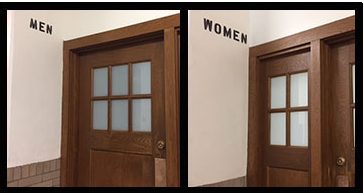 Shaker Heights City School District does not have an established restroom policy concerning transgender students' standing, but Shaker Heights High School Principal Jonathan Kuehnle uses an unofficial practice, enabling students to use restrooms that correspond with their gender identities.
"The District does not have an established policy or practice regarding restroom use by transgender students," said Marla Robinson, chief of staff, in an email. Instead, the school handles restroom use on a case-by-case basis — and even that practice is not set in stone.
President Donald Trump's decision to rescind Department of Education guidelines for treatment of transgender students in public schools has rippled across the United States. The guidelines warned public schools against denying transgender students access to restrooms that correspond with their gender identities. Since the reversal, the Texas state senate proposed a bill barring transgender Texans from using the public restroom of their choice.
"We expect the issue of the rights of transgender students will continue to be an evolving topic in various legal and governmental arenas," said Robinson.
Principal Jonathan Kuehnle established an unofficial restroom practice at the beginning of the 2016-17 school year. According to him, there was not an agreed-upon practice before his arrival.
Kuehnle said parents raised the issue when he arrived in Shaker last summer. "My response was, and continues to be, this practice: As a transgender student, you may use the bathroom of the gender with which you identify," he said. If students feel uncomfortable doing so, they should use the bathroom in the nurse's office.
Practice, though it is a functioning system, is not the same as policy. "All Shaker School District Policy is reviewed and adopted by the Board of Education. Practice is as it sounds; it is what one does. Practice exists with or without Policy," said Robinson. "I am not aware of any plans to make a policy."
Kuehnle's decision is rooted in the privacy present in all school bathrooms. "If it's a male restroom or a female restroom — they all have stalls — so privacy exists in either one," he said.
However, the school continues to work with transgender students individually, so this practice is not well known. Senior Scott Baul is a transgender student and president of the Gay Straight Alliance. Baul uses the restroom in the nurse's office when necessary and said he did not know about the shift in practice.
"Who knows about this?" said Baul. "Who should know about this? The person who should know about this doesn't know about this."
"Overall, it could be better but it could be worse," said Baul. In regard to Kuehnle's changes: "It's great that he has a practice. I just wish he'd share it."
Junior Veron Black had assumed a district-wide, transgender-inclusive bathroom policy already existed. After learning that no such policy existed, he was taken aback. "They need to make a policy," he said. "I believe that everybody should be equal."
Comment using your Facebook, Yahoo, AOL or Hotmail account
comments
Leave a Comment