Principal Candidates Visit the High School
The two finalists for the high school principal vacancy visited SHHS last week and addressed faculty and community members after school. Each stopped by The Shakerite newsroom, spoke about themselves and answered editors' questions. Eric R. Juli visited April 29, and Patrick D. McNichols visited May 1. Coverage of their visits appears below. 
Juli Emphasizes Relationships, Community Interaction
Juli has been principal of Design Lab Early College High School in Cleveland and has resided in Shaker Heights for eight years. His two sons attend the middle school and Fernway Elementary School, respectively.
Juli said that when he arrived at Design Lab, it was not a safe school. He said fights occurred daily, but that now it is one of the safest schools in Cleveland. "Kids come from neighborhoods that are incredibly dangerous," he said. "Just getting to school is often not safe. And so being in school has to be the safest space."
Juli distinguished between punishing students for their behavior and changing their behavior. "Consequences don't mean the behavior is going to change," he said. Juli said that while restorative practices are not formally in use at his school, he uses elements of restorative practices daily. The approach "only works if you have trusting relationships," he said.
Juli emphasized the importance of building relationships with students, teachers, parents and staff. "You make a school work with positive relationships," he said.
Juli said he knows students well and would strive to do the same at Shaker. "My intent is to know every single student at the school, and not just be able to say your name in the hallway — know you. And have you think of me as somebody you can talk to," he said.
School works best when every student feels connected to at least one adult in the school, he said. "Putting systems and structures in place so that everybody can purposefully have a go-to person would be one of my first" actions, he said.
He also said his first job as a principal is to listen and learn, to hear from the students and staff about what needs to be fixed and what is working great. "It would be really presumptuous of me to come in and say 'Alright, I'm here now. This is what we're going to do,' " he said.
Juli said that at his current school, he ensures that students do work that is important for the community. "I would like to introduce the idea that we can start with a problem and end with an audience," he said. "Connecting kids and teachers with problems in the community that actually matter would be a starting point."
At Design Lab Early College High School, Juli instituted a program called X-block under which classes end at noon on Wednesdays. The rest of the day, students work with community partners of their choice to do something they are passionate about. "It's connecting students to people who do these amazing things, and they love it. You can't help but be infected with that passion and enthusiasm," Juli said.
He offered examples of students' X-block projects, including building furniture or a motorcycle, learning how to make a short documentary film, making murals and jewelry, learning how to row or do Crossfit or even working with a blacksmith.
"We've taken the school out of the building entirely and put it into the city of Cleveland, and it's amazing what students can do when that happens," he said. "It's beautiful to see."
Juli said he would bring X-block to SHHS if selected. He also said he favors finding internships for juniors that could lead to senior projects about solving community problems that students care about.
Juli said he had not been looking for a new job, but as he watched the Nov. 8 community meeting, he thought Shaker needed somebody to stand up on the stage and say, "I hear you. I don't know how to answer all of your questions but I'm hearing them all. Let's work together to make this happen."
The district expects to announce its selection of the new high school principal May 10.
McNichols Cites Importance of Challenging Students
Patrick McNichols, principal of Roxboro Middle School in Cleveland Heights for nine years, earned a bachelor's degree in journalism from Bowling Green State University. His daughters are in their senior and sophomore years of high school, respectively.
McNichols has spent the last seven years working on the IB Programme. "To have that experience and understand that framework — I don't have to come in and be trained right away," he said.
He said he knows what a good IB classroom would look like. "I'd be able to hit the ground running and know what to look for," he said.
McNichols said that on his tour of the building, he noticed students in some classes "were not doing anything." He noted that he had observed this after the morning's EOC test administration. Nevertheless, "That's a problem. How do you maximize instructional time? What does quality work look like," he asked.
He said SHHS teachers are all very nice, but he believes there's always something that everybody can do. "If they've been doing their instructional planning for years, they don't even realize some of the things they are or aren't doing," he said. He said setting common expectations of what student work should look like is vital.
He would like to add a broader meaning to their work. "How are you bringing kids' personal interests into the learning so that their learning is about what they want to study within this bigger framework of standards," he said.
Based on his visit to the high school, McNichols said it seems that not all SHHS students are being challenged. "If you have 40 percent of students in a grade that are not passing their OST, that means they're not on track to graduate," he said. "I think that leads to opportunity gaps."
He would like to see in every class a standard of excellence and all students being prepared for college and careers.
He said there is definitely work that needs to be done in Shaker. "When I'm looking at a state report card that you have one indicator that was met, and I know that there's a lot of high-quality students here. How do we make sure that everybody is being successful?" he said.
He continued, "When you come in as a leader, you don't come in and change everything. Your goal is to look at what's in place and improve and make it better."
McNichols said he is concentrating now on understanding the level of rigor in the new state assessments. "[We are] trying to align our instruction so that students are getting prepared to understand how to do those more difficult tests," he said.
Regarding discipline, McNichols said not every offense has to result in suspension. "Discipline is about changing behavior so that people live within the expectations of the community," he said.
McNichols said he applied for the job because he wants to finish his career as a high school rather than a middle school administrator. "I've wanted to think about during my last third of my career of what I've wanted to have for my legacy, and I see Shaker as a great place to be."
The district expects to announce its selection of the new high school principal May 10.
Comment using your Facebook, Yahoo, AOL or Hotmail account
comments
Leave a Comment
About the 'Riter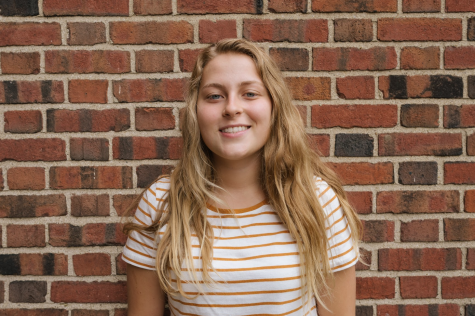 Mae Nagusky, Editor-in-Chief
Mae Nagusky ('20) is in her fourth year with The Shakerite. She is currently Editor-in-Chief, running and overseeing coverage for shakerite.com and the quarterly print issues. Mae was The Shakerite's Web Managing Editor in her junior year, and Campus and City Editor sophomore year. In the past, she has covered topics such as systemic inequity and disrespect toward teachers. Mae participates in high school softball, and she enjoys listening to podcasts and dancing.