Police Dogs to Enter High School
Hutchings says primary reason is training, but K-9s capable of smelling drugs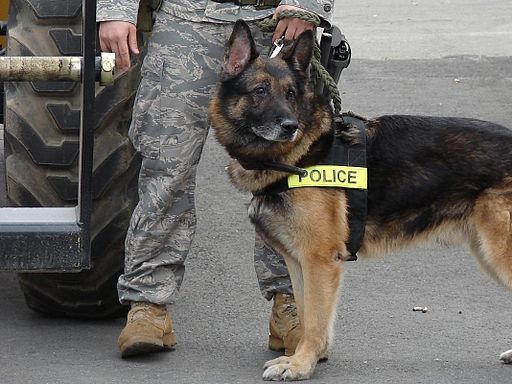 Superintendent Gregory C. Hutchings, Jr. wrote in an email to parents yesterday that drug-sniffing dogs will enter the school during an upcoming lockdown drill.
The email, sent yesterday afternoon, summarized the district's recent security changes. Hutchings wrote that the high school "will be partnering with the Shaker Heights Police Department to use the High School periodically as a training site for the regional K-9 unit. The training will occur during an unannounced lockdown drill when students are not in the hallways."
Hutchings continued, "The main purpose is to provide training for the dogs, but if they detect drugs in lockers or other school-owned property, we will follow up in accordance with school policies and Ohio laws."
Junior August Whitley doesn't consider the police dogs to be an unreasonable proposition. "I think it's fine," said Whitley, "I mean there is a warning [the email] for those students who do abuse narcotics."
Whitley cited the 1985 Supreme Court case New Jersey v. T.L.O. in which the court ruled that school officials do not need probable cause to search student belongings, just reasonable suspicion. "We [students] can't argue an infringement on our 4th amendment rights, sadly," he said.
Hutchings' message was sent a week after The Shakerite published its most recent print issue, which included a cover story detailing the district's ongoing security review, which Principal Michael Griffith said was hastened by a rape allegedly occurring at the school in September. For the story Hutchings said he was considering having "locations where they [juniors and seniors with free periods] exit. We're working on exactly what the accountability system will be, but we want to have a way to kind of document who leaves the building, just to keep on record so that if there ever is an emergency, we would know who's not in the building, what time they left the building, and that type of thing."
Hutchings was less specific in his email, writing that the district is "looking at ways to improve accountability and enforcement of the open campus policy at the High School."
He went on to suggest several ways for parents to help improve school security, including "[making] it your business to know where your student is, what he/she is doing, and with whom, both in person and online."
One day after a public Twitter account posted a list ranking female high school students by physical appearance, Hutchings wrote, "Bullying is another important aspect of safety. . . Students' online behavior is often a factor in bullying. Twitter and other social media have become venues for name-calling, gossip, and disputes that may spill over into school. Predators often use Facebook and other social media to lure young people as well. I urge parents to limit and monitor their students' use of social media."
Read the full letter here.
Print Editor in Chief Shane McKeon contributed reporting to this story.
Comment using your Facebook, Yahoo, AOL or Hotmail account
comments
Leave a Comment