City Council Disposes of Pit Bull Ban
Law proposed four months after fatal attack falls by 5-2 vote
Five of the seven city council members voted against an ordinance that would have banned pit bulls from Shaker Heights Jan. 12.
The vote followed a Nov. 6 meeting during which city law director Bill Gruber presented the law, which would have disallowed Shaker residents from adopting pit bulls and required that all current pit bull owners register their dogs with the city as well as get expensive insurance. The city's proposal came five months after Shaker Heights resident Annie Williams was killed by a pit bull that attacked her July 12, 2015 while she was picking up her two granddaughters.
Williams' death was often cited in the council meetings and discussions leading up to Tuesday's vote. Some noted the gruesome nature of her death, others observed that the dog's owner is currently imprisoned.
The overwhelming majority of the crowd, approximately 80 people, was pleased by the vote; 17 of the 21 community members who spoke at the meeting opposed the ban. "I'm against this ban 110 percent," Lindsay Evans said before the meeting.
As she told the council about her 15-month-old daughter's friendship with their pit bull, Evans' eyes watered and her voice cracked. Before sitting down, she walked around the table and showed each council member a picture of her daughter and dog.
"They're doing all these things that Shaker is not about: bigotry, stereotypes… They can't do it at a human level, so they're doing it at an animal level," she said.
Paul Levin supported the proposed law. "Every time there is a dispute, people get experts to support their side," he said. "Even if the amount of experts is 50-50, we should take the course that will yield less potential damage." In this case, he said, passing the law would achieve that goal.
After approximately 40 minutes of community input, Mayor Earl Leiken took the podium. He reviewed six points of concern about the law — the legality of the ordinance, the effectiveness of the ordinance, ability to make determinations, cost, owner responsible legislation, breed specific Legislation — and why they were moot.
He then shared approximately nine stories published in local and national news outlets related to pit bulls — many of them about attacks, some of them expert opinions. One article declared the threat of pit bulls equivalent to that of a gun with the safety off sitting on the kitchen table. Leiken concluded his comments by sharing a letter sent to him by a man whose son was mauled to death by pit bulls.
Audience members laughed, groaned and protested throughout the mayor's 20-plus minute speech.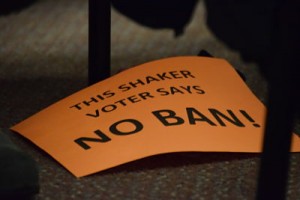 Levin felt that many in attendance didn't show respect. "You spoke; he didn't interrupt. You have to have some civility," he said.
Many who attended held neon orange, pink, yellow and green signs reading, "NO BAN!" or, "THIS SHAKER VOTER SAYS NO BAN!" and raised them when Leiken stood to speak.
Clint Evans stood outside the entrance of the meeting room prior to the start of the proceedings, handing people the signs as they entered. He did not believe that the ordinance would pass. "The legislation is broken. We proposed many questions and solutions, and they wouldn't answer them," he said. "They only answered the ones pro-ban."
Evans also shared a document listing unanswered questions from previous council meetings, including "Which local experts were consulted in drafting the memo and proposed ordinance? How are owners of mixed-breed dogs supposed to know whether they own a pit bull and are required to muzzle their dog, etc." and "Where in the proposed ordinance legislation is the education and training for owners?"
When Evans spoke, he focused on an alternative proposal. "Voting 'no,' or voting to table the proposed ordinance, will be an invitation to the entire community to come together and agree on some basic, common-sense legislation," he said.
A five-minute recess followed the speeches from the mayor and community members. When the city council returned, they voted one by one and explained their decisions.
Tres Roeder, one of the two councilmen to vote for the ordinance, said that his deciding question is, "Will the people of Shaker be safer if we pass this law?" He thought that some changes should be made in order to better uphold the promise of a safe community.
Roeder emphasized the importance of training for those who would be charged with identifying pit bulls on sight; reviewing the definition of a pit bull and the process in which breed disagreements are solved; and working to better educate the community on dog safety.
Nancy Moore also voted to pass the ordinance. She said she did so in order to prevent dog attacks in the future.
Councilman Rob Zimmerman voted against the ordinance but stressed that he was not swayed by personal accounts on either side.
Zimmerman did not want to use costly DNA tests on dogs, nor did he wish to increase the cost of care for a pit bull, especially for the lower-income residents of Shaker Heights. "I won't do that. Not in Shaker Heights," he said firmly. He expressed his desire to create new legislation that, he said, is "more likely to assure that Annie Williams did not die in vain."
With the votes in, Leiken laughed. "The old saying goes: 'The administration proposes and the council disposes.' That's what happened tonight," he said.
Gillian Graham attended the meeting. "I'm truly proud," she said, "to be part of this community, where the voice of reason prevailed."
Campus and City Editor Audie Lorenzo contributed reporting
Comment using your Facebook, Yahoo, AOL or Hotmail account
comments
Leave a Comment