Peaceful Vigil Follows Protests
Shaker residents gather at Gridley Triangle Park in solidarity with victims of police brutality
About 200 people attended a candlelight vigil in honor of George Floyd and other black Americans hurt by racial violence yesterday at Gridley Triangle Park.
The vigil began at 8 p.m. and lasted until 8:58 p.m. It was organized by Shaker residents Jennifer Clawson and Jane Logsdon. The crowd, which included Shaker students and teachers, maintained social distance and gathered around speakers and organizers who wore masks.
Shaker Heights City Council member Carmella Williams, Urbanova Chief Strategy Officer Justin Bibb, Board of Education member Ayesha Bell Hardaway and Shaker alumnus Ifeolu Ariké Christopher Claytor ('13) spoke at the vigil. "Racism is not an African-American problem; it is an American problem," Williams said. Claytor kneeled on one knee as he spoke of solidarity with recent protests.
The vigil was organized to honor the life of George Floyd, who was pinned to the ground face down while handcuffed in Minneapolis as white police officer Derek Chauvin kneeled on his neck for more than eight minutes May 25.Protests organized nationwide following Floyd's death began in Minneapolis and continued to all 50 states, including a protest in Cleveland. Many of the protests turned violent, and protesters were shot by police with rubber bullets and tear gas. In Minneapolis and across the country, stores were looted and police cars and buildings were set on fire. After the Cleveland protest, the high school was vandalized with anti-police and anti-Trump messages. 
Senior Ian Suber appreciated the vigil. "Honestly it was heartwarming because we all know the feeling of what it is like to lose somebody that is close to them," he said. "Even though we don't know him, we know support needs to come together to help out."
After the speeches, community members were invited to light their candles and stand silently as music played to reflect on the deaths of black Americans.
Billie Morgan, parent liaison at Lomond Elementary School  attended the protest to show Shaker stands united. "This is what Shaker is all about, bringing people together. That's what we do here," she said.
Shaker alumnus Malik Joseph ('18) said the vigil was a way for him to get back into the community. "I didn't go to any protests because I didn't have the emotional capacity to do so," he said. "It was nice to see my classmates and other peers of mine at the event."
Morgan was proud of everyone who attended the vigil. She said it was personal to her and other community members. "I have three boys and it could have been one of my kids," she said.
Suber came to show support and hopes the movement won't die out. He said, "We need to come together instead of sitting around and thinking something is going to happen. We can't just think change will happen if we don't do anything."
The Shakerite will continue to cover this story as it develops. Executive Managing Editor Hilary Shakelton and Print Design Editor Vivian Bowling contributed reporting.
Comment using your Facebook, Yahoo, AOL or Hotmail account
comments
Leave a Comment
About the 'Riter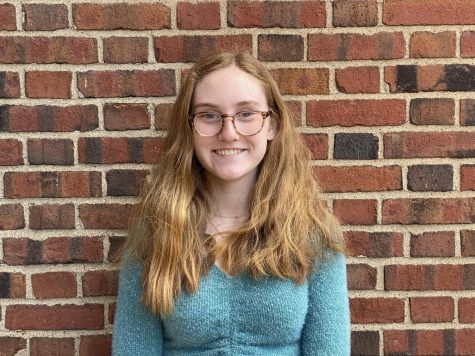 Lauren Sheperd, Editor-in-Chief
Lauren Sheperd ('21) is in her fourth year with The Shakerite. She is currently Editor-in-Chief, running and overseeing coverage for shakerite.com and the print issues. She is also a part of the Editorial Board. Lauren was The Shakerite's Web Managing Editor her junior year, and Education Columnist her sophomore year. In the past, Lauren has written about mental health and gun violence. Aside from The Shakerite, Lauren is a cross country and track captain, is a member of the Student Group on Race Relations, is the president of Political Action Club and is a lifeguard. In her free time, she enjoys writing and listening to music.