Online Learning Center Helps Students Grow
Online, blended course options give students more ways to earn credits
In Fall 2014, the basement level of the Stephanie Tubbs Jones Community building opened to students looking to earn their high school diploma digitally.
A joint project between the City of Shaker Heights and Shaker Schools, the Innovative Center for Personalized Learning and Family Engagement transferred Shaker students who were previously attending North Coast Academy in Richmond Heights, an alternative setting school open to students throughout Northeast Ohio.
As a satellite campus to the high school, the Innovative Learning Center, or IC, follows Initiatives 1.2 and 2.3 in the Five-Year Strategic Plan, which aim to  "design innovative instructional programs and practices to meet the varied needs of our learners."
The district decides to send students to the IC on a case-by-case basis. "The counselors, the assistant principals, the teachers — they've been working with the student over time, and the family, and then there's a consensus and a decision," said Principal Michael Griffith. "There are some students where the brick and mortar, the high school, the four walls, for whatever reason, doesn't work. It could be family challenges and problems and then attendance is an issue. It could be that they had some horrible illness for a time period. And somehow, some way, their credits are short."
"
"So we'll end up working with a kid here and for years, doing everything we can — intervening in every way we can — and at some point if that doesn't happen, it's really good we can have another option."
— Michael Griffith
"It's useful for us to be able to help a kid catch up, it's useful for us to help a kid who had some challenges to kind of get through," said Griffith. "So we'll end up working with a kid here and for years, doing everything we can — intervening in every way we can — and at some point if that doesn't happen, it's really good we can have another option."
This year, students at the IC have been relocated from North Coast Academy. Griffith said these students are typically working on "remediation, credit recovery and catch-up."
Before the IC opened, Shaker students earning their diplomas in an online setting attended North Coast Academy, which served students from across Northeast Ohio. Students were bused there and would typically not spend any time at the high school. North Coast Academy closed its doors in June 2014, two months after the IC opened.
"Basically through visiting that program and looking at other options, we found that we were able to bring the students back to Shaker so they would not be so far from the home campus," Assistant Superintendent of Curriculum and Instruction Marla Robinson said.
"[Students] did not have any opportunity to participate in anything at Shaker. If there was an after school club or a sport, by the time they would get back it would not be feasible," said Robinson. "We really wanted to bring them back and have them be a part of us, because they are a part of us."
The Educational Service Center of Cuyahoga County, which supplies educational services to schools throughout Northeast Ohio, provides the IC's online curriculum through the Ohio Online Learning Program.  "The Educational Service Center of Cuyahoga County had started having an online curriculum a year ago," said Robinson. "So all these pieces came together at the same time."
Ohio Online Learning Coordinator Mark Curtis outlined their offered curriculum in an email interview. "The courses are set up to be self-paced allowing a student flexibility," wrote Curtis.  "Textbooks are electronically embedded in the curriculum and work is submitted online."  Additionally, students can communicate with other students enrolled in an online course through an online discussion board and with online instructors through email.
"There are 1,000 possible points that can be earned for each semester course and there are assessments throughout for mastery along with a final exam," wrote Curtis.
Local foundations and corporate sponsors paid for half of the IC's $212,000 startup cost. Sponsors include Huntington Bank, The Arminius Foundation, A Night for the Red & White 2014 and the Shaker Schools Foundation, as well as corporate sponsors FirstMerit Bank, Benesch, Forest City, KeyBank, Penske Cleveland and others.
"Fixing up the space — that's something you do only one time. So now we use the money that we've used in the past for North Coast, to pay salaries and such," she said.
According to Griffith, the cost factors for sending students to North Coast Academy were "significantly more than if we tried to do something on our own."
Today, about 20 students are enrolled in each session of online classes at the IC. Shaker announced the first graduate of the center, Denzel Merritt (SHHS '15) on shaker.org in February.
IC Coordinator Gina Eaton says the center uses the idea of "blended learning," where students can interact with both online and personal instruction. The administration expressed interest in "blended learning" in the Strategic Plan.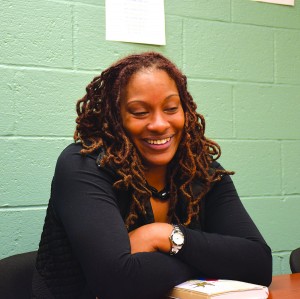 A visit to the IC makes clear that Eaton and her staff have taken the concept of personalized learning to heart. The center is divided into a "quiet space" and a "loud space," with both laptop and desktop computers, along with carrels, lining the walls. "Some students are just naturally a little louder than other students, and it doesn't bother them, whereas some students need that quiet," Eaton said.
"It's very personalized, it's very individualized, so some students go back to the high school for elective courses, some students are a part of clubs and activities," Eaton said. Students at the IC engage in various extracurriculars at the high school, including Sankofa and orchestra.
A day at the IC is broken into two sessions, a morning session from 9 a.m. to 12 p.m. and an afternoon session from 1 p.m. to 3 p.m. While most students attend only one of the two sessions, some attend both and get a lunch break between sessions.
Students work with five tutors on staff, who conference with students to set and meet individualized goals. "I think 'tutor' is an understatement," said Eaton. "They support the students throughout the courses, helping them to cope and manage."
"[The tutors] are the backbone of this entire organization," Eaton said.
While the IC experience varies for every student, tutors meet with students daily. However, all high school credits are earned through the Lincoln Interactive software the ESC offers.
"It's almost like a traditional school setting. You have your lessons, we have a mid-unit quiz, you do projects, you do a final exam for each unit," said Eaton. "Depending on the subject it might vary a little bit, but it terms of the curriculum, it's pretty much the same."
Eaton thinks the online learning method has allowed students to "acquire skills in a different format." She said students are "learning how to take notes, learning how to communicate via email, learning how to submit assignments, learning how to work through obstacles, such as technological glitches."
The IC operates on a different internet server than the high school, and thus does not experience the same service problems that have plagued the high school this year. While Eaton said the center has had "its own set of problems,"  she emphasized that overcoming the technological difficulties is part of the terrain. "Anything with technology is not 100 percent. Learning how to navigate yourself through an online curriculum sometimes requires you to plan ahead," Eaton said.
In addition to potential technology mishaps, other drawbacks exist to online learning.  "I think one of the disadvantages can be that you have to be really well-prepared to function with increased independence," Griffith said.
"When you're working independently in an online setting, it's up to you in a lot of ways to be self-disciplined and structured, and you don't have quite as much assistance as you would," Griffith said. He mentioned working detached from the building and being away from their social cohort can in itself present challenges.
"We've tried in the center to solve some of that," said Griffith. "Not only do they have a teacher through the Lincoln Interactive software that they can connect with and converse with online, but we also have support people there, physically who are sitting and working."
"You kind of get the best of both worlds. It's sort of a hybrid," he said.
Eaton says the center has successfully built "self-confidence and esteem" among students, and the results have begun to show. "We have already experienced our first graduate in the program," said Eaton. "We have quite a few students lined up to graduate in the next 30 to 60 days or so." Students who graduate with credits earned at the IC can walk the graduation stage with their classmates in June.
"
I think 'tutor' is an understatement. They support the students throughout the courses, helping them to cope and manage."
— Gina Eaton
More than anything, there is a community atmosphere at the IC, Eaton said. According to Marla Robinson, students who have had poor behavioral records are typically not admitted to the center.
"While online learning is not for every child, Shaker has a process by which they determine what students are most appropriate for this learning platform," wrote Curtis. "This pre-assessment allows for a much higher likelihood of academic success which is always the ultimate goal."
"I think it's very important to just make sure we understand that this is an option. It's not punitive," said Eaton. "We're all in this together."
In the district's Five-Year Strategic Plan, the sixth goal within Strategic Initiative 2.3 states "Implement a personalized learning center," with a completion date in 2014-2015. The next goal, "expand the use of the personalized learning center," is to be met from 2015 onward, but the plain offers no specifics about what this expansion could look like.
"I think the long-term goal would be to look at education as not something that just happens within four walls of a regular classroom, that you have to be in desks and rows," said Griffith. He says students could be fully engaged in the IC while also having internships, or taking classes at the high school as well as at the IC.
"It just gives another format for delivery of quality instruction," said Griffith. "We can meet any student where they are and mix and match, blend together, piece together, what's going to work for them."
Moreover, online courses could be an option to students beyond the IC. "The online curriculum could potentially be available to students who can't fit something in their schedule," said Robinson. "But that does not necessarily involve going to the IC."
Comment using your Facebook, Yahoo, AOL or Hotmail account
comments
Leave a Comment