Mask Up, Shaker!
The use of face masks are required inside all district buildings and buses
All students, staff and visitors must wear a face mask covering  the nose and mouth indoors and on district buses.
On Aug. 3, Shaker families received an email outlining the district's 2021-2022 Health and Safety Guidelines. "Due to the recent increase in the spread of the COVID-19 virus, Shaker Heights City School District will begin the 2021-2022 school year with a universal face mask requirement for all students and staff members when indoors," stated the guidelines.
Shaker's face mask mandate for all district buildings went into effect Aug. 4.
The Cuyahoga County Board of Health issued new COVID-19 safety recommendations for the 2021-2022 school year suggesting all students and teachers wear face masks, regardless of current vaccination status. 
The new safety recommendations —which are not mandates— also state schools should practice social distancing by keeping students a minimum of three feet apart. Officials outlined the recommendations during a virtual Cuyahoga County Board of Health news conference.
With children and teenagers remaining at a lower risk for developing severe symptoms from COVID-19 and the Delta Variant being twice as infectious, face masks help limit the risk of the virus being carried home to someone vulnerable. "Wearing a face mask is one way I can do my part of keeping myself and others safe," sophomore Megan Spring said. 
Families wishing to request a face mask exemption can contact their building's principal.
Face masks will be readily available at all buildings and offices if an individual does not have one. According to health and safety guidelines, single-layer gaiters are not permitted and face masks may not have a valve or respirator.
Spring said, "Shaker is doing a fantastic job in keeping the students safe, and they make it clear this is their primary focus."
Comment using your Facebook, Yahoo, AOL or Hotmail account
comments
Leave a Comment
About the 'Riter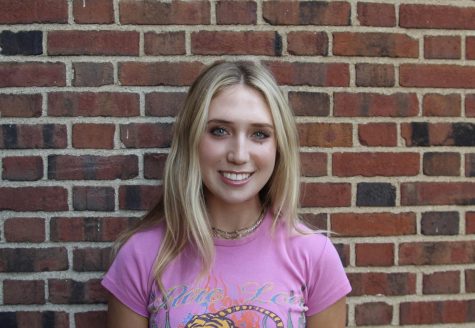 Annie Sullivan, Executive Managing Editor
Annie Sullivan ('23) is in her fourth year with The Shakerite and is currently The Executive Managing Editor. Last year as a Junior, Annie was the Campus and City Editor and prior to that, as a Sophomore, Annie was a Campus and City Reporter. Aside from The Shakerite, Annie spends her time on the courts with the girls tennis team, in room 229 as a Gristmill Editor and working at Pizzazz! In her free time she likes listening to music and being with family and friends.