Marching in Support of Latin and Greek
Students deliver petition to administrators
Forty-six students marched to the Administration Building today in support of the Latin and Greek programs.
The march was prompted by the March 14 Board of Education meeting, when members heard proposed changes to language study at the middle school that evoked dissent from students, teachers and parents. The next day, high school students created a petition to protest reports of discontinuing Latin instruction at Woodbury Elementary School and Greek classes at the high school.
Today's march began in Room 310, Latin teacher Nora Murphy's classroom, at 2 p.m. Participants planned to march around the oval to the administration building, arriving at 2:15 p.m.
Advertised by senior Latin student Emily Boron as a "non-protest, non-confrontational, orderly Latin and Greek supportive parade," Boron and fellow senior Latin student Nikolai Ewing organized the march. "It's not meant to be inflammatory, but to spread awareness and to emphasize how dedicated the Shaker Latin and Greek communities are," Boron said in a text message.
Sophomore Latin and Greek student Julianna Gentile was among the marchers. "I chose to be here today because I've taken Latin since sixth grade and I've taken Greek the two years I've been at the high school. Everyone who takes these classes are actually the best people ever. They're so committed to the language. It's such a community," she said.
While marching, students chanted, "Amo, amas, amat! Amamus, amatis, amant! Te amo, te amo, te amo! Te amo, te amo, te amo!", which translates to, "I love, you love, he/she/it loves! We love, y'all love, they love! I love you, I love you, I love you! I love you, I love you, I love you!" according to Boron. 
Junior Jenna Englander, who does not take Latin, decided to join the march in support of the cause. "I have a lot of friends in Latin and I just wanted to show my support because I know how important the Latin class and community is for them," she said. "It's had a really positive impact on their lives."
Upon arrival at the Administration Building, Boron and Ewing went inside in an attempt to talk to Dr. David Glasner, superintendent, and Dr. John Moore, director of curriculum. "Unfortunately they're both in meetings right now, so they can't," the front desk administrative assistant said in response to the students' request. As they stood before the desk, Boron and Ewing repeated, "We wait" to each other.
While they were inside, fellow marchers circled the building twice, continuing their chants. Moore then met Boron and Ewing in the lobby. "I'm actually [meeting] with the Latin teachers right now," Moore said to the two students. "Ms. Murphy told me to come and connect with you; also to collect whatever this might be. And it was a nice parade outside my window, too."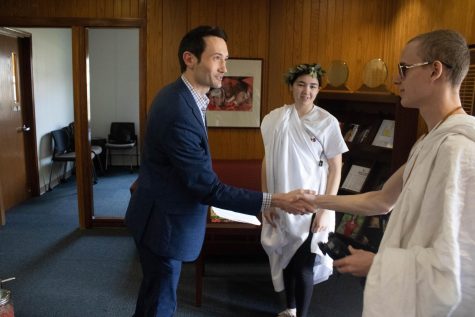 Following the interaction, Boron and Ewing walked outside to cheers from their fellow marchers. "We went inside and we waited for a bit. Dr. Moore came out and received our petitions," Ewing told the marchers. "He looked us in the eye and he shook our hand."
An Onaway fourth-grade class walked over to the march once they heard the students chanting. Junior Lilith Schmidt explained to them the purpose of the march and then asked the students what language they would like to take at Woodbury. "I want to learn Latin and Greek," a fourth grader said.
"I told my dad, 'I want to learn Latin,' because my siblings both want to learn something else, and I want to be unique," another fourth grader said. 
"I want to learn Latin and Spanish," another fourth grader said.
"I want to learn Latin and French," another fourth grader said.

"If we succeed, next year you guys will be able to have part of the Latin program as part of the fifth-grade language carousel. So next year, you get to experience what makes Latin so fun and what makes us love it so much," Schmidt said to the fourth graders.
The language carousel allows Woodbury fifth-grade students to experience every language offered subsequently in district schools. 
"Students will take a quarter of Spanish, a quarter of German, a quarter of French, a quarter of Mandarin, and Latin is currently in the carousel, so it's not exactly a quarter. Basically, students have a few weeks of each language that exposes them to the languages, and then they get to select the language to study more permanently," Glasner said in a March 16 phone interview.
"We are still in the middle of planning our world language course offerings at Woodbury for next year. Based on our current plans, we expect to be able to offer Latin in sixth grade. So, for students who select Latin in sixth grade, they will be able to take Latin in person during the school day next year," Glasner said. "We are not currently planning to offer Latin in the language carousel."
Senior Latin student Shoshanah Calland joined the march. "I think Latin is extremely important, especially for little kids to be exposed for and to take," Calland said. "To have Latin available is, like, super important for education in general. And it also really helps when you're taking high school classes and any science class or you go into law, you already have that background, the baseline of Latin."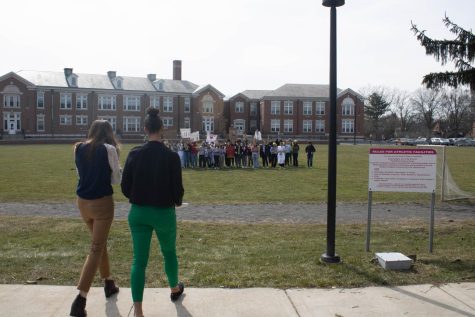 After the marchers gathered on the Woodbury field to take a group picture, Director of School Leadership Felicia Evans and Communications Specialist Kristen Cash walked outside to meet the students.
"I just want to say thank you for making your voice heard. We've got your petitions. We are going to review this information. It is important to be engaged citizens, especially in your education, so, thank you for taking the opportunity to do that, to make your voices heard and to give us the information that is an important piece of information for us. Thank you," Evans said.
Junior Matthew Huang spoke at the March 14 BOE meeting, alongside Boron and senior Lizzy Huang, urging the Board to keep the district's Latin program. Said Huang, who was at the march, "It may be a dead language, but the protests are alive."
Comment using your Facebook, Yahoo, AOL or Hotmail account
comments
Leave a Comment
About the 'Riter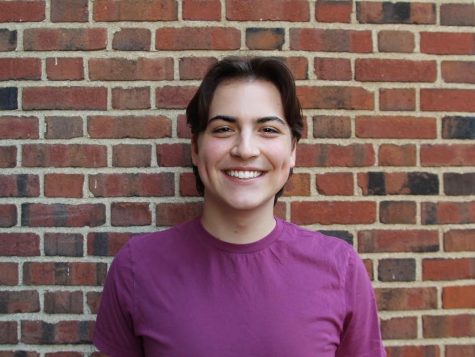 Brendan Zbanek, Editor-in-Chief
Brendan Zbanek ('23) is in his fourth year with The Shakerite. He is currently the Editor-in-Chief, running and overseeing all coverage for shakerite.com and print issues. Brendan was previously The Shakerite's Web Managing Editor his junior year and
Social Issues Columnist his sophomore year. Aside from The Shakerite, Brendan is a CORE leader in the Student Group on Race Relations, a student council representative, on the Superintendent's Student Advisory Council, a Shaker Writing Center intern and an active member of numerous other clubs. Outside of school, Brendan can be found with friends or scooping ice cream at Ben & Jerry's.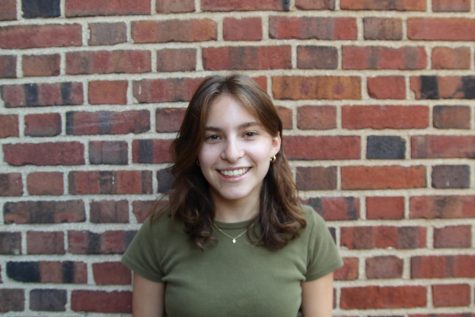 Jenna Loveman, Web Managing Editor
Jenna Loveman ('23) is in her fourth year with The Shakerite. She is currently a Web Managing Editor. As the Opinion Editor last year, Jenna wrote about the "Shaker Bubble" and anti-Semitism in Shaker, the generational cycle of eating disorders among women, and reproductive rights . As a Spotlight Reporter her sophomore year, she reported on the double standards of police treatment relating to protesting. Aside from The Shakerite, Jenna is a member of the swim team, Enviro Club, and Women Studies Club. Outside of school, Jenna can be found reading or in her garden.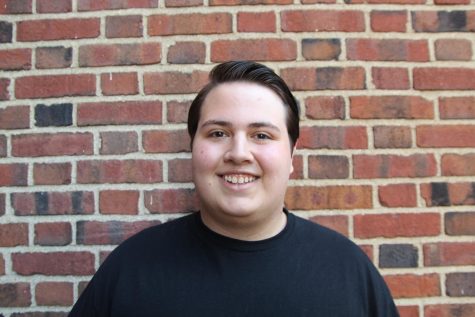 Josh Levin, Editor in Chief
Josh Levin ('24) is in his fourth year with The Shakerite, overseeing all web and print publication as editor in chief. Last year, Josh covered detracking, school policies and breaking news. Josh is currently serving his third term on the editorial board and his second as chairman. He is also a member of the Ohio attorney general's teen ambassador board.