Low on Salt, City Buys Haydite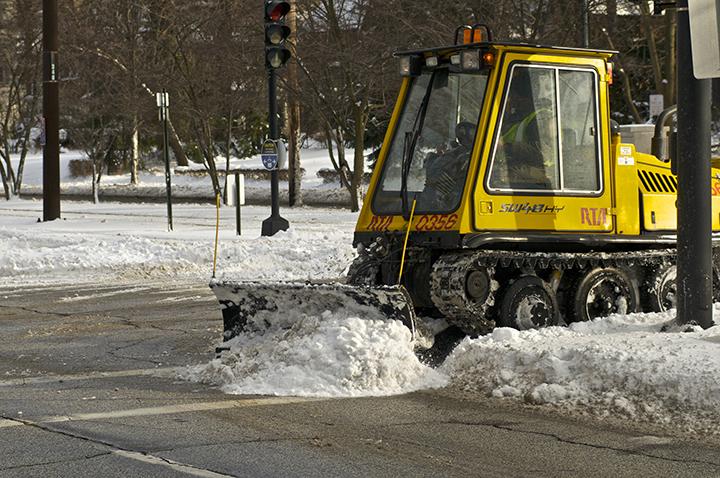 Shaker has enacted a new "sensible salting practice," including waiting until after most snow storms end to plow roads.
Shaker Heights' road salt supplier is currently 2,000 tons behind on its deliveries to the city. To avoid running out of salt, Shaker is mixing an additive called Haydite into its supply.
According to the city's website, Haydite is "a high quality, eco-friendly, lightweight aggregate [material made of loosely compacted particles]."
"It's a material that extends the salt. If you combine it with the salt, you can manage by using less salt and still be reasonably effective," Mayor Earl Leiken said.
The city's website says that Haydite "enhances the melting and traction attributes of rock salt," and is also used in gardening products.
John Becker, Shaker's superintendent of public works, said salt trucks currently dispense a mixture that is 25 percent Haydite.
Leiken said the Ohio Department of Transportation chose a new supplier this year: Morton Salt. Morton "offered a very low price, but has just been overwhelmed by the demand. It wasn't ready for it. It has been very, very late in making deliveries," he said.
Leiken said Shaker's salt shortage was caused by consistently heavy snowfall, short thaws and water main breaks. States across the country are dealing with salt shortages because of severe winters. Leiken said this has made it very difficult for Shaker to purchase more salt.
"So you have the combination of a very bad winter, and a supplier that has been unable to meet its delivery schedule," Leiken said.
ODOT's supplier last year, Cargill, was much more reliable, and Morton could face "legal liability for the failure to fulfill the contracts," according to Leiken.
According to Morton's website, its closest rock salt mine is in Fairport, Ohio. "You have our commitment to get you the salt you need where and when you need it," the website states.
ODOT publicly advertised its need for an additional 150,000 tons of salt, but no companies bid on the contract. According to the Northeast Ohio Media Group, nine local cities are paying more for salt than they would through ODOT, but are receiving their shipments on time.
Becker said Morton currently owes Shaker an additional 2,000 tons of salt and is two to three weeks behind on the city's current orders. He estimated the city has between 800 and 1,000 tons of salt on hand, well below its usual 2,200 tons.
If were up to him, Becker said he would have stuck with Cargill.
Morton is "trying to make good, but Mother Nature just slammed all these communities and they didn't forecast enough," Becker said. According to Becker, Shaker has experienced 23 snowstorms this winter, compared to just nine last winter.
Becker described Shaker's temporary "sensible salting practice," which involves waiting to plow until the end of storms (which have lasted up to 17 hours) in most circumstances, and "spot salting" side streets. Spot salting means that the city only uses salt on side streets near intersections "so we give them enough traction and safety to get those vehicles to stop."
Leiken boiled the effort down to "using salt judiciously," and added that the city is plowing higher on side streets to leave a layer of snow, which provides cars with more traction than the ice that would form if they plowed as low as they typically do.
According to Becker, these measures will continue even with the Haydite mixture in case there are more prolonged snow storms and Morton continues to send shipments behind schedule.
Shaker Heights City Schools Director of Communications Peggy Caldwell said the city's salt shortage has not affected the district's decision about whether to close school on any occasion.
Comment using your Facebook, Yahoo, AOL or Hotmail account
comments
Leave a Comment