Juli Outlines How School Will Work
Teachers will host virtual office hours to help students with any questions they have while at home during the COVID-19 closure
Teachers will host virtual office hours via Google Hangout Meets twice weekly, excluding spring break, and students will receive a Google Hangout Meet link from each of their teachers before the office hours occur, according to Principal Eric Juli. 
Via email, Juli yesterday informed students, parents and guardians that students and staff "will be working remotely using Chromebooks and Google tools to communicate on a regular basis" during the COVID-19 school closure.
Students have until April 3 to turn in any missing third-quarter work or to complete any assignments made through last Friday, March 13. Juli said that this plan is to "generally get into the rhythm of attending school online."
In another email sent at 1:52 p.m., the district announced plans to distribute free meals beginning March 18. The meals comprise lunch for the day of delivery and breakfast for the next day. In order to reach all students who need them, five buses will make 15-minute stops at each pickup location. The meals will be delivered to 20 locations throughout the city. 
Executive Director of Communications and Public Relations Scott Stephens said more than 1,600 Shaker students qualify for free and reduced lunch. He also said that someone who doesn't qualify for the free lunch and breakfast may need it because of family circumstances. "We're making available a bagged lunch and a breakfast for anybody who feels they need it regardless of their status," he said. As of this morning, 1,170 people had indicated through a Google Form interest in getting a meal.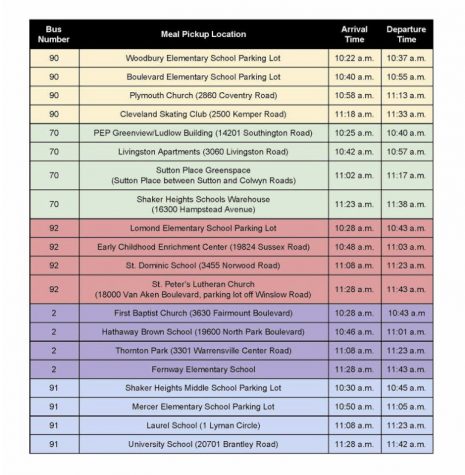 Stephens also said that the district will record the numbers of students who take a lunch and breakfast to help the district be reimbursed by the federal government. "We don't get an automatic reimbursement on it because our numbers aren't high enough," he said. "When you get the money, you're able to keep these programs going longer."
Math teacher Ryan Routh has already held Google Hangout Meet sessions for two of his math classes to go over assigned homework. The first was at 11 a.m. yesterday, and the second was at 1:30 p.m. yesterday. Each lasted about 40 minutes, but the Google Hangout Meet was not mandatory, and students could exit the session if they felt confident about the lesson. 
Senior Tiffany Hsich participated in Routh's office hours yesterday. "I think it turned out pretty well. I mean, it definitely wasn't ideal, but given the circumstances, it was pretty easy to use," she said. "And my WiFi connection isn't very good in my house, but I didn't have much of a problem with it connecting. There wasn't a lot of lag. At least, in my personal experience, it was fine."
Stephens said the district is still determining how many people need access to WiFi at their home. So far, the district has ordered 250 hotspots. "We wanted to be sure we had enough to get service for everybody who needs it," he said. "We'll be working to get those in the hands of folks who need them."
Routh said the Hangout will turn out better if students participate. "I think students have to recognize how important they are, you know? When it was just me on the mic, it's very hard to teach without being able to see students' faces, or hear students' voices, or see students participate," he said.
Some students understand why the Google Hangout Meets are going to happen but are not excited about online conferences.
Sophomore India Williams said she is curious about how the Google Hangout Meets are going to work. "I wasn't exactly too excited for it because it seems a little weird to personally interact with your teacher over a video call," she said.
Senior Isaac Weiss said he understands why the plan is necessary and will make adjustments. "I was a little uneasy about using Google Meets at first because I am less honest with myself as a student when I am detached from a more disciplined and demanding environment," he said.
Weiss said, "I think it's great for teachers and students to have consistent communication. It keeps both parties accountable for their work, or lack thereof."
Williams said for the time being, it's a good plan. "It's kind of cool and gives off more of a hopeful vibe, and I think it comforts a lot of people throughout this," she said.
Juli also announced that teachers will perform weekly wellness check-ins. 
He said the purpose is for teachers to communicate individually with their students to see how they are doing. "When a week goes by and we haven't heard from a student, and he or she hasn't handed anything in or hasn't interacted with any teacher, those names of kids come to me and the assistant principals, and we will be reaching out to those families to see if they're OK, to see if there's anything they need," Juli said. "The idea is just to come from a place of care and that we're meeting kids' needs because we're not seeing them every day."
Teachers will check in with their students throughout the closure. Second period teachers will check in with their students from March 18 through March 20 via phone call, email or Google Hangout Meet. Third period teachers will check in with their students March 30 through April 3. If school remains closed beyond three weeks, fourth period teachers will reach out, and so on.
Juli is also posting his daily Words of Wisdom, which he delivers via P.A. at the start of second period, via Instagram and Facebook every day around 9 a.m. "I'm doing that as a way to just have a connection to students and keep it going like school," he said.
Juli stated in the first email that staff is here to support students. "We intend to see you virtually," he wrote. "So please, let yourself be seen."
The Shakerite will continue to cover this story as it develops.
Comment using your Facebook, Yahoo, AOL or Hotmail account
comments
Leave a Comment
About the 'Riter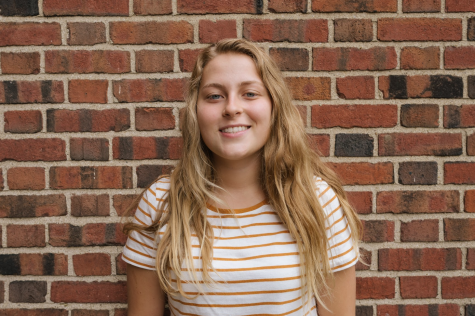 Mae Nagusky, Editor-in-Chief
Mae Nagusky ('20) is in her fourth year with The Shakerite. She is currently Editor-in-Chief, running and overseeing coverage for shakerite.com and the quarterly print issues. Mae was The Shakerite's Web Managing Editor in her junior year, and Campus and City Editor sophomore year. In the past, she has covered topics such as systemic inequity and disrespect toward teachers. Mae participates in high school softball, and she enjoys listening to podcasts and dancing.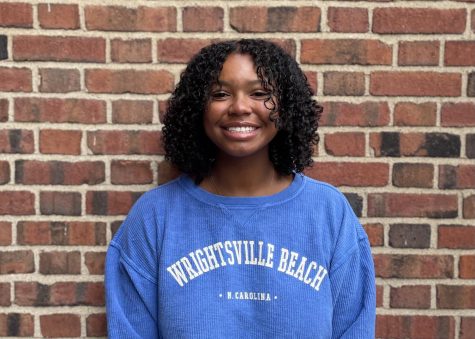 Olivia Peebles, Web Managing Editor
Olivia Peebles ('22) is in her fourth year with The Shakerite. She is currently the Web Managing Editor alongside Brendan Zbanek, running and overseeing coverage for shakerite.com. As an education columnist she covered her experience with tracking and its effect on Black students in Shaker. She is also a second year member of the Ed Board. Aside from The Shakerite, Olivia is a CORE leader in the Student Group on Race Relations, an executive and founding member of PERIOD Shaker Heights and an active member of numerous other clubs. Outside of school, Olivia can be found working at Ben & Jerry's and as a lifeguard and much more.