Freeing Up Your Schedule Isn't Free
Students paid thousands of dollars for online classes in the past four years to meet physical education requirements
While one student sprints down the field to score a goal, another is lying in bed with a bag of chips at 9 p.m., logging bowling frames.
While one student drips sweat at 7 a.m. in the middle of a 225- lb. bench press, another is lying in bed with a doughnut, logging the mile jog that she may or may not have done.
And the students eating a doughnut and chips while logging their exercise are earning twice as much physical education credit as the other two.
Although the Ohio Department of Education requires 0.5 physical education credits to graduate, Shaker requires students to earn one full credit. According to the Program Planning Guide, students should take two semesters of PE during freshman year, one during sophomore year and the last semester of PE junior year. Each semester of Shaker PE is worth 0.25 credits. Each online Brigham Young University PE course is worth 0.5 credits.
"In Shaker, we try to not only meet what the state requires, but exceed it and provide a superior educational experience," Principal Jonathan Kuehnle said.

Neighboring districts such as Orange, Mayfield Heights, Chagrin Falls, Cleveland Heights and Beachwood require students to earn 0.5 PE credits.
To meet the one-credit requirement, more Shaker students are turning to online courses such as those offered by BYU, a private school in Utah owned by The Church of Jesus Christ of Latter-Day Saints, or Mormon church. Shaker students are increasingly turning to the Internet to meet the PE requirement, with 125 students enrolled in online PE over the last four years.
To earn those credits online, Shaker students have spent $19,000 in the past four years for BYU's online independent study program. During the 2014-15 school year, 13 students enrolled in a BYU course; in the 2015-16 school year, 34 students enrolled; and in the 2016-17 school year, 52 students enrolled. Twenty-seven students have enrolled in a BYU course so far this year.
Other online PE options exist. Cuyahoga County Community College offers courses for $313. Lincoln Learning Online charges $276 per course, and Indiana Online's cost is $275 per course. But BYU offers the least expensive courses at $152 each.
Shaker students have most frequently enrolled in BYU's Walking Fitness, Fitness for Living Well, Jogging and Bowling courses.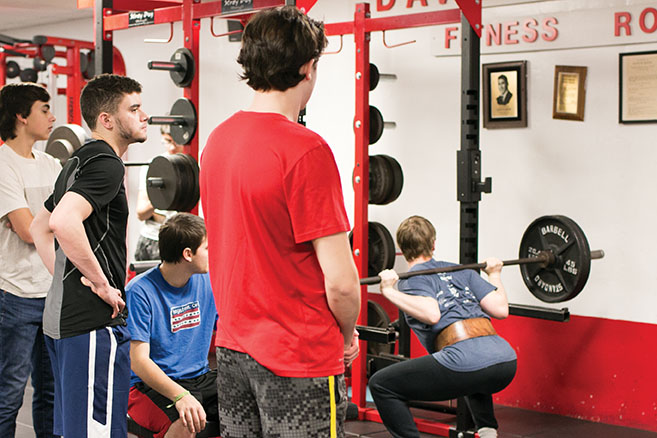 Physical Education and Health Department Chairman Marc Enie said Shaker PE can offer students choices as well. Students pick the activity they want to do for each in-school unit. "We offer a high-intensity activity, a lower-intensity activity, and a fitness activity for each unit. Sports like touch football and basketball will have a high level of competition," he said.
"We also offer invasion games and recreational games for students who enjoy playing but with a little less intensity. We always offer a fitness option like weight training, core fitness and yoga."
"One unit we had touch football and outdoor invasion games. And then we have a walking class where [students] have pedometers," Enie said.
Enie said he wants to create a fitness-based program for students who don't want to play a sport during PE. "We would have spin cycles, treadmills and ellipticals and we would be watching and learning about heart rates and seeing what level we're working on," he said. "That's just the future where I want to go."
School counselor Eileen Blattner said that students frequently enroll in online PE because of a full class schedule.
Other options for such students include a zero period PE course. Shaker offers two zero period courses: Yoga and Mindfulness, taught by PE teachers Jill Woodard and Susan Brown, and Weight Training, taught by PE teacher John Schwartz. Each is worth 0.25 credits per semester and meets daily before school from 7-7:45 a.m.
Kuehnle said there may be more zero period options next year. "We're looking to offer a zero period basketball course next year, something students would actually be interested in and want to take," he said.
Senior class adviser Matthew Bartley ran a program last summer through Summer, Exploration, Learning and Fun that offered 0.25 PE credits.
The SELF program, offered to all upperclassmen, took place June 12-19 from 8 a.m. to noon. The program cost $230 but was free for any student who qualifies for free or reduced lunch. According to shaker.org, SELF "addresses barriers that currently exist and focuses on equity, excellence and exploration by providing differentiated services and enrichment opportunities for all Shaker students at the elementary, middle and high school levels."
Shaker also provides independent study programs, which include interscholastic and off-campus PE options.
Interscholastic independent studies are available for students who play a Shaker sport, while off-campus independent studies are for students who participate in a sport or activity outside of school, such as ice skating or dance.
For both programs, students must complete a preseason and a postseason essay and log their activities and hours. Students then must obtain a sponsor or coach's signature to verify that they have completed their independent study in order to earn credit.
Enie said the independent study option allows students to try new clubs and activities. "Several parents have told me they have a lot of trouble getting their kids to do something active, and the independent study motivates them to try new things."
"
I think it's completely ridiculous — you're paying for an online logger to check that you did your running
— Ben Stager
Superintendent Gregory C. Hutchings, Jr. said a part of the district's Five-Year Strategic Plan is to provide students with a variety of options, as well as nontraditional ways, of obtaining credit.
"A part of our strategic plan was to remove barriers of students who might not have the financial means to have access to all of these things, that the school provides this to everyone," he said.
Hutchings formed an Equity Task Force to focus on removing barriers to student success and helping children of all races and life experiences achieve at high levels.
Neither the district nor BYU offers students financial support for the programs. In Shaker's case, because students can enroll in a PE class before or during the school day or pursue Shaker's independent study program for free, no subsidy is offered.
"If someone chooses they would like to get [their PE credit] out of the way, that's where they can take the online course. But since we offer it for the price of your tax dollars, we don't subsidize the courses that you choose to take on your own," Kuehnle said.
In addition to inequitable access due to cost, online PE courses may also lack integrity because they allow students to fabricate their exercise reports without consequences.
The BYU option requires students to log their activity daily. Students take multiple-choice unit quizzes that are open-note and untimed. The final exam includes 50 computer-graded questions and accounts for 25 percent of the course grade. Neither Shaker nor BYU ensures that students actually perform the activity they log online.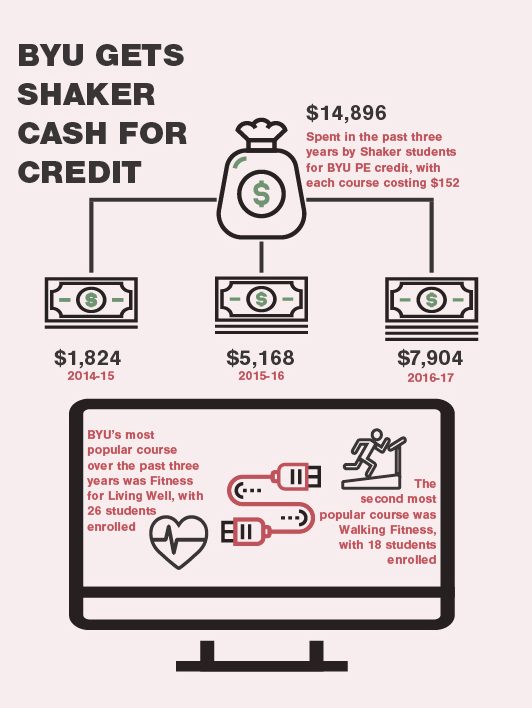 Senior Ben Stager is enrolled in the BYU online Jogging course. He said it would be very easy to cheat the system and get credit when it isn't deserved. "I think it's completely ridiculous — you're paying for an online logger to check that you did your running," he said.
Senior Chris Richardson, who is enrolled in BYU's online Standard Golf course said he didn't  spend much time on the site. "I just had to take the quizzes and upload the scorecards. I could have done it all in one sitting, but I chose not to," he said.
Another equity concern emerges when considering cheerleaders. While athletes can earn interscholastic independent study PE credit, cheerleaders cannot earn PE credit independently or otherwise.
Raiderettes, by contrast, can earn PE credit because they practice during the school day.
Raiderettes are a selective dance team associated with the marching band. They are considered part of the band and perform with it at football games. Raiderettes start their season two weeks before school starts and practice every day during first period. If they choose to take PE during first period after the football season ends, they can earn 0.25 credits. "Students can do nine weeks of Raiderettes and then nine weeks of PE and get a semester of PE credit," Enie said.
Athletic administrative assistant Vikki Long, head cheer coach, said it would be preferable for cheerleaders to receive PE credit for their year-round work. "I don't know what would have to be in place for that to happen, but I know a lot of [cheerleaders] feel that way. A lot of them have voiced that because of the hours put in."
"Raiderettes and cheerleaders fall through the cracks with independent study because of the way it's organized. The expectation is that the independent study is done outside of school or through interscholastic athletics. Outside of school can't take place at Shaker, and interscholastic must be a sponsored sport through a state organization like OHSAA. They don't fall in either of those categories," Enie said.
However, Shaker's Program Planning Guide states Senate Bill 311 "allows school districts to adopt a policy exempting students who participate in interscholastic athletics, marching band or cheerleading for two full seasons or two years of JROTC from the physical education requirement."
Senior Raiderette Schuyler Butze believes she and her teammates deserve PE credit. "I'm currently taking zero period Yoga and first period Weight Training, and Raiderettes was definitely a lot more challenging and more time consuming than both of these classes that give PE credit," she said.
Raiderettes work approximately 11 hours a week during football season. Cheerleaders put in approximately seven hours a week in through the year.
Junior cheer Captain Erin Harris said cheerleaders work very hard and deserve credit. "I believe that we deserve credit so much that last year, my personal project was to make cheerleading a sport that receives PE credit," she said.
Harris took her appeal to Kuehnle and Kuehnle told her he was going to look further into it. She said she did not receive a response. Then, she asked the athletic office and was told that cheerleaders don't meet OHSAA requirements to be considered a sport but that if she took tumbling outside of school, for example, she would obtain PE credit.
"I don't agree with that at all, considering that tumbling lessons cost about $50 a month, plus you have to find transportation to go," Harris said.
Kuehnle said he was asked last summer if he would look into the policy. "We're taking a look at things and seeing if it's a good fit for us," he said.
"
It would be nice for students who are in clubs, sports or activities, taking high-level classes, because they were already being active
— Jonathan Kuehnle
Kuehnle said that the district is considering whether to adopt the policy allowed by Senate Bill 311 and a waiver system policy for the 2019-20 school year. The ODE accepts waivers for students who play a sport, and allows them to be excused from PE. The waiver must be signed by a coach, parent and the athletic director.
Kuehnle said the waiver system would help those who have rigorous academic and extracurricular schedules. "It would be nice for students who are in clubs, sports or activities, taking high-level classes, because they were already being active," he said. "So it kind of helps them out and maybe it frees up a period in their day where they can take another course that they want to take."
If the Board of Education approves the waiver option, Shaker students would have to participate in four seasons of a sport in order to earn PE credit. Unlike the independent study system, however, students would not have to write essays or log their hours. Students would also be required to replace PE class with another class. Independent studies allow students to replace PE class with a study hall.
Schools such as Cleveland Heights, Mayfield, Strongsville, Kenston and Springfield High School have instituted the waiver system.
Regardless of whether or not the waiver system is implemented, online courses are growing and students are searching for ways to earn their PE credit.
Peake said students need more space in their schedules because they fill up quickly. "If you are in band or language, that fills up your two elective periods. And if you have another interest, like art, then that fills up all of your elective periods," he said.
"That's a decent percentage, between band, choir and orchestra, that's probably 600 students, so sometimes it is difficult to fit into their schedule."
While the online route is convenient and accommodates academic goals, Enie said physical education is crucial for students' daily life.
He said, "There's more and more evidence of how important it is for your body and your brain to be physically active, and that's why Shaker believes in above the state minimum for PE credit."
A version of this article appears in print on pages 6-11 of Volume 88, Issue II, published Feb. 8, 2018.
Comment using your Facebook, Yahoo, AOL or Hotmail account
comments
Leave a Comment
About the 'Riter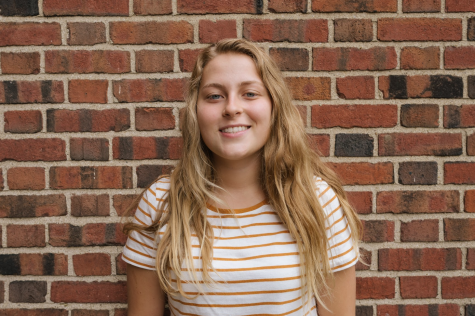 Mae Nagusky, Editor-in-Chief
Mae Nagusky ('20) is in her fourth year with The Shakerite. She is currently Editor-in-Chief, running and overseeing coverage for shakerite.com and the quarterly print issues. Mae was The Shakerite's Web Managing Editor in her junior year, and Campus and City Editor sophomore year. In the past, she has covered topics such as systemic inequity and disrespect toward teachers. Mae participates in high school softball, and she enjoys listening to podcasts and dancing.