A Superintendency in Retrospect
Hutchings' tenure, at times contentious, comes to a close
May 16, 2018
In a Jan. 3 interview with The Shakerite, Superintendent Dr. Gregory C. Hutchings identified the peak and pit of his five-year superintendency — his best moment and his worst.
"The peak of my tenure here would have to be the Five-Year Strategic Plan, just the implementation of that, the adoption of it," he said. "That really guided all of the work and all of the achievements I believe we've made over the past few years. Without that roadmap, I don't think that would have happened."
"I would say the pit of my tenure would be the fact that I'm not going to see year five. I'm still going to be watching from afar, but I won't be able to be at the table with our team to finish the final year of our strategic plan," Hutchings continued. "I just feel like we've worked so hard, and I don't get to see it come to fruition the final year."
Hutchings will leave Shaker for superintendency of the Alexandria City Public Schools at the end of the school year.
"I am sad to leave behind all the truly extraordinary work we have accomplished together here in the Shaker Schools over the past four and a half years, though my decision to accept this new position fulfills a lifelong dream," he wrote in a Dec. 14, 2017 email to district faculty and staff notifying them of his decision to return to the Virginia district.
Hutchings served as director of pre-K-12 programs at ACPS for three years before coming to Shaker in 2013. He is also an ACPS graduate.
"I wasn't the valedictorian or salutatorian — like so many young people, I had to find my way with the support and encouragement of some outstanding educators," he wrote. "ACPS played such an instrumental role in shaping me into the person I am today that now, I want to return home to inspire the next generation of students there."
"
I just feel like we've worked so hard, and I don't get to see it come to fruition the final year"
— Gregory C. Hutchings
In an April 17 statement posted to shaker.org, the Board of Education announced Dr. Stephen M. Wilkins, current assistant superintendent of business operations and human resources, as interim superintendent for the 2018-19 school year.
According to the statement, the district's search for a permanent superintendent will begin in late summer.
The Board of Education unanimously voted to hire Hutchings on April 2, 2013 and approved his five-year contract at their April 9 meeting. Hutchings replaced longtime Superintendent Mark Freeman in the 2013-2014 school year.
During the January interview, Hutchings noted that many concerns coming from the community at the time of his hiring centered on equity. "I remember one of the biggest things was [hiring] someone who was going to be courageous enough to tackle the achievement gap and inequities within the district," he said. "I was nervous about that initially, but I was also intrigued by it because I'm a risk-taker and I believe that I have courage — all great leaders do."
Shortly after the BOE announced Hutchings' hiring, he told The Shakerite on April 23, 2013 that he planned for the post to be a long-term commitment. "This is not a stepping stone for me … my life goal was to become a superintendent, not a superintendent at a number of school districts," he said.
In a 2009 cover story in the Nashville Scene, Renita Cobb, a teacher at West End Middle Prep, where Hutchings once worked, said, "When I'm in a nursing home, I'm going to turn on the TV and see Dr. Gregory Hutchings, secretary of education."
In a May 2013 interview with The Shakerite, Hutchings admitted that the federal post was an aspiration. "But, I would like to be at least 50 years old by the time that happens," he said.
Hutchings first addressed staff and faculty in his Aug. 22, 2013 convocation speech, which he modeled after Martin Luther King Jr.'s "I Have a Dream" speech.
One of the dreams Hutchings enumerated was seeing his children graduate from the high school. "I have a dream that all 5,500 students, including my own two children, will be able to graduate from Shaker High School ready for college and careers," he said in the speech.
In January, Hutchings acknowledged that this dream would not be fulfilled. "Now, my kids won't be graduating from Shaker high school," he said, "which was not a part of my trajectory at that time when I was making that speech.
"But now, knowing that my kids are going to graduate from my high school, my alma mater, to me is a win-win situation. I didn't get the Shaker high school, but at least they get to graduate from my own high school."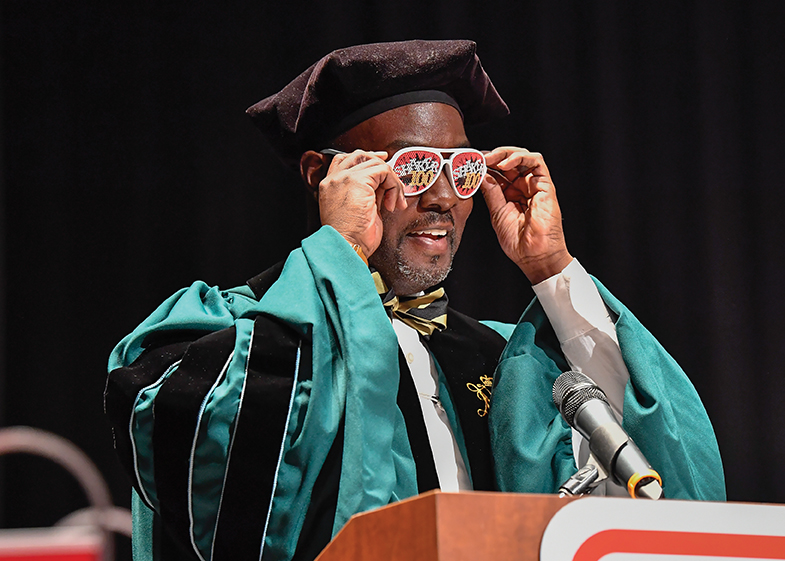 In his 2013 convocation speech, Hutchings also hoped that during his tenure the district would be "transparent, clear, and timely with the community to keep them informed of our efforts to become a 21st century school district that keeps students first."
In January, Hutchings said the district has met this goal. "Oh my gosh, in transparency, we have hit that 100 percent," he said. "I think sometimes people have forgotten about how we really didn't give a whole lot of information prior to my arrival because that was actually one of the characteristics they were looking for in the next superintendent — they wanted someone who was going to be transparent."
During this interview, Hutchings also attributed the district's successes to this transparency. "All of the things that have happened over the past few years only happened because people knew of the different decisions that were going on, and that comes from being transparent and informing the community about decisions that we're making as a district," he said.
Regarding transparency, Hutchings added, "I think we hit that nail on the head."
However, in the spring of 2017, the district's transparency became a heavily-scrutinized topic.
On April 29, 2017, approximately 50 Shaker parents met with Dr. Terri Breeden, assistant superintendent for curriculum and instruction, to discuss the district's decision to eliminate K-4 Woodbury science lab visits, instead opting for in-class lab kits, as well as replacing the K-4 science coordinator position with a districtwide technology supervisor.
 According to Breeden, the team that works on the strategic plan — including school principals, Breeden and former Director of Curriculum Amy Davis — made the decisions.
News of the change came to parents' attention, leading some to locate a document about it online. The statement was found on page three of a memo to the school board in an online Board Packet for the week of April 10-13, 2017. The first two pages comprised links to education stories in the media and shaker.org articles about student achievements. The third page detailed the science lab and coordinator decisions.
Breeden explained that she didn't believe she had "blindsided" anyone with these decisions, quoting the word many in attendance had used to describe the administration's communication of the decision.
"
Oh my gosh, in transparency, we have hit that 100 percent"
— Gregory C. Hutchings
Breeden did admit faults communicating with parents, especially regarding the Board Packet. "When I wrote that, I was writing to a governance, policy, well-informed school board member. I should have written it and given a lot more rationale," she said.
She went on to explain the challenge of deciding whom to inform first. "It's sort of 'chicken and egg," she said, wherein one is metaphorically the school board, and the other metaphorically the community members.
In his convocation speech, Hutchings emphasized school safety. "I have a dream that every student feels physically and emotionally safe at school, secure in the knowledge that every adult in this district is invested in their success and well-being," he said.
A month into Hutchings' tenure, in Sept. 2013, flaws in the high school's safety and security protocols came to light.
On Sept. 10, 2013, a 15-year-old student was arrested at the high school for the alleged rape of a female student Sept. 10, 2013. He was later convicted of rape and kidnapping more than a year after incident.
In the Jan. 3 interview, Hutchings explained the increased security measures taken at the high school in light of the incident. "I think that particular incident really heightened our awareness. From that incident, we have more cameras installed in our blind spots throughout our building, we provided more training for our security officers — security officers began to have a totally different protocol in regards to routine," he said.
Hutchings noted that the incident improved the relationship between the Shaker Heights Police Department and the high school. "I mean it's unfortunate because that was my first month on the job, but it did force a relationship between the schools and the police department at the beginning of my tenure that we continued to maintain," he said.
In November 2013, student safety at the high school entered the spotlight again when Hutchings announced he would permit drug-sniffing dogs from the SHPD during an unannounced lockdown drill.
In a Nov. 8, 2013 email to parents, Hutchings explained, "The main purpose is to provide training for the dogs, but if they detect drugs in lockers or other school-owned property, we will follow up in accordance with school policies and Ohio laws."
The K-9 unit failed to find any drugs during a 20-minute lockdown drill on Nov. 13, 2013.
In January, Hutchings recalled negative responses from community members.  "Some of our community members, as well as some of our employees, they thought, like, 'This might be too much,' to bring dogs into the schools and, 'Why in Shaker? Shaker is not that type of environment.' Now, you fast forward to four years, and now people are telling me, 'Why am I not bringing them into the schools?' I'm, like, finally full circle; now I get the support to bring them in. So, they will be coming back," he said.
"I guess I brought it too soon. I was from a different area — I'm not from Shaker. And at that time, people wanted to remind me that, 'We don't do this here in Shaker Heights,' " he said.
High school administration conducted a "stay in place" drill April 11, 2018 in which the SHPD K-9 unit was deployed. Again, administration reported no contraband was found.
Student safety became increasingly relevant after Hutchings and the school board faced scrutiny for placing former Lomond kindergarten teacher Cathleen Grieshop, who now works at Boulevard Elementary School, on administrative assignment Jan. 9, 2015 for the remainder of the school year after a student asked permission to go to his locker and instead ventured outside the building.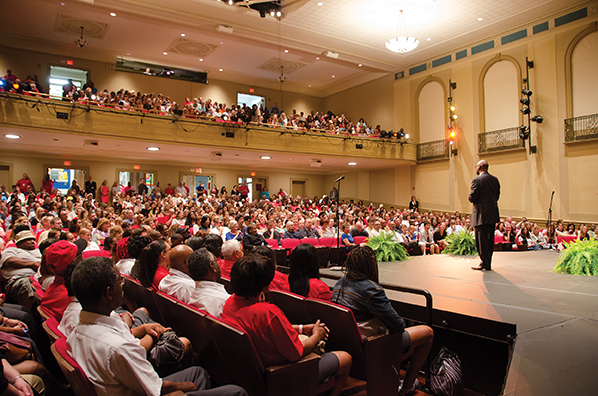 According to English teacher and Shaker Heights Teachers' Association President John Morris, Grieshop realized her student was missing after five minutes and immediately called the main office, computer lab, lunchroom and aftercare. A neighbor noticed the student and called the police three minutes later.
Shaker teachers and parents voiced concern over Lomond and the district's security practices at a Feb. 10, 2015 Board of Education meeting. Fernway third-grade teacher Lena Paskewitz read a letter signed by 123 Shaker faculty asking the district to "use this unfortunate event to review and improve [security] procedures" rather than firing Grieshop.
In a March 10, 2015 interview with The Shakerite, Hutchings declined to say whether Grieshop had followed Lomond's protocols. He said procedures for allowing students to go to the restroom or their lockers and what to do if a student goes missing, particularly how long to wait before contacting someone and who to contact, vary among the schools.
A culture of low teacher morale at the high school was uncovered in light of the Lomond incident.
The SHTA published a May 11, 2015 open letter to the school board, administration and community via social media addressing concerns that emerged in light of policy changes in both the building and district.
The letter was organized into five categories that identified the high school membership's concerns: an increase in the micromanagement of teachers, a decrease in autonomy, rash changes in policy, a lack of teacher input and a lack of response to calls for change from administration.
"The high school represents some of the most dramatic changes because of the loss of our head principal, the implementation of new programs like MYP, the stress of testing, the [Student Learning Objectives] and also the fact that we have such autonomous teachers," Morris said.
Former Principal Michael Griffith announced April 13, 2015 that it was his final year at Shaker and left June 30 to become the head of the Ratner School.
"One of the most distinguishing characteristics of Shaker Heights High School has been the wide array of unique programs and approaches the school has to offer," the SHTA open letter stated. "This has been due in large part to the intellectual freedom building leaders and teachers have been given to implement and support these programs. Much of this freedom has been sacrificed to district-wide reform."
"The letter expresses that the pace of change, the type of change, the stakeholders in the changes that are being proposed, need to be very carefully selected," Morris explained. "They need to be conscious of the history we have of autonomy in Shaker, and they need to be paced at a human level, as opposed to a corporate or a planned level."
"
The moment I walked in the door without even saying a word, it was different"
— Gregory C. Hutchings
The approach, according to the letter, includes overly centralized hiring practices, excessive focus on SLO testing and IB Middle Years Programme compliance (while issues such as poor student attendance go unnoticed), and the destruction of collaboration in the teaching environment.
At a May 21, 2015 forum sponsored by the Shaker Parent Teacher Organization, which approximately 200 community members attended, Hutchings expressed confusion over the low morale of the high school staff. "I don't know what the reasoning behind us being divided is, I really don't, and I'm hoping I can figure it out. I hope someone can share it with me," he said.
In January, however, Hutchings provided a reason for the low morale. "I don't know if it was necessarily — this is my perspective — that it was necessarily something that I did to cause that," he said. "I think it was really about the change process," he said.
"The moment I walked in the door without even saying a word, it was different," he added.
Hutchings said that he was unsurprised by the feelings of teachers. "There is a change cycle that people experience, and it's very similar to the grief cycle, where you go through down's and you go through up's until you get to acceptance," he said. "All of that was expected and all of it was typical for any time change occurs."
"I think there was just a lot of changes happening at all once from all different areas, whether it's at this level, the local level, the state level and the national level. I think that contributed to some of it, too," Hutchings said.
Executive Director of Communications and Public Relations Scott Stephens, who was present at the Jan. 3 interview, added, "Sometimes you tend to blame people — whoever's handy."
Stephens continued, "If a cop pulls you over about some new change in a speed limit on a highway, you don't automatically direct your anger to the state legislators who changed the speed limit. You direct it at the cop who pulled you over even though it's not the cop's fault — he's doing his job."
Despite attributing the sentiments of teachers to the "change cycle," Hutchings also expressed personal responsibility for the situation. "But, at the end of the day, I own it, too," he said.
Reflecting on the Lomond incident and subsequent low teacher morale, Hutchings offered advice for Shaker's next superintendent. "They're going to have to be a leader that really doesn't take things personal," he said. "Sometimes there's a little drama. You have to rise above it. You can't get into it."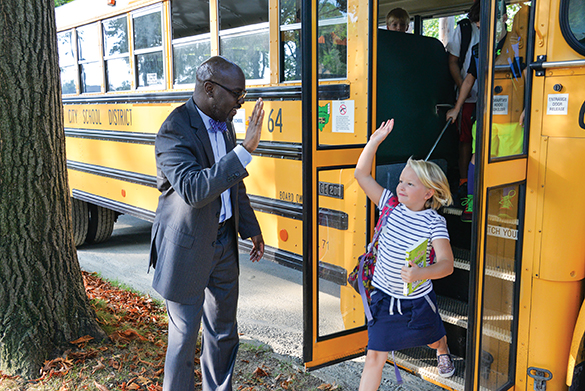 In August 2013, Hutchings announced his first policy move — ending social promotion at the middle school, which had allowed students to progress to the next grade even if they failed one or more of their classes.
In the January interview, Hutchings explained that ending the policy allowed the district to better serve its students. "That was the beginning that kind of set us on that trajectory of really serving students who have some academic deficits and not just allowing them to fail a course and then you still pass them through," he said.
"I think that we put a lot of kids in a better place — and we didn't have a lot of kids who weren't promoted due to that policy — because I felt that we put so many safeguards in place so that we can really address those students' needs before the end of the year to prevent us from having to retain a lot of kids," Hutchings added in January.
A change in the middle school's grading policy followed the end of social promotion. Under the new policy, teachers no longer may enter zeroes for assignments students do not complete and must enter 45 percent instead.  
In the winter of 2017, local politics became energized as the district experienced a rare, highly-contested school board race that resulted in the ousting of an incumbent.
In January, Hutchings said he believes that community members were impassioned to run for local office due to the 2016 presidential election. "It was like an uptick. Everybody was excited about running for something, and there was a lot of contention," he said.
"
Sometimes there's a little drama. You have to rise above it."
— Gregory C. Hutchings
Stephens also noted the increase of women running for office. "It's interesting, you hear of more women nationally filing for political office — for a variety of reasons. We can all talk about some of the obvious things, perhaps," he said. "It's hardly a coincidence to me that you had three women vying for four positions."
Hutchings added that the contended race was not unprecedented. "This isn't the first time that we've had a contended race, so that'd be different if it was our first time — but it's not," he said.
"I think that because of our transparency and because of our communication, people are more engaged, and I think that's a good thing. People may not have been paying attention as much before and now people are — which is great."
"I was over the moon to know that we have people who want to be on the board and are willing to campaign to be on the board — that to me says a lot about them as individuals and it says a lot about our community," he added.
In regard to Shaker's next, permanent superintendent, Hutchings believes the community needs someone who will maintain the progress the district has made during his tenure. "I think that when the community was looking for a new superintendent in 2013, they were looking for a change agent — someone who was going to come in and steer us in a different direction, but still stay true to our tradition of excellence," he said. "Whereas now, I believe that our community would want a leader to continue the work that we're doing — enhance it of course and refine the work— but it's not changing everything that we've already started."
In January, Hutchings expressed gratitude for his Shaker superintendency. "I just think this experience for me personally has been one of the best professional experiences I have ever had so far in my career — seriously," he said. "Shaker has brought the best out of me and I know I'm going to be forever thankful for that."
A version of this article appears in print on page 20-27 of Volume 88, Issue III, published May 18, 2018.
Comment using your Facebook, Yahoo, AOL or Hotmail account
comments