HS Principal Choice Causes Controversy
Kuehnle set to inherit divided high school community
The matter of the next principal of Shaker Heights High School was highly contested, and the decision controversial.
Dr. John Morris, Shaker Heights Teachers' Association president, said that more than 80 percent of the teachers supported current Interim Principal James Reed III to continue as principal in coming years.
Many students, however, favored Jonathan Kuehnle, who was appointed March 22.
Senior Mikala Mahoney said she supports the decision to hire Kuehnle. "I feel as though the hiring of Mr. Kuehnle was a good move for the district because of the fact that his intention to stay for a long period of time is what will ensure growth within the district," said Mahoney.
Mahoney also shared her hopes for the new principal.
"I hope that Kuehnle will preserve the large amount of opportunities for students to expand upon their learning," she said.
Kuehnle currently serves as campus director at Springfield High School in Springfield, Ohio, southwest of Columbus.
He previously served as principal of Circleville High School for three years, during which time the school's graduation rate and state report card rating improved.
Before that, he was assistant high school principal and athletic director for three years for the Wellston (Ohio) City Schools. He earned a superintendent's license from The Ohio State University.
Kuehnle will replace Reed, who retired from Cleveland Heights High School at the end of the 2014-15 school year.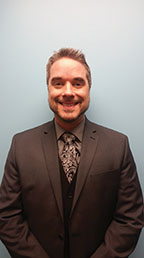 Reed came out of retirement in July to serve as interim principal of the high school after the district failed to find a principal in time to replace Michael Griffith, who resigned after 15 years in office to become headmaster at The Ratner School.
The search for a principal concluded March 22, when Superintendent Gregory C. Hutchings, Jr. publicly announced Kuehnle's appointment.
"I'm very confident about the decision and having Mr. Kuehnle come and join the team," Hutchings said. "I came to the decision from using the feedback from the community, using the leadership profile we established last spring to kind of guide the decision making and to identify all those contributing factors to make Mr. Kuehnle the best choice for Shaker Heights High School."
The Shaker Heights Teacher's Association published a letter March 7 in support of Reed early in the search process, before Kuehnle was selected as finalist. "In his time at Shaker Heights High
School, Mr. Reed has created a positive, responsive, professional, and forward-thinking environment that has provided much needed stability to our teaching and learning environment," the letter stated.
The SHTA outlined nine factors explaining why Reed was fit for Shaker.
Among them, establishing attendance and tardy policies were at the top.
Paul Kelly, high school social studies teacher, pointed out a problem with replacing Reed.
"It's sad that at a time when we needed a role model for African-American young men, we had that, and he will no longer be here," he said.
Hutchings encouraged the hiring of more African-American male teachers at the State of the Schools address Feb. 29.
Hutchings expressed a concern during the address that only about 3 percent of teachers at Shaker are African American –reflecting nationwide numbers.
He hopes to bring that number to 6 percent in the near future through the African American Male Teacher Initiative, a partnership with Howard University designed to bring male African-American teachers to the district.
Guidance Department Chairwoman Eileen Blattner also expressed a wish for Reed to remain principal. "If it was up to me, we would not have done a search. We would have just continued going with what we had," Blattner said.
"We worked out all the kinks that we had at the beginning of the year. I think he's done an outstanding job."
"He's cleaned up our halls, the tardy policy is much better than it's ever been … as far as the overall climate of the school, it's much improved," Blattner said. "I don't think the students are well aware of all that."
On March 9, two days after the SHTA's endorsement of Reed, The Superintendent's Student Advisory Committee published a letter signed by every member of the committee supporting Kuehnle.
"Mr. Kuehnle's dynamic and inquisitive personality, paired with his broad and deep knowledge of the problems that face our education system today make him, in our eyes, a perfect fit for the principalship here at Shaker," the letter stated.
The SSAC outlined nine of Kuehnle's "distinguishing factors," including his leadership skills, as well as his accomplishment in increasing Springfield High School's graduation rate by 14 points.
Trisha Roy, a sophomore, is a SSAC member. "I'm happy with the choice of Mr. Kuehnle," she said.
"He has been involved in and initiated many programs that will help decrease the achievement gap along with increasing the graduation rate."
Senior SSAC member Kyle Boyle was also impressed. "I'm excited to see what Mr. Kuehnle will do in the long run, especially after learning about all that he accomplished in his former school district," she said.
"In the interviews, he mentioned numerous things, like raising the graduation rate, providing more things for special education and increased communication," said junior Kristi Seman, another committee member.
Blattner said she was not impressed with the students who signed the letter in support of Kuehnle.
"I'm not sure that the students understood the whole ramifications of everything," she said. "It's like if someone said, 'You want a new mother that's not going to make you set your bed, get up on time and do all these things?' "
Shortly after teachers and students expressed opposing views, Hutchings announced that Kuehnle would assume the principalship.
"I think Hutchings' choice of Kuehnle was kind of surprising considering the entire teachers' association endorsed Reed," sophomore Drew Hubbard said.
"I respect our teachers' opinions, but I also know that the Board of Education reviewed the finalists, and the students were pretty vocal in their support of Kuehnle," said high school parent Beth Pollack.
Annette Himes, co-president of the PTO, said she supported both candidates. "I don't see this as a controversy as to one or the other at all," she said.
"The decision's been made," English teacher Jody Podl said, "but we are professionals and we're going to move forward and we're going to work with anyone who comes into this building because that's our job."
Editor in Chief Nora Spadoni and Journalism Managing Editor Yasmine Kayali contributed reporting.
Comment using your Facebook, Yahoo, AOL or Hotmail account
comments
Leave a Comment